GG#4 Original Glue feminized seeds (Original Sensible Seeds)
Description
GG#4 Original Glue Strain Info
GG#4 Original Glue is a feminized cannabis strain created by Original Sensible Seeds. Facts are facts, the cannabis growing community is crazy about GG in general, and GG#4 might be this family's member with the most fans. It's all thanks to consistent phenotypes, buckets of resin, and effects that give you the best from both medicinal and recreational weed.
Genetics
One of the most popular cannabis strains in recent years, GG#4 Original Glue is a cross between Chem's Sister, Sour Dubb, and Chocolate Diesel. Such a lineage has resulted in a fast-growing, heavy-yielding cannabis strain dripping in thick, sticky resin.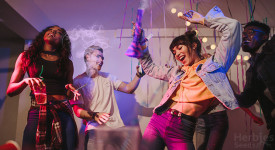 GG#4 Original Glue Trip Report
Effects
GG#4 Original Glue's effects are hard-hitting and bound to have you glued to the couch at some point. However, in true hybrid nature, the onset of GG#4 is extremely euphoric, happy, and giggly, making you fall in love with life over and over again. After you come down from the initial hours of pure bliss, this joy ride will take another turn and bring you to point B – sedation, complete relaxation, intense couch-lock, and the highly enjoyable munchies.
THC And CBD Level
Such potent effects wouldn't be possible without extremely high THC content. GG#4 Original Glue's shiny resin produces record levels of the amin psychoactive cannabinoid clocking in at… wait for it… 28%!
Smell And Taste
GG#4 Original Glue has one of the most amazing terpene profiles in any cannabis strain, providing a pungent aroma with hints of citrus that translates into a chocolatey flavor and a pleasant piney aftertaste. It's a perfect combo for those who enjoy a nice, expensive perfume and savory over sweet any time of the day.
Yields
GG#4 cannabis seeds never stop blowing our minds! Just check this out: indoor yields for this strain are as high as 800g/m2 (2.2oz/ft2), while outdoor growers can bring in as much as a kilogram (2.2lb) per plant – truly impressive!
Flowering Time
If you think that for the top genetics with such impressive effects and harvests you'll need to pay with longer flower time, think again. After switching to 12/12, GG#4 Original Glue takes only 56 to 63 days to finish flowering.
Grow Tips
Growing GG#4 Original Glue is a breeze – her strong and stable genetics require minimal work during all phases of the grow. Suitable for both indoor and outdoor growing, this perfectly balanced hybrid contains both Sativa and Indica elements, meaning heavy resin production in big flowers with a large internodal distance. Here is some more information to help you grow this strain:
The plant grows to a medium to tall height – 100-160cm (3'3"-5'2") indoors and up to 180cm (5'10") outdoors.
Don't throw away the leaves after harvest – they are covered in resin that you can use for making concentrates and edibles.
The recommended max EC of water is 1.6 in veg and up to 2.0 in flower.
Recommended water pH is 5.8-6.0.
In the veg phase, the recommended lighting is 300W CFL, and 600W HPS during flowering.
Recommended nutrients are the CANNA COCO range.
GG#4 Original Glue Seeds
At Herbies, GG#4 Original Glue is available as feminized seeds. What does this mean? It means that every seed will grow into a female plant that will grow potent sticky buds of GG#4, allowing you to smoke and experience its mind-blowing effects. These weed seeds are truly legendary, so get yourself some while they're still here, and we'll make sure to deliver them to you quickly and in our classic stealthy packaging.
Characteristics
*Herbies sells cannabis seeds exclusively as souvenirs that aren't meant for cultivation or germination. Customers should be aware that the germination of cannabis seeds is illegal in most countries. Herbies sells cannabis seeds exclusively for collecting and preservation for future generations. We advise customers to check with their local laws before germination, as Herbies does not accept responsibility for the illegal use of our products.