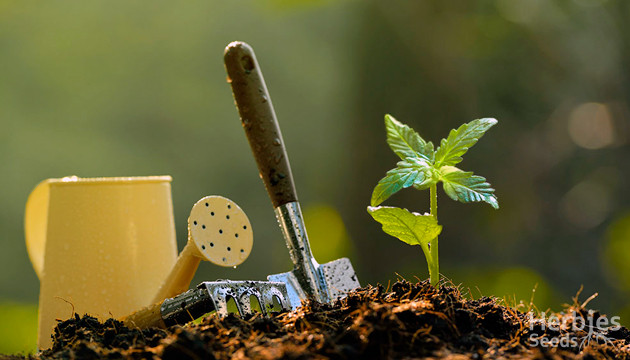 Growing your own cannabis is an enjoyable and highly rewarding experience. However, it can also be highly challenging and require a great deal of time and effort. First-time cultivators, especially those with limited resources, may find that growing cannabis indoors or in a greenhouse is far too expensive an investment. Therefore, learning how to properly apply outdoor growing techniques can save both time and money, while also yielding a bountiful harvest that's sure to please!
Is It Legal To Grow Weed Outdoors?
The very first thing you want to do before embarking on your growing adventure is get acquainted with your local laws regarding cannabis growing and analyze all the risks. Generally speaking, growing weed outdoors is usually as legal as doing so indoors. The legality of this action, however, varies greatly from country to country, and even from state to state if we're talking about the U.S.
For example, adults can legally grow up to five marijuana plants in Canada, six in the Netherlands, and an unlimited number in South Africa. In the United States, you're allowed to grow marijuana for recreational use in Alaska, California, Colorado, Maine, Massachusetts, Michigan, Nevada, Oregon, Vermont, and Washington D.C. However, the number of plants allowed for cultivation varies not only depending on the state, but also on whether or not you have a medical prescription for cannabis – which, by the way, can also double the number of plants you're allowed to grow.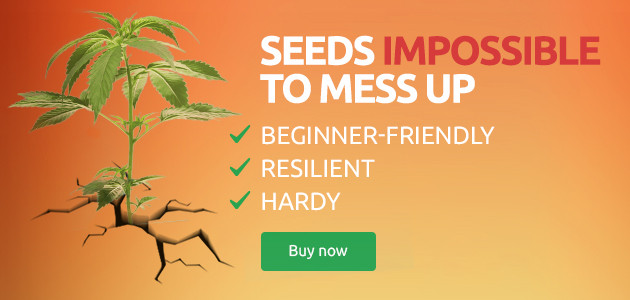 Is Growing Weed Outdoors Worth It?
Growing marijuana outdoors is 100% worth it, as it presents some unbeatable pros that will satisfy any grower. Here they are:
Low Cost
Every condition that indoor growers try to replicate within their grow rooms already exists outside at absolutely no cost! Every year, growers spend the biggest sums on electricity to maintain good lighting conditions, humidity, temperature, and aeration, and by contrast, outdoor growers can get all that for free from the natural resources outdoors thanks to the power of sun, wind, and fresh rainwater. Essentially, when growing cannabis outdoors, you only need to pay for the seeds, pest control, and possibly some extra nutrition (assuming you pick the right spot for your weed plant, of course).
Larger Yields
Outdoor cannabis is not restricted by growing space, whether that's upward growth or root system development. It's also fed by the most powerful light source there is – the sun – and as you might already know, the size of the yield is directly related to the amount of light absorbed. Therefore, growing outdoors allows marijuana plants to reach their full potential and deliver the biggest possible yields – often, up to 500g (1.1lbs) of dry buds!
High-Quality Bud
Buds harvested from outdoor marijuana are exceptionally flavorful – just ask any seasoned grower! If you pick a terpene-rich strain and grow it under warm sun, wind, and rain, you'll be in for one of the tastiest smoke sessions of your life.
Basic Equipment For Growing Weed Outside: What Do You Need?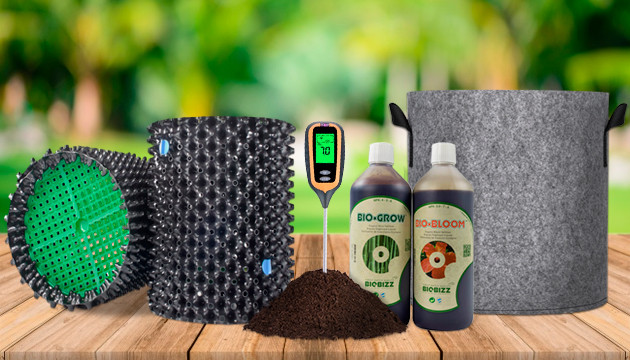 Equipment necessary for developing cannabis is typically split into two primary categories: gear that's essential, and optional equipment that exists only to help produce higher yields. For instance, the most expensive item commonly utilized by outdoor cannabis cultivators is a greenhouse, although this piece of equipment is optional, not a necessity to begin growing.
Essential growing equipment typically includes:
Stages Of Growing Weed Outdoors
Before we move forward, let's touch upon the main stages of growing weed outdoors that we'll describe in more detail later in the article.
- Germination and seedling stage. Cannabis seeds typically begin to germinate when exposed to moisture and a constant temperature of around 65° F (about 18.3° C). Experts suggest keeping your crop indoors from germination up to about 4 weeks of growth before bringing it outside into suitable weather.
- Vegetative stage. When the young plant is strong enough, it's time to plant it outdoors once the weather becomes warm – normally around May in most areas. While your cannabis is getting used to the outdoors, pay special attention to protecting it from pests and elements. The vegetative stage is also the period for training your cannabis.
- Flowering stage. Autoflowers will start flowering on their own, but photoperiod plants will switch to this stage after receiving less than 12 hours of light a day. At this point, you stop any LST or HST techniques, while the plant mostly stops growing and puts most of its energy into forming buds. If you're growing weed from regular seeds, the beginning of the flowering stage is also when you sex your plants and cut down the males.
- Harvest. When the bigger fan leaves start to wilt and turn yellow and the trichomes turn from milky to amber, it's your cannabis telling you it's time to harvest. It's important to choose a cannabis strain suitable for your climate – otherwise, you won't be able to harvest before it gets too cold outside. For your convenience, at Herbies, we always state each seed's harvest time on its respective page.
How Long Does Weed Take To Grow Outdoors?
Growing time for outdoor cannabis largely depends on the strain. The quickest varieties, like autoflowers, can be done in as little as two months. Photoperiod strains always take longer, and as a rule, grow bigger and yield more.
On average, photoperiod cannabis takes anywhere from about 3-4 or even 6-plus months. The earlier you put the plant outside, the longer it will stay in the vegetative stage before transitioning to the flowering stage. While harvest times are widely dependent upon climate conditions and strain type, most cannabis varieties are ready for outdoor harvest sometime between late September and early October.
When Growing Weed Outdoors, Consider The Climate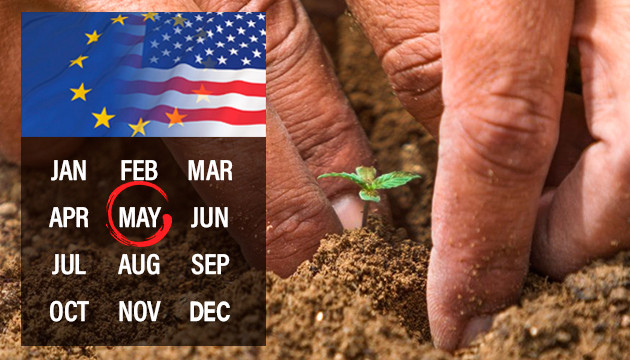 Unlike indoor cultivation practices, which allow for year-round growing, outdoor cultivators are very much at the mercy of mother nature. Growing outdoors requires patience, as there's a minimal window in which cultivators must germinate seeds, rear them through both the vegetative and flowering stages, and finally, harvest their plants. As mentioned earlier, experts recommend beginning your crops indoors, where they will be safe from potential frost, and then transplanting them outdoors as temperatures start to rise. In just the same way, you need to harvest before the cold weather comes around again.
If you decide to grow outdoors, it's important to always coordinate your actions with the weather conditions: in case of drought, don't forget to water more frequently; in case of a heatwave, cover your plants with a net; in case of hail, put something over the bush to keep the bud sites intact.
When To Start Growing Weed Outdoors
Outdoor cultivators living in tropical regions have the added advantage of year-round growing, while those living further north must time their grow accordingly. In most areas around Europe and the United States, cultivators can hope to plant outdoors sometime around May. However, thoroughly inspect the recommended sowing times for leafy greens in your region for a better estimate.
Choose The Right Strain
Any cannabis variety is capable of being grown in an outdoor environment, especially when harvested by experienced cultivators under suitable conditions. However, not every strain is capable of yielding equivalent results, as each type is better suited to a specific climate, season length, level of humidity, and other growing conditions. If you're attempting an outdoor grow for the first time, consider getting a feminized or autoflowering cannabis strain to maximize your likelihood of successfully developing a healthy plant resulting in an abundant yield.
Seeds Vs. Clones: What Do I Pick?
Essentially, there are two options for the source material of your future outdoor marijuana: seeds and clones. The main advantage of clones is that you can grow unlimited plants identical to the mother plant, meaning you'll always be sure of the characteristics of the produced buds, harvest after harvest. Clones from a female plant also always grow female, which eliminates the need to sex the plants.
However, taking care of the mother plant and the clones takes quite a lot of effort and experience – the mother should be constantly kept in the vegetative stage under 12 hours of light per day or more. Also, each clone needs to go through the phase of hardening – the process of gradually introducing them to the outdoors, all while still keeping them in veg. Clones are also less hardy, as they don't develop a thick central taproot, and are therefore more prone to damage from wind and drought.
In contrast, seeds produce fewer uniform results than clones. However, cannabis from seeds grows taller and much more resilient. These plants also bring way bigger harvests than clones. Besides that, feminized genetics from proven seedbanks can guarantee stable and uniform results.
Best Weed Strains For Outdoor Growing
The following strains are ideal for first-time outdoor cultivators, as they each excel in most climates and conditions. However, it's just a sneak peek – check out our Outdoor Cannabis Seeds Collection for the full selection.
This Indica-dominant feminized cannabis variety is extra sturdy and high-yielding. Even beginner growers can expect to yield up to 3kg (6.6lbs) of sticky and aromatic buds containing 24% THC.
These are some of the most delicious buds on the market, with notes of ripe fruit and wet earth together with 25% THC. You won't believe it, but this strain is ready for harvest in just 45 days of flowering!
How about a hard-hitting 27% THC Indica in an easy-to-grow autoflowering format? This giggly and euphoric plant grows huge nuggets ready for harvesting in just 70-75 days from seed. This means that if you plant Godzilla Cookies Auto early enough, by the time you harvest, you can plant the next round of bushes and harvest them too before the cold hits – twice as much potent weed in one season!
Spotting The Ideal Site For Growing Outdoor Cannabis
Selecting the most appropriate area for your outdoor garden is among the foremost crucial decisions directly affecting every stage of your growth, from germination to harvest.
First, it's paramount to ensure that your crop is planted where it will receive as much direct sunlight as possible, especially during midday.
Second, a continuous breeze is a crucial element to developing a healthy plant, as airflow acts as an external stressor that's essential to toughening the stalk and stems of the plant. However, in an overly windy environment, consider planting by some sort of windbreak such as a wall, fence, or large hedge to deter possible damage.
Finally, it's crucial to consider the privacy and security of your chosen grow site. Shielding your crop from potential thieves and judgmental neighbors is often achieved by planting next to tall fences, trees, or shrubs.
Soil For Growing Weed Outdoors: What You Need To Consider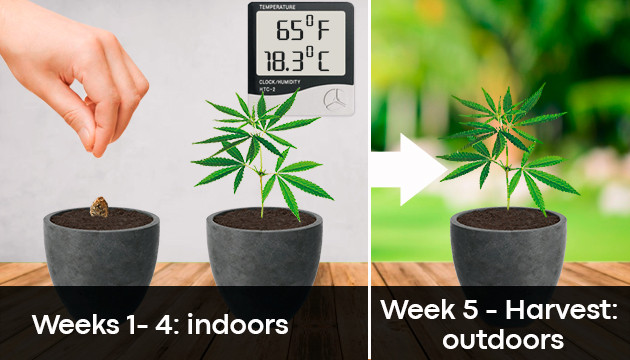 When selecting the proper soil, keep in mind that most soils primarily consist of clay, silt, and sand. Your crop requires a slightly acidic soil combined with adequately drained organic matter. Therefore, it's paramount to thoroughly research various types of soil before planting, especially if planting directly into the earth, to ensure a healthy crop with maximum yield capabilities.
Common types of earth include:
Clay-rich soil – This heavy soil drains slowly and doesn't hold oxygen particularly well.
Sand-rich soil – This drains well and warms quickly. However, it does not hold nutrients as well, giving it the potential to be problematic in wet climates.
Silt-rich soil – The silt particles are small enough to hold more nutrients than sand and big enough to drain better than clay.
To alleviate the disadvantages of the soil you already have in your backyard, consider growing in pots filled with a cannabis-specific soil mix or even supersoil. Well-chosen nutrients and their organic options like manure, compost, or compost tea can also help you utilize the soil you have to the fullest. For the full breakdown of soils for cannabis, read our full article on the topic.
Best Nutrients For Growing Marijuana Outdoors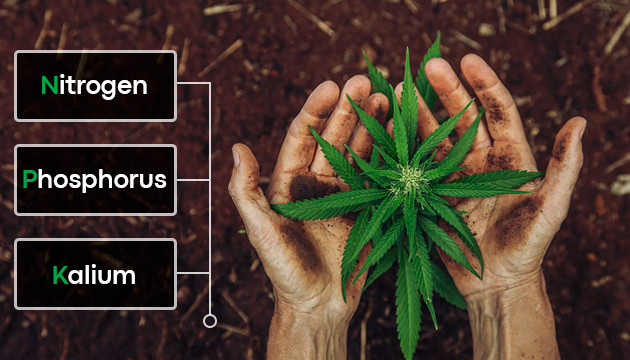 Cannabis plants require generous amounts of nutrients throughout their lifecycle, consisting primarily of phosphorus, potassium, and nitrogen. However, how exactly your crops are fed depends entirely upon the methods utilized and the composition of your soil.
Commercial fertilizers are tailored specifically for home gardeners. There are several types of these, the first being long-release granular fertilizers. First-time cannabis cultivators may wish to avoid these altogether unless you have a solid understanding of how they work and what your crops require to flourish.
Then there are liquid fertilizers, which make nutrients readily available for your plants. We recommend using these to minimize the risks of overfeeding, nutrient toxicity, and lockout. Consider beginning with a cannabis-specific fertilizer to supply your harvest with the right nutrients required to grow and thrive outdoors.
One of the best options is using organic options like compost or supersoil. These media are full of beneficial micro-life that constantly produce micro and macronutrients. Hence, they're self-regulatory, meaning they'll never cause any issues with nutrients.
Best Pot Size For Growing Weed Outdoors
If you lack an appropriate patch of earth to utilize as a suitable garden space, choosing to grow in pots or other containers is ideal. With this method, plants can be placed on patios, decks, rooftops, and several other locations. As an added benefit, crops can be moved throughout the day as needed to increase sunlight or shield them from excessive wind or heat.
However, crops kept in pots, barrels, or buckets are also likely to grow far smaller in comparison due to root growth restriction. Typically, the dimensions of your container will determine the overall size of the crop, although it's still possible to grow taller plants so long as proper techniques are utilized during growth.
Generally, five-gallon containers are ideal for small to medium-sized outdoor plants, while ten-gallon containers are better suited for growing more abundant crops. Regardless of size, it's crucial to ensure roots don't overheat during warmer weather, which could potentially drastically limit the expansion rate of your plants.
Water Your Cannabis Plants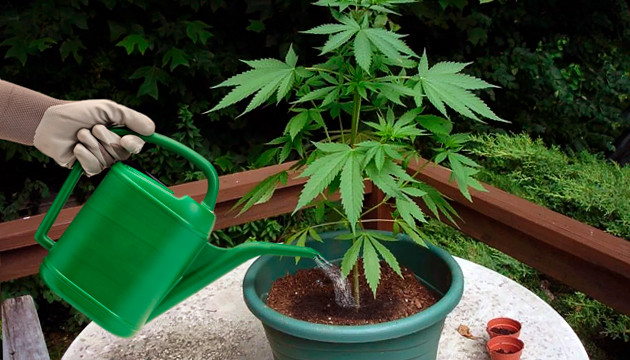 Just like any other plant, your cannabis crops require healthy water consumption. Therefore, an added advantage of outdoor cultivation practices is continuous exposure to rainwater (although when growing in places such as California, with warmer climates and minimal rainfall, manual watering of plants is often required). However, be sure not to overwater your plants, as this could prove detrimental to their health. If you reside in a hot and dry climate, you may wish to consider digging beneath your chosen grow site and adding clay-rich soil or rocks as a way to help slow water drainage. Some cannabis cultivators believe that adding polymer crystals to your soil likewise helps to improve water retention.
Watch Out For Males And Hermaphrodites
After the beginning of the flowering stage, it's the perfect time to rid your grow space of both male cannabis plants and hermaphrodites, as these don't yield tasty buds and generally possess minimal amounts of THC. Moreover, if males and hermaphrodites aren't removed, they will pollinate your female crops. Once pollinated, females will use their energy to develop seeds instead of focusing on bud development.
So, how do you spot a male cannabis plant or hermaphrodite? Unfortunately, there's no easy way of telling before your crop enters the flowering phase. Typically, most cannabis strains comprise a 50/50 male to female ratio, so if you notice pollen sacs throughout your plant, remove the plant immediately, or else you run the risk of ruining your entire operation. To learn more about sexing cannabis, read our full article on this matter.
Protect Your Weed Plant From Pests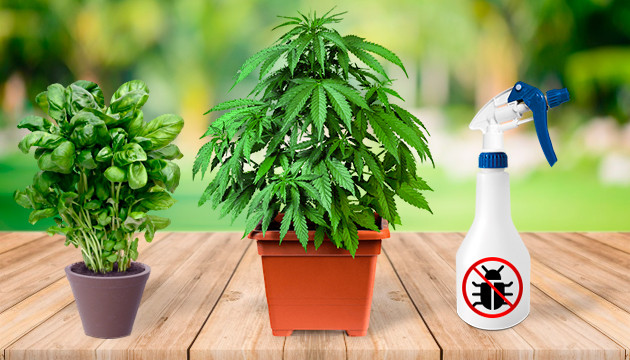 Certain dangers such as pests, mold, and powdery mildew could be detrimental to the health and overall wellbeing of your cannabis plant. Fortunately, there are numerous methods commonly employed to help protect your crop.
Applying pesticides is one surefire way to help prevent potential pest invasions. However, many cultivators would rather not deal with these damaging chemicals. Luckily, there are always safer options – for example neem oil. This natural pesticide is 100% safe for your plants and active against 400+ types of pest and mold!
Other viable options include techniques such as companion planting, where cannabis is cultivated close to other species of plants – for example, basil and dill – to help deter pests and lure in beneficial insects.
Outdoor growers can also aim to prevent damage from mold and powdery mildew by counteracting cooler temperatures, humid conditions, and stagnant air with planting within the stream of a light breeze and utilizing foliar sprays.
When To Harvest Cannabis Outdoors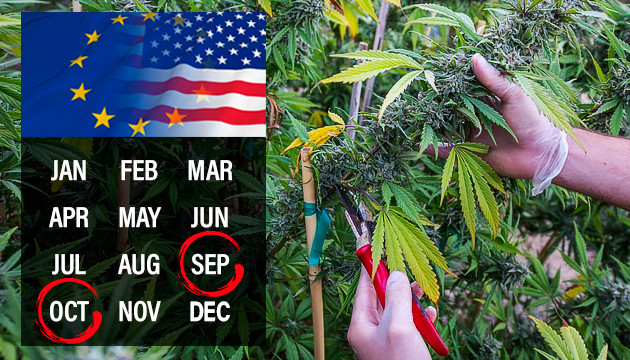 Typically, crops are ready for harvest beginning sometime around September or October. However, this is almost entirely dependent upon the estimated flowering time and specific characteristics of your chosen cannabis strain.
Closely monitor the plants' trichome and pistil formations for a better idea of appropriate harvesting times. Most plants are ready once most of their pistils transform from white to a reddish-brown color. The trichomes should also be white at this stage, though many cultivators choose to wait until an amber coloration is achieved. To learn more about harvesting by trichomes, read our full article.
Alternative Outdoor Grow Methods
Outdoor cultivators commonly choose to plant either in pots or directly into the earth. However, other growers prefer to grow cannabis in a greenhouse or apply an alternative technique commonly referred to as guerilla growing.
Guerilla Growing Technique
The guerilla method entails growing your cannabis crops outdoors in a hidden or otherwise discreet location that won't easily be discovered, like a forest or a field with an abundance of other plants. The most obvious advantage to this technique is that your plants will be located a suitable distance away from your home or primary place of residence. While the guerilla technique lessens the potential dangers of being caught harvesting cannabis in regions where it's illegal to do so, routinely traveling to your grow site can prove to be a tedious daily process. Growing away from your home also leaves your plants vulnerable to potential discovery or at risk of taking damage from various outdoor elements.
Greenhouse Grow Environments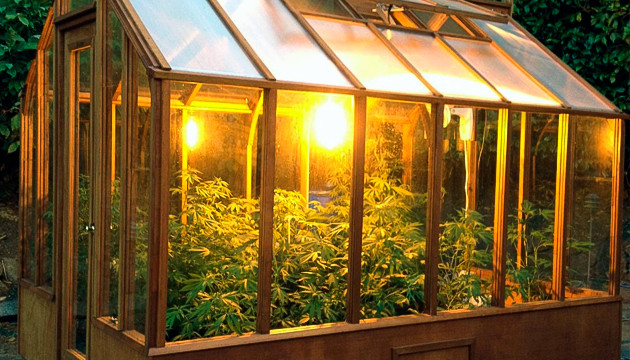 Choosing to cultivate your cannabis crops in a greenhouse environment provides a host of added benefits compared to traditional outdoor cultivation practices such as climate, light, and water control, as well as protection from outside elements. These factors significantly contribute to the development of a healthy cannabis plant that will reward you with maximum yields come harvest time. However, choosing to grow in a greenhouse does have several potential drawbacks that must first be considered:
Greenhouses are costly to build
They also require an ample and open outdoor space
Automated greenhouses consume high amounts of energy
They're not safe for cultivators with heat-sensitive medical conditions
A Couple More Tips And Tricks For Growing Weed Outdoors
We've covered all the major points of growing marijuana outdoors, but we still have a couple of our favorite outdoor cannabis growing tricks to share:
If you're growing in a naturally hot area, invest in shade fabric – this will save your weed from heat stress when temperatures go above 30C (86F).
Plastic flowers are great for camouflaging cannabis – toss a couple of them on the bush to disguise it as a flowering plant.
When your outdoor cannabis is harvested, don't throw away the stalks, leaves, and roots – they can be used to make teas, ointments, and more.
FAQ