How to germinate cannabis seeds
22 October 2019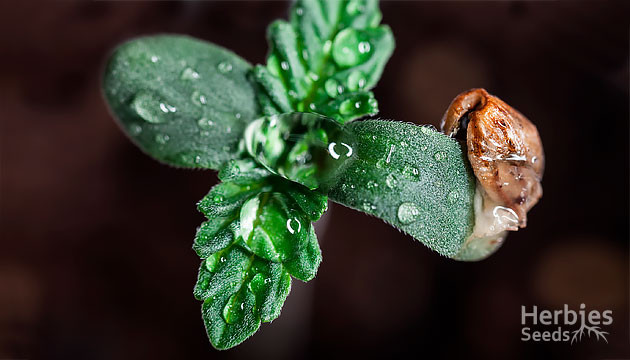 Germination is the first step of growing any cannabis plant. Cannabis seeds are small in size and have a light to dark brown hard outer layer. When put in enough moisture and darkness, they crack open and let out the first of what will become a fruitful plant.
But before we get into the details of growing a plant, lets learn about the seed and its structure.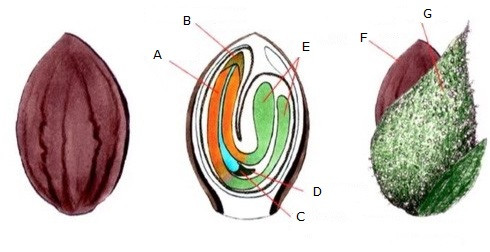 The cannabis seed contains everything needed – in the right conditions – to grow into a healthy, heavy-yielding plant. The image above shows the side view, a cross section and a cannabis seed inside a swollen calyx with key parts being labelled with a letter below:
A – Root Cap
B – Radicle
C – Primary Leaves
D – Shoot Apex
E – Cotyledon
F – Perianth
G – Calyx
Cannabis has been cultivated for thousands of years. In addition to being used for growing cannabis plants, it can be processed to form cannabis oil and other foodstuffs due to its high oil and mineral content.
High Yielding Strains
Go to heavy yielders
Cannabis Sprouting Method By Jorges Cervantes
Jorges' easy-to-follow video contains all information you need to successfully sprout cannabis seeds, but we suggest the following tips to get it right every single time:
While Jorges uses metal tweezers to transfer the sprouted seed from the paper towel to the pot, it's less damaging to the seed to just drop it in directly from the paper towel.
Ensuring you maintain a sterile environment is pivotal in successfully germinating seeds. Use paper towels if possible and if using sponges, use brand new ones.
Wash your hands before handling anything.
Follow These Steps for Beautiful, Healthy Plants
Step 1
To germinate seeds successfully, you only need to consider a few key factors: heat, moisture and air. Our easy-to-follow step-by-step guide makes it easy for you to get the first step in growing beautiful, healthy plants right every single time! You will need the following items to make your growing dreams become a reality:
A glass/plastic cup
Cotton pads/paper towels or a sponge
Water ( E.C. between 0.3 – 0.6, pH ~6)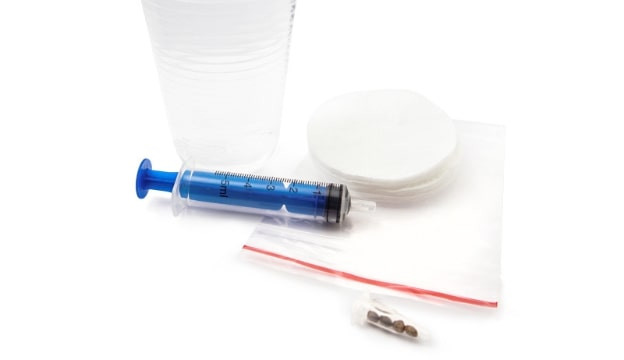 Seeds – you can use any type of cannabis seed you would like whether it's feminized, regular or autoflower. One thing to ensure is if you've obtained them from a reliable source which stocks high-quality cannabis seeds. If you want an easy way to get premium cannabis seeds with fast shipping at great prices, visit the Herbies Seeds webstore.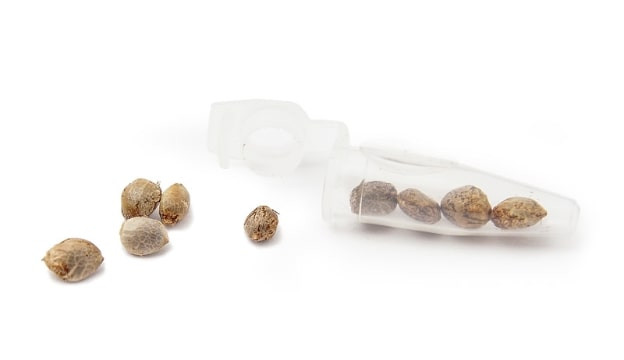 Step 2
The second step in successfully germinating cannabis seeds is to soak them in a glass/cup of water for 12 – 24 hours in a warm, dark place. This will allow them to absorb enough water to soften their hard, outer shell allowing for the taproot to break through. Ensure that the temperature range of the germination area does not exceed 82 – 90 ˚F (28 – 32 ˚C) to keep them at a healthy level of warmth with the moisture and warmth stimulating Spring conditions. If you want to give your plants the best chance of germination, you can use stimulators such as hydrogen peroxide. Add 2 – 3 drops to your feeding water to kill off any harmful bacteria that may damage the young seed.
Fast Flowering Cannabis Strains
Open collection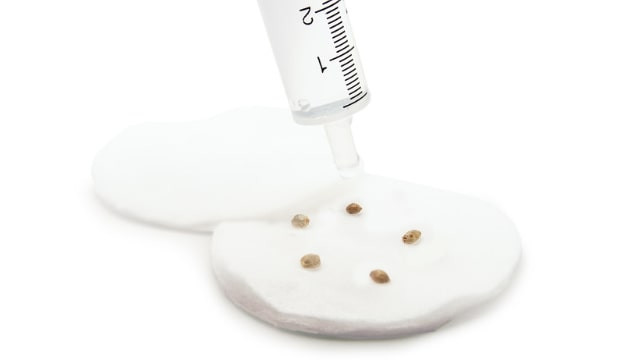 While they both get the same job done, there are benefits of using cotton pads vs sponges. Cotton pads are all-natural and retain water very well meaning your seeds will have a constant supply of water to stay nourished however a common problem is a taproot growing into the cotton and becoming difficult to separate when planting. Sponges do not have this problem but are more expensive and don't retain water as well as cotton pads.
Step 3
Now that you've done the preparation, storing your cannabis seeds correctly is the best way to ensure that they germinate successfully. The best place to keep them is in a warm, dark place with very few temperature or humidity fluctuations. Ensure your Ziploc bag or plastic container is airtight to keep a constant relative humidity of 75 – 90%.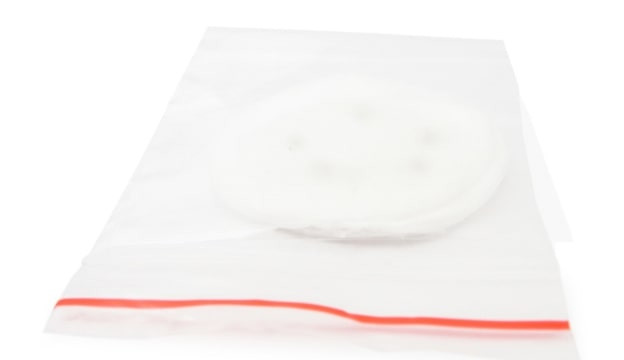 Step 4
Cannabis seeds can take a range of different times to germinate fully. Some can germinate in as few as 24 hours while others can take several days – either way, you will know it's time to plant them once the seed as split a white root begins to grow out. Check every 24 hours to ensure there is enough moisture on your cotton pads/sponges.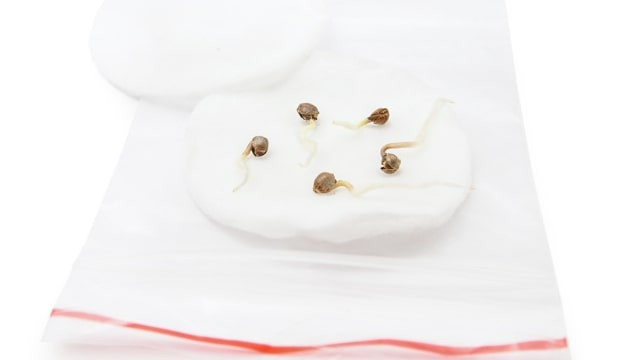 Step 5
The next step in the growing process is to transplant your cannabis seeds from their germination containers into their first growing mediums. You'll know they're ready as soon as the seeds are cracked open and have a 0.1 – 0.3" (3 – 8 mm) long white root growing out. One of the most common germination mistakes – particularly when using cotton pads – is letting the taproot grow too long and experiencing difficulty when transplanting so avoid this by paying close attention to your seeds. Follow these tips for seeding into soil and other substrates such as coco coir:
Do not handle the seed directly with your bare fingers to avoid contamination.
If using metal tweezers to transplant into growing medium, do not squeeze too hard to avoid damaging the extremely sensitive seed.
Ensure substrate is completely soaked with rooting solution before transplanting to avoid any issues.
Plant seed with the tap root facing downwards and partly cover the top of the seed with some substrate. Ensure there is sufficient contact between the root and the substrate but do not overpack the seed.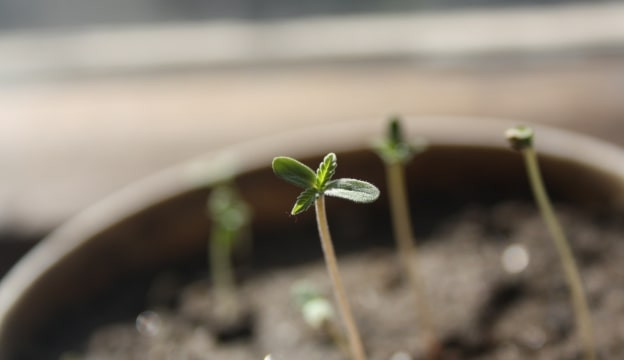 Step 6
Once you have followed all of the previous steps, it is now a waiting game to see if your hard work has paid off. Within 2 – 3 days, a shoot will emerge from the substrate and grow towards the light. It's important to ensure there is sufficient light with ample moisture to allow your plant to get the best start to its life! The first week sees the shoot going from a set of green cotyledons to having its first set of leaves. One of the most overlooked factors at this stage is humidity – it is vital to have a high relative humidity in your grow space during the first 3 weeks of your plants life. To boost your plants chance of surviving, you can create a humidity dome out of a clear plastic cup/bottle which can be placed above your shoot and used until it outgrows it. The best substrates to use for growing shoots are the following:
Root cubes – a biodegradable material which can be used to grow strong roots and a large, healthy plant.
Oasis cubes – more suited to hydroponic growers, these are an excellent option to plant your seeds in.
Jiffy bags – these old-school bags can be used to start your plant in a range of substrates including soil and a mix coco coir and perlite/vermiculite.
The best lighting hours to use to ensure successful germination are between 18 – 20 hours a day which gives your plants enough light hours to grow as much as they need to.