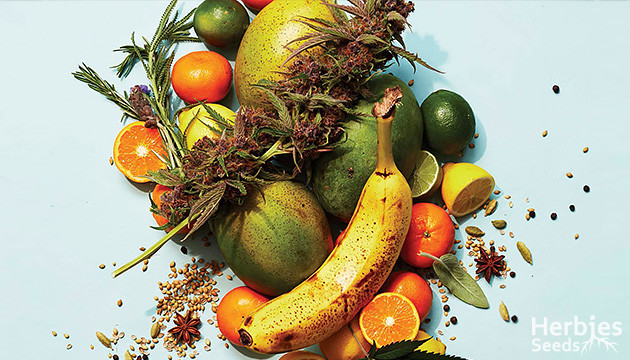 Cannabis isn't only fun because of its effects – a large portion of the joy it brings to its users comes from weed being packed with rich, diverse and delicious flavors. As such, we want to share with you which strains we think taste the very best. In compiling this list, we considered terpene profiles as well as customer reviews. The following cannabis strains have been handpicked by the Herbies' team as the best-tasting buds out there, so let us guide you in the direction of our very favorite Sativas, Indicas and hybrids based on their various tastes and aromas.
What Determines The Taste Of Cannabis?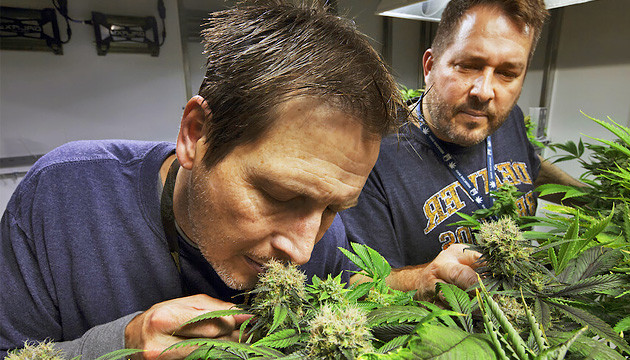 What makes cannabis taste the way it does? The flavor profiles of our favorite strains are determined chiefly by their terpenes and flavonoids. Terpenes are fragrant oils secreted by the same glands that produce THC and CBD, and which lend to the distinctive flavors we often associate with cannabis like citrus, berry, mint and pine. Similarly, flavonoids play a key part in determining the sensory qualities (odor, flavor) that help us differentiate between strain varieties. Terpenes and flavonoids share certain qualities that enhance the smell and taste of cannabis. The most common terpenes used to characterize weed are myrcene (herbal), pinene (pine), caryophyllene (peppery), terpinolene (fruity) and ocimene (minty). These main flavor profiles are what distinguish the wide flavor variety and diversity of cannabis.
Without Further Ado, Our Tastiest Strains
This list describes the flavors and aromas associated with our top ten best tasting strains. Terpenes, as discussed above, play an important role in cannabis taste and odor, and in these ten, they shine brighter than ever!
The Everest of Tasty Cannabis, Blueberry Hill
Blueberry Hill from Herbies Seeds takes a classic cannabis flavor and amps it up making for one of the best-tasting cannabis strains out there. The main note here is obviously blueberry, in all of its juicy, sweet glory. However, the taste and aroma of Blueberry Hill remain quite complex thanks to a mix of terpenes that add a nice pungency and earthiness to its flavor profile. Effect-wise, with this strain's 95% Indica dominance and 26% THC, you can expect to finally reach a stage of complete Zen and relaxation, eliminating all stress from your life.
Mimosa Shot on the House for all Citrus Fans
When discussing tasty weed strains, we always say that Mimosa Shot is an explosion of flavor, and we mean it! Picture a sweet mix of orange soda, tangerine candy, and a hint of spice – that's what you're getting on every inhale. The main citrusy terpene, limonene, will take the lead to recharge your batteries and make you feel uplifted, energized, and simply happy. Best of all, Mimosa shot is not just a joyful, best-tasting cannabis, but the effects will go on for hours thanks to the outstanding 30% THC content.
Tangie'matic Auto: Like A Fresh Sativa Smoothie
Tangie'matic Auto is a delicious Sativa strain from FastBuds. This autoflowering version of Tangie is a nearly pure Sativa that delivers a cerebral and euphoric high on top of its tantalizing flavor. Strong notes of tangerine are present in both taste and aroma. Enjoy citrusy and fresh flavors with a hint of spice thanks to the strain's herbal, piney and peppery terpenes. Sit back and let Tangie'matic take you on an uplifting journey.
Try Strawberry Cough For A Delightful Afternoon Smoke
Our next favorite is another Sativa-dominant strain, Strawberry Cough, brought to us by Dutch Passion. We think you'll agree that this is one of the best-tasting cannabis strains out there thanks to its remarkably unique strawberry taste and aroma, complemented by hints of pepper and spices. Herbal and peppery terpenes are responsible for the undertones of flavors at play here. However, A word of warning: it's called Strawberry Cough for a reason – the smoke can be a bit harsh!
Get Comfortable With Sugar Black Rose Early Version
The first Indica on our list, Sugar Black Rose Early Version, is a Delicious Seeds strain that's the result of a cross between Critical Mass and Black Domina. The flavors of this strain are particularly complex, and arguably why it deserves the title of one of the best-tasting cannabis strains on the market. The buds themselves smell sweet and fruity, reminiscent of orange and fresh flowers, and the weed tastes like mature grapes and a touch of skunk, while the smoke may leave behind a spicy, earthy aftertaste reminiscent of hash.
Super Lemon Haze: A Cerebral Citrus Combination
Our list wouldn't be complete without Super Lemon Haze, an award-winning strain from Green House Seeds. This cross between Lemon Skunk and Super Silver Haze is a long-lasting, quick-acting, Sativa-dominant cannabis strain. Limonene (lemony) and terpinolene (fruity) are the dominant terpenes in Super Lemon Haze. These fragrant oils emphasize the strain's tart and earthy flavors, along with the skunky aroma of the buds. After the first hit, you'll know exactly how lemony cannabis can be!
Next, A Classic Among Terp Chasers: Sugar Candy
If you prioritize delicious flavor palettes in cannabis strains, chances are you've heard of (or tried) Sugar Candy – a Delicious Seeds classic and certainly one of the best-smelling weed strains out there. The characteristics of both parent strains, Caramelo and Sugar Black Rose, are certainly noticeable in both smell and taste. When smoked, the aroma is reminiscent of its classic Delicious Seeds origins, hinting at mango, cookies, and even lavender. However, the strain also maintains a flavor profile including spice, lemon, and a touch of licorice, making for a truly unique blend that will surprise even the most seasoned of tokers.
Pineapple Chunk: A Sweet Treat For The Senses
Barney's Farm brings us Pineapple Chunk, a cross between two of their other strains, Sweet Pineapple and Cheese/Skunk #1. This Indica-dominant hybrid's ancestry is more than apparent in its cheesy, skunky aroma, which is well-balanced by the crispness of the sweet pineapple flavor. We think this is one of the best-tasting strains because of how uniquely the taste and smell merge together. Pineapple Chunk will have your palate and body tingling from a chill, mellow high, perfect for relaxation or medication.
Fruit Punch Packs A Punch
Another Sativa-dominant strain that makes the list is Fruit Punch from Heavyweight Seeds, a hybrid cross of Skunk, Haze and Northern Lights. The flavors and aromas are strong, sweet and exotic with a hint of berries, all due to the excellent resin production and high terpene and cannabinoid levels. Myrcene leads the way with herbal notes, while limonene holds up its end with bright, citrusy flavors. A light peppery zing from caryophyllene follows to make this an indulgent strain well worth a smoke.
(Not Your Mom's) Purple Lemonade
Last but not least, we have Purple Lemonade, another strain from FastBuds – a seed bank that appeared at the beginning of this list. As one might guess from the name, this type of weed is zesty and citrusy in both taste and aroma; in fact, the lemony scent is apparent as early as the beginning of the flowering stage and lingers through the curing phase. This heavenly Indica strain also looks gorgeous with its vibrant, deep grape color due to a mixture of Purple and citrusy Cali genetics.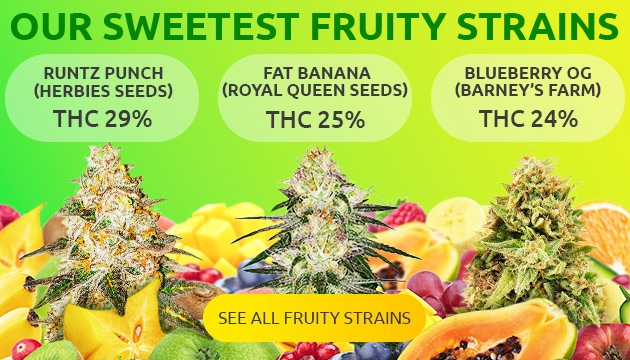 What's On Your Tasty Top?
Clearly, there's something out there for everyone depending on what you're craving. Fruity, skunky and cheesy cannabis strains all have their own individual characteristics that make them stand out from the crowd. Whether you prefer a daytime Sativa session or an evening couch lock with some Indica, we think you'll agree that the above strains are some of the best-tasting weed available. Now it's your turn! Don't be shy – leave a comment below and let us know about the tastiest strains you've tried so far!
You've reached the end of the article – thanks for following through! As a reward for your interest in our blog, we've hidden a special promo code for an awesome bonus seed that you can add for free to your next order. Hint: open the first recommended article, your promo code might be waiting for you right there...
Herbies Head Shop expressly refuses to support the use, production, or supply of illegal substances. For more details read our Legal Disclaimer.