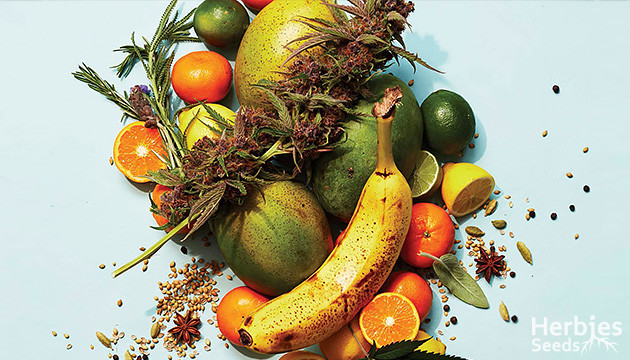 When you get a fresh batch of bud in, what's the first thing you do? You smell it, right? To the untrained nose, cannabis just smells like cannabis. But just like a wine connoisseur can taste and smell nuance and depth, so can someone who knows good weed when they see (or smell) it.
Although it's usually cannabinoids getting all the love for their role in the plant's therapeutic and recreational effects, many studies have now shown that terpenes (aromatic compounds found in all plants) also hold immense potential. Researchers Judith Jorg Booth and Bohlmann even described terpenes and terpene/cannabinoid-rich resin as 'the most valuable cannabis products', due to the wide variety of different psychoactive and medicinal properties.
As well as altering the effects and aroma of weed, terpenes also create the distinctive taste of each, unique strain. Some are described as bursting with berry flavours, others possess tangy, citrus notes, or a spicy, skunk palette, and getting to know these different flavours can even help you identify which terpenes are present. For example, myrcene has a herbal flavour, pinene, perhaps obviously, tastes and smells like pine, caryophyllene is the peppery one, while the rarer terpinolene and ocimene are exotic and fruity.
Flavonoids are another piece of the extremely complex cannabis puzzle, offering both extraordinary therapeutic benefits and enhancing flavour, scent and colour, too.
What one cannabis user loves may differ from another, and some people speculate that a tendency to prefer certain profiles may indicate those are the terpenes your mind and body might benefit from most. But, despite there being an element of personal preference, there are some cannabis strains out there that are irrefutably tasty!
Our Tastiest Weed Strains
Here, we've selected the best-tasting weed strains that Herbies customers can't get enough of.
Strawberry Cough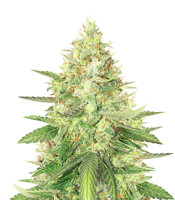 Strawberry Cough (Dutch Passion)
Photoperiod

World of Strawberry relaxation

15 - 22 %

300 - 400 g/m² indoors
View strain
As you might be able to guess from the name, this can be a bit of a harsh one to smoke! But this energising flower also has one of the best tastes out there. The sweet, fresh strawberry notes uplift your senses even before you take a hit, making this an absolute winner for anyone who loves their cannabis to be as sweet and delicious as the name makes out. As is the case with many cannabis strains, myrcene is the most abundant terpene here, but this is complemented by pinene and caryophyllene (the only terp known to activate the endocannabinoid system), giving it a peppery, skunky finish.
Sugar Black Rose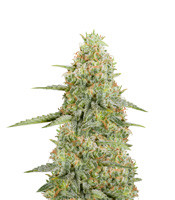 Sugar Black Rose (Delicious Seeds)
Photoperiod

25 %

Dreamy Ocean

400 - 450 g/m² indoors
900 g/plant outdoors
View strain
This relaxing and pain-relieving strain was originally bred by Delicious Seeds, and it lives up to the hype. Again, this high-THC bud has been aptly named, as the flavour can only be described as sweet and floral, with a profile of earthy fruits and flowers, courtesy of caryophyllene, myrcene and linalool, which is also found in citrus fruits and lavender.
Super Lemon Haze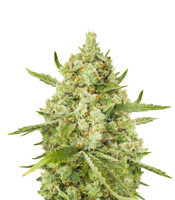 Super Lemon Haze (GHS)
Photoperiod

19.33 %

800 g/m² indoors
1200 g/plant outdoors

On wings of High
View strain
If you love citrus flavours in your weed, this classic strain (which is most abundant in the more unusual Terpinolene) cannot be missed. It smells and tastes like a lemon tree, with a spicy, turpentine-like undercurrent that will tantalise your taste buds and produce a beautiful, euphoric high that's perfect for combatting anxiety, stress and depression.
Sugar Candy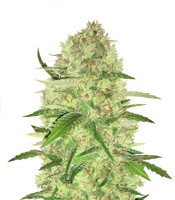 Sugar Candy (Delicious Seeds)
Photoperiod

25 %

Peaceful warrior

600 g/m² indoors
2000 g/plant outdoors
View strain
With its parent strains being the aforementioned Sugar Black Rose and Caramelo, it's no wonder that Sugar Candy offers such an explosion of sweet, buttery flavours, with smooth-as-silk undertones on the exhale of mangoes, liquorice and mint. This glorious taste only further enhances the super giggly, talkative feeling this strain is known for, making it ideal for socialising.
Mimosa X Orange Punch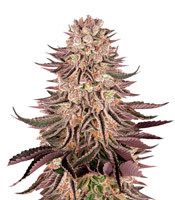 Mimosa x Orange Punch (Barney's Farm)
Photoperiod

700 g/m² indoors
1500 g/plant outdoors

26 - 30 %

Sweet happiness
View strain
When given proper curing time, the flavour of this flower blooms into something incredibly special. It's citrus, but not in the same sharp, zesty sense as lemon haze. Think more along the lines of a sweet, freshly picked mandarin so juicy it's practically bursting at the seams! This mouth-watering profile is already gaining fast on some of the most famous strains, despite being quite new to the scene. And its high-THC-induced, long-lasting happy feeling is a big part of that too.
Purple Lemonade Auto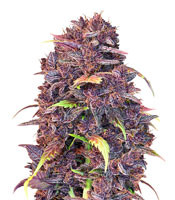 Purple Lemonade Auto (FastBuds)
Autoflowering

Refreshing medicine

22 %

400 - 500 g/m² indoors
50 - 250 g/plant outdoors
View strain
Purple by name, purple by nature. This bud is insanely vibrant, both to look at and to taste! It's without a doubt one of the prettiest strains you can grow and it's also favoured by many patients, for conditions such as anxiety, nausea, rheumatism, and migraines. As the name suggests, you can expect sweet, zesty vibes thanks to limonene and linalool, and a hoppy finish attributed to the rare feature of humulene, one of the most potent anti-inflammatory terpenes.
Strawberry Banana Auto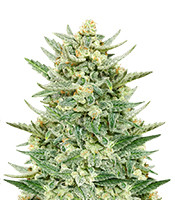 Strawberry Banana Auto (FastBuds)
Autoflowering

Euphoric effect leading to relaxation

450 - 600 g/m² indoors
50 - 250 g/plant outdoors

27 %
View strain
Banana is not a common aroma for cannabis plants, but this one does have an undeniably distinct banana perfume, which translates almost as strongly to the tastebuds. Many weed aficionados claim this particular strain is by far the fruitiest one they've ever tried, with an exotic, sweet twist that you'll be hard-pressed to find anywhere else. The effect of having Limonene as the dominant terpene here is a creative one, making it perfect for focusing and boosting productivity.
Gelato Auto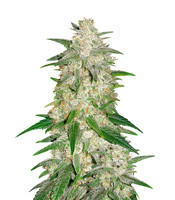 Gelato Auto (FastBuds)
Autoflowering

High escalation

26 %

400 - 550 g/m² indoors
50 - 200 g/plant outdoors
View strain
Perhaps one of the most famous strains and parent to the award-winning Runtz, Gelato (also known as Larry Bird or Gelato 42) is an old favourite, famed for its sweet, creamy quality, reminiscent of ice cream. The high level of caryophyllene gives it a peppery kick, and this is reflected in the sensation of mental stimulation, alongside powerful pain relief.
Watermelon Zkittlez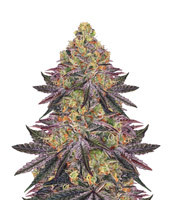 Watermelon Zkittlez (Barney's Farm)
Photoperiod

550 g/m² indoors
750 - 1000 g/plant outdoors

26 %

Ultimate chill
View strain
Despite offering a pretty mellow, lazy buzz, you can really relish the juicy tang of this sweet 'n' sour pick. The earthy undertones keep the flavour grounded, but the blend of limonene, myrcene and caryophyllene brings it up into a tropical cocktail that just dances on your tongue.
Runtz Muffin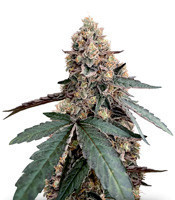 Runtz Muffin (Barney's Farm)
Photoperiod

Smashing relaxing power

27 - 29 %

550 - 600 g/m² indoors
1000 g/plant outdoors
View strain
This amazing strain is the culmination of three others we've already mentioned here: Zkittlez x Gelato #33 x Orange Punch. And the result is an impressive full-flavoured flower with a hefty punch of THC. On first toke, you're met with creamy, candy notes, followed by a piquant spice offering astounding contrast. The effects are fairly contrasting too, often hitting hard with euphoria, followed by deep, deep relaxation.
What's On Your Tasty Top?
Clearly, there's something out there for everyone depending on what you're craving. Fruity, skunky and cheesy cannabis strains all have their own individual characteristics that make them stand out from the crowd. Whether you prefer a daytime Sativa session or an evening couch lock with some Indica, we think you'll agree that the above strains are some of the best-tasting weed available. Now it's your turn! Don't be shy – leave a comment below and let us know about the tastiest strains you've tried so far!
Herbies Head Shop expressly refuses to support the use, production, or supply of illegal substances. For more details read our Legal Disclaimer.