Strawberry Banana Auto Feminized Seeds (FastBuds)
Description
Strawberry Banana Auto Strain Info
Maximized yields, heightened potency, and crave-worthy flavors – what more could you want from a reliable autoflowering strain? Strawberry Banana Auto by breeder FastBuds is a triple-threat in benefits for beginner and veteran growers alike. The strain has a long-standing history in Cali as being a popular top-shelf go-to variety, and for good reason. Its aromas transport users to vacay-like good feels, while its effects melt the body and mind of everyday stresses.
Flowering Time
Strawberry Banana Auto's massive yields are worth the somewhat long wait (for an autoflowering variety). The strain's typical flowering time allows for crops to reach perfection in 10-11 weeks.
Yields
Have we mentioned Strawberry Banana Auto's massive yields yet? We're shouting it out again, and giving you an idea of exactly what to expect this time. Strawberry Banana Auto consistently produces bountiful yields, no matter her environment. Indoors, you can expect to harvest 450-600g/m2 (1.5-2oz/ft2), while outdoors, crops will reach 50-250g (2-9oz) per plant.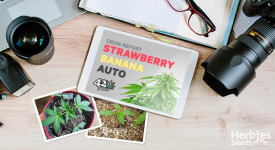 Strawberry Banana Auto Grow Journal
Effects
Day or night, Strawberry Banana Auto's nearly equal Indica to Sativa effects will have you feeling as sweet as her aromas. The strain is highly potent, so beginners should proceed with some caution. However, once you find your balance, you'll be blown away by this fruity strain's powerful euphoria. Strawberry Banana Auto offers uplifting effects for a heightened focus while also soothing the body of aches and pains. Get your snacks ready for this one, as the strain also stimulates the appetite, bringing on a healthy case of the munchies.
THC And CBD Levels
It's rare to find an autoflowering variety that reaches such heightened levels of THC, but Strawberry Banana Auto is an outstanding anomaly. The strain easily reaches THC levels of up to 27%, with typically just under 1% CBD.
Smell And Taste
Strawberry Banana Auto is upfront with her delightful flavors, yet still surprises consumers with how delectable she tastes and smells. The strain is pungent in fruity aromas that are slightly tropical, with underlying notes of bubblegum. Strawberry Banana Auto's terpene profile also delivers a slight hint of earthiness for a balance to her sweetness.
Grow Tips
When it comes to growth, Strawberry Banana Auto's motto seems to be "bigger and better". The strain is a treat from start to finish, with a beautiful coating of crystal trichomes on towering plants. Strawberry Banana Auto will need space as she grows, as she reaches heights of 110-150cm (43-59 inches). For the most successful grow, keep the following tips in mind:
Provide staking or trellising to support the buds' heavy weight.
Flushing near harvest will improve the strain's pure, refined flavors.
Strawberry Banana Seeds
Liven up your crops with the fruity sensation of Strawberry Banana Auto. You can buy the most premium feminized autoflowering seeds from Herbies online now at a great price.
Characteristics
*Herbies sells cannabis seeds exclusively as souvenirs that aren't meant for cultivation or germination. Customers should be aware that the germination of cannabis seeds is illegal in most countries. Herbies sells cannabis seeds exclusively for collecting and preservation for future generations. We advise customers to check with their local laws before germination, as Herbies does not accept responsibility for the illegal use of our products.