Gelato Auto Feminized Seeds (FastBuds)
Description
Gelato Auto Strain Info
Gelato Auto marijuana seeds from the breeder FastBuds is an extremely potent autoflowering strain with bright history, which includes numerous prizes and awards. Among the last achievements is top 3 of best marijuana extractions in Spannabis 2020.
Genetics
This autoflowering cannabis variety was achieved by mating delicious Gelato with an autoflowering version of Girl Scout Cookies - a lineage which only serves to take its sweetness to a new level. Taking advantage of the mouthwatering family tree, Gelato Auto gets its name from the fruity, dessert-like aroma that's reminiscent of cookies and ice cream.
Yield
The autoflowering Gelato Auto from FastBuds will satisfy your cravings with moderate yield of 400 – 550 gr/m2 (1,3-1,8 oz/ft2) for indoor grows, and 50 – 200g (2-7oz) per plant if you decide to cultivate it outdoor.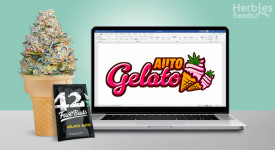 Effects
Fortunately, Gelato Auto's effect is uplifting, creative, giggly and energetic, so users need not be too intimidated by her strength.
THC and CBD level
This feminized autoflowering marijuana strain stands out for its extreme potency, with a THC level hovering around 26%. Gelato Auto's CBD content is quite low and stays under 1%.
Smell and Taste
No surprise here, but Gelato Auto's flavors and aromas are among its most knockout features. This strain is all about the deliciously sweet terpene profile that will have you picturing yourself with your very own gelato strolling the streets of Rome. Its terpenes envelope creamy flavors and aromas of sweet cookies and ice cream, with citrusy undertones and hints of earth and pine.
Growing Gelato Autoflower Seeds
This autoflowering cannabis strain features stunning looks, with a pyramidal structure boasting lots of dense and compact vibrant green buds that shimmer with orange hues and icy resin. It's also fast and easy to grow, and is capable of producing some extra-large yields.
The plant finishes the whole cycle (veg + flowering time) in 8 weeks.
It grows 70-100cm (28-40in) tall – perfect height for modest indoor grows.
Light defoliation will help develop the lower parts of the canopy.
Most plants will exhibit purple-colored hues.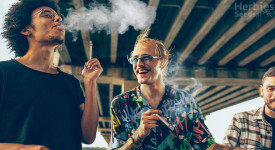 Medical Properties of Gelato Auto Marijuana Seeds
The high THC content of Gelato Autoflower seeds makes for a a great medicinal plant, especially when treating symptoms related to glaucoma, nausea, epilepsy, arthritis and rheumatism.
Gelato Auto Seeds For Sale
Gelato Auto marijuana seeds are available for sale at Herbies. If you're looking for a reasonable price - buy them here. As a bonus, you also get stealth shipping, fast delivery, and a free seed to every order.
Characteristics
*Herbies sells cannabis seeds exclusively as souvenirs that aren't meant for cultivation or germination. Customers should be aware that the germination of cannabis seeds is illegal in most countries. Herbies sells cannabis seeds exclusively for collecting and preservation for future generations. We advise customers to check with their local laws before germination, as Herbies does not accept responsibility for the illegal use of our products.