Sugar Candy Feminized Seeds (Delicious Seeds)
Description
Sugar Candy Strain Info
The breeder wanted the best of both Sativa and Indica strains, and they got it. At 40% Sativa and 60% Indica, this is a truly balanced hybrid strain.
Genetics
The origin of this strain is a doozy, combining Caramelo and Sugar Black Rose. Its lineage packs a punch, but it was also bred for efficiency. You'll be blown away by the impressive yield sizes and intricate taste.
Flowering Time
It doesn't need a long flowering time for such a potent strain. Plants typically mature after 55 days of flowering and finish outdoors in late September. Those in warmer climates may even get two harvests in one season out of these seeds.
Yields
Those seeking a huge harvest will enjoy Sugar Candy. An indoor grower can anticipate seeing up to 600g/m² (1.97oz/ft2), while an outdoor one sees the highest yields at 2kg (70.5oz)/plant.
THC and CBD Levels
Its 25% THC level makes this a popular choice among smokers. The high resin content also makes this strain great for making concentrates.
Effects
Another reason people love this strain is its pleasant and relaxing yet cerebral and happy effects. It relaxes and clears the mind, and the high THC level treats many ailments. Consumers also note that they become talkative after just a couple of hits.
Medical Properties
Because it relaxes both your mind and body, it can soothe serval common symptoms. Try it for body pains, insomnia, and clouded thoughts throughout the day.
Smell and Taste
The complex terpene profile has a bit of something for everyone. You'll notice a central citrus flavor as well as mango, mint, and hints of licorice.
Grow Tips
Sugar Candy grows to a medium height and shows a good bud-to-leaf ratio. It develops numerous sturdy side branches, providing hard and super resinous buds.
The resin content becomes so high that the green-purple tint of the plant becomes obscured by it. Whether you prefer smoking flowers or dabbing, this is a great strain.
If you have an indoor grow, know that this plant creates potent odors. Some other grow info to keep in mind includes:
The recommended watering schedule is 1.5l/24h
The strain is resistant to temperature fluctuations
It also has high mold resistance
Enjoy medium pest resistance as well
Carbon filters are recommended for indoor grows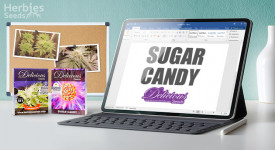 Sugar Candy Seeds
Herbies is the best place to order feminized and autoflowering Sugar Candy seeds. Do so online from the comfort of your own home and receive the seeds quickly and discreetly – free seeds are always included!
Characteristics
*Herbies sells cannabis seeds exclusively as souvenirs that aren't meant for cultivation or germination. Customers should be aware that the germination of cannabis seeds is illegal in most countries. Herbies sells cannabis seeds exclusively for collecting and preservation for future generations. We advise customers to check with their local laws before germination, as Herbies does not accept responsibility for the illegal use of our products.