Purple Lemonade Auto Feminized Seeds (FastBuds)
USA
Purple Lemonade Auto is a colorful Indica-dominant autoflower and FastBuds' most advanced Purple genetics yet. With its height of 70-110cm, it is a good choice for both indoor and outdoor growing, even thriving on balconies and sun-exposed terraces! Flowering within 8-9 weeks it explodes harvests of 500 g/m² that test up to 22% THC with ease.
Read more
All characteristics
Purple Lemonade Auto Strain Info
What do you get when you mix a marvelous citrus strain with some of the most original purple cannabis genetics on the planet? A gorgeous purple lemonade-flavored beauty like Purple Lemonade Auto! With her 70% Indica dominance and unheard-of lineage, she has the genetics to be your new all-time favorite.
Genetics
She is the ingenious blend of the one and only Purple, mixed together with Citrus Cali, creating her phenotype of "purple" genes and delicious citrus flavors bursting after her exciting anytime high.
Flowering Time
You can get ready for your delicious harvest in a flower time of 8-9 weeks.
Yield
As for yummy lemonade yields, this strain produces a fantastic indoor harvest of 400-500 g/m² (1.3-1.6 oz/ft2), and an outdoor production of 50-250 g/plant (1.7-8.8 oz/plant).
Effects
Purple Lemonade Auto's effects are strong but well balanced, starting off as uplifting, giggly, and social before turning into deep full-body relaxation. It is a great choice for daytime smoking or equally for a relaxed evening buzz in the comfort of your sofa or bed.
Medical Properties
Shining in many ways, Purple Lemonade Auto is also useful for medicinal purposes, working wonders in the treatment of glaucoma, anxiety, nausea, rheumatism, and migraines.
THC and CBD Level
Her potency is comfortably high at 22% THC, with CBD levels reaching 1% to take the edge off of any intensity.
Smell And Taste
Straight forward and as expected, Purple Lemonade Auto envelops the mouth with its appetizing flavors of sweet, zestful citrus while the aromas of lemon terpenes fill the air in a cloud of purple smoke.
Grow Tips
Dark green stems and leaves with bright purple buds covered in orange pistils make for a visually appealing, beautiful sight while this fast and sturdy cultivar stays around heights of 70-110cm (27"-43"). With multiple bud sites, featuring strong, sturdy branches and great internodal spacing, it is a great choice for low-stress training methods.
This feminized autoflower will produce exceptional results and extra-large harvests, even without a hefty feeding. However, dialing it up a notch will ensure even bigger yields and better quality. Use this grow info to your advantage:
This strain doesn't require strong feeding, generally, up to 1EC in veg and 1.2EC in flower should work wonders.
For better taste and clean-burning we advise that you start flushing your plants 2 weeks before harvest.
As a good choice for LST, make use of these methods for an even better yield.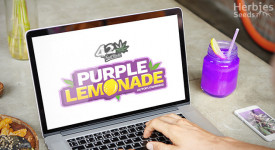 Purple Lemonade Auto Grow Report
Purple Lemonade Auto Seeds
To enjoy a refreshing sip of Purple Lemonade Auto on a hot sunny day, buy a pack of her feminized seeds right here, online at Herbies, and get growing! Once you see her purple buds bloom, your eyes will form hearts and there'll be no going back.
Characteristics
Brand

Fast Buds

Sex

Feminized

Flowering type

Autoflowering

Suitable for

Outdoor

Suitable for

Indoor

Effect

Refreshing medicine

Genetics

Purple Lemonade

Height

70 - 120 cm

Yield

400 - 500 g/m² indoors
50 - 250 g/plant outdoors

From seed to harvest

63 - 70 days

Genotype

30% Sativa / 70% Indica

THC

22 %

CBD

< 1%
How To Post Your Review?
Thank you for sharing your opinion about our website!
Your feedback will be posted shortly after our moderator has reviewed it.
Please note that we do not publish reviews if they:
Written in all CAPS
Contain aggressive or offensive language
Have a promotional content (contact details or links to other websites)