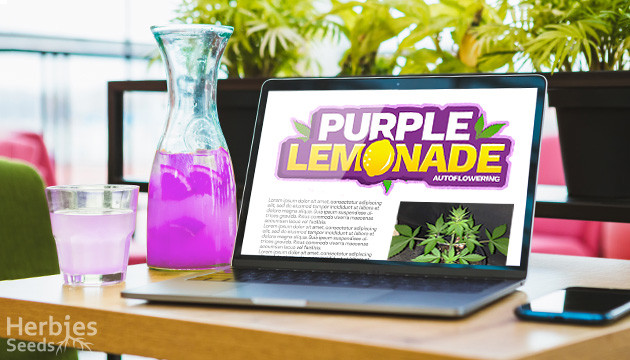 Hi all! I want to share with you my Purple Lemonade Auto grow report. It went so well I'm giving the Purple Lemonade strain 10/10 and would recommend it to anyone.
My Purple Lemonade Auto grow was fast and trouble-free. One of the two plants was topped and didn't skip a beat. They took 13 weeks from seed to harvest and brought me about 2.5 ounces (72 g) of candy-sweet buds with a powerfully relaxing and giggly high. I will definitely grow them again.
My Full PLA Grow Report: Cannabis of the Highest Quality
My previous experience was only with photoperiod strains plus one experimental autoflower grow where plants were given 12/12 from seed and, of course, underperformed.
This time, I did everything right. I kept an 18/6 light schedule from seed to harvest. The temps were steady at 26°C (79°F) during the day and 20°C (68°F) during the night. The relative humidity was also stable at about 53%.
I used a Phlizon 600W LED grow light. This light actually draws and gives out 100W of power and is perfect for my 2'x2' tent. The manufacturer recommends keeping it at 24" from plants. But I started with a distance of 20" in the first week and reduced it to 18" for the rest of the grow.
The only 'drawback' of this light for me was its old-school pinkish spectrum. Because of it, I had to take the plants outside the tent to make pictures for my Purple Lemonade Auto grow journal.
I must have done everything right because the end result was amazing.
Purple Lemonade Auto Seeds For Sale
VIEW STRAIN
Five Weeks of Veg
I planted my two girls in very small 4-liter (1 gal) plastic pots because my grow space doesn't allow me to grow big bushes in large containers. I filled the pots with a simple pre-amended soil mix with some perlite added to make it more breathable.
Amazingly, the only thing that my autoflowers needed till week 7 was tap water. I started with spraying my seedlings a few times a day in week 1, then switched to watering and worked my way up to 200 ml for each of them every other day. Yeah, my Purple Lemonade Auto grow was really that simple.
Both ladies were thriving, had zero issues, and only one of them required training (because she was so tall). I topped her above the 3d node in week 5 but let the other one grow naturally because she was quite bushy as it is. Besides, she already had quite a few white pistils at the nodes, marking this the end of the vegetative stage.
Going Into Flower Without Much Training
The taller Purple Lemonade Auto — the one that I topped — needed some canopy management. So I tied down two sets of her side branches, spreading them outward. I also decided to completely remove the growth at the lowest node because it wasn't catching up with the rest.
The other plant looked just as branchy and wide without any training, so I let her be. Well, save for a bit of defoliation — just four larger fan leaves in the middle part. I thought they were shading the lower bud sites.
Starting to Swell Up and Getting Hungry
It was only in week 7 that I started to feed my babies (which were in full bloom at the time). I used a BioBizz organic line of nutrients. I didn't have to give them Bio-Grow (because the veg was already over), but the other 3 formulas—Bio-Bloom, Bio-Heaven, and Top-Max—contained exactly what the plants needed.
Collectively, these three provide cannabis plants with the following:
potassium (K), to jumpstart the forming of flowers,
phosphorus (P), to make the buds grow,
trace elements and hormones, to stimulate the growth even more,
enzymes and amino acids, to increase nutrient absorption,
humic acids, to free up minerals in the soil and ramp up the metabolism.
I started with just 1 ml/l of each product. Then I slowly increased the dose to 3 ml/l and finally to 4 ml/l for the final 'pre-flush' boost in week 12. As you can see, my feeding schedule was exceptionally simple but very effective nevertheless.
Two Different Phenos in Terms of Smell, Color, and Bud Texture
Both of my Purple Lemonade Autos looked lovely and smelled even better. The phenotype with a lighter shade of purple had a sweet aroma with notes of diesel. The deep purple one smelled of candies and lemons. They were getting their food every other day and fattening up nicely.
I didn't have to do anything at all really, save for some light defoliation now and then. I had to pluck the leaves because my tent gets rather crowded in flower. And besides, the plants got rather tall — reaching 18 inches (46 cm) in the end, and I was afraid lower buds were shaded and not getting enough light.
I removed more foliage from the light-purple pheno, and naturally it would fade the most during the final flush. With those chunky frost-covered buds and yellow fan leaves the girl looked stunning. The other one had leaves of a deeper green, with nuggets deep-purple and dense.
Great Calyx-to-Leaf Ratio for Easy Trimming
I started the flush with tap water in the middle of week 12 because even an organic grow like mine requires the removal of excess nutrients. By the end of week 13, the girls were as clean as can be, but they managed to bulk up even more.
The more purple pheno had a greater percentage of amber trichomes and was the first one to go. The other one followed in a couple of days. I hanged both for drying and then cut the buds and started to cure them in paper bags. Both had so few leaves sticking out of the buds that the trimming was a breeze. For anyone who hates trimming, this is a huge bonus.
Final Thoughts on my Purple Lemonade Auto Grow
The buds were so amazing that I would grow the Purple Lemonade strain again even if it were finicky and hard-to-please. But, in fact, my two ladies were totally low-maintenance. So I'm thinking about running another Purple Lemonade Auto grow again soon because I have two extra beans left. As seen from this cannabis grow report, indoor growing can be easy and satisfying! And I think that every autoflower grower should try this amazing strain!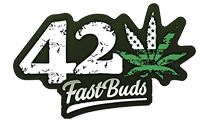 Strains From FastBuds
VIEW ALL
Herbies Head Shop expressly refuses to support the use, production, or supply of illegal substances. For more details read our Legal Disclaimer.