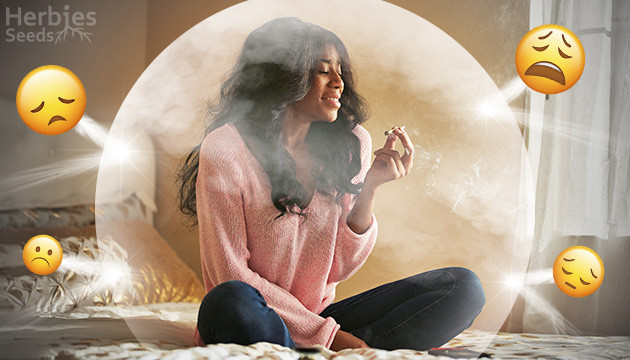 Smoking a bowl or joint at the end of a long day is sometimes just the ticket. But while most of us can benefit from the relaxing and calming effects of marijuana, cannabis may also have some positive effects for folks suffering from depression.
It all stems from how weed affects the mind – and certain strains of cannabis may have even better benefits for depressive symptoms. Today, let's break down the 10 best cannabis strains for depression in detail.
How Cannabis Can Help Depression
While cannabis isn't the be-all and end-all for the treatment of depression, certain elements in marijuana can assist with depressive symptoms. Several research studies indicate that endocannabinoids, which are similar to the cannabinoids in marijuana like CBD and THC, are partially responsible for mood and other neurological states.
THC is the primary cannabinoid in MJ, and there's some evidence to suggest that low to moderate doses of THC can help stimulate your body's production of serotonin, a key hormone often used to fight depression (many people with depressive symptoms have low levels of serotonin for one reason or another).
With that said, let's take a look at some of the best marijuana strains for depression.
Jack Herer Auto (FastBuds)
A newer version of the original Jack Herer, JH Auto seeds are available in feminized and autoflowering glory, producing THC-rich buds with a spicy herbal taste. Thanks to the concentration of Indica in the strain, Jack Herer Auto is relaxing, enriching, and tension-reliving; all excellent aspects that make this one of the best marijuana strains for depression.
You'll notice that Jack Herer Auto is pretty similar to its original strain in appearance, although it's a little smaller since it's an automatically flowering variety you can grow practically anywhere. Try cultivating it indoors or outdoors and enjoy its appealing citrus fragrances and pepper-like musk before lighting up.
Blue Gelato 41 (Barney's Farm)
Blue Gelato 41 from Barney's Farm is a robust 40/60% Sativa/Indica cannabis plant with 25% THC, marking it as very powerful and one of the best weed strains for depression. Thanks to its energizing nature and sweet fruity flavor, Blue Gelato 41 may also be excellent for breaking through writer's block or other creative issues.
Grow and smoke Blue Gelato 41 and you'll notice a dramatic range of aromas and flavors, ranging from blueberries to citrus to earthy undertones. Marijuana enthusiasts may also notice gorgeous purple leaves with frosted tips for added aesthetic elegance.
CBD Lemon Potion Auto (Barney's Farm)
CBD Lemon Potion Auto cannabis seeds are the result of a collaboration between CBD Crew and Barney's Farm. The resulting flower can produce up to a whopping 400g/m² (1.3oz/ft2) and offers a concentration of 15% for both THC and CBD. This is one of the highest CBD marijuana strains you can possibly find.
These cannabis seeds produce high-quality flowers that can be grown in just 10 weeks after initial germination, and CBD Lemon Potion makes it worth your while thanks to its citrusy scent. You'll also notice hints of fruit and coffee, mixing into a delightful earthy taste and fragrance when smoked.
Solomatic Auto CBD (Royal Queen Seeds)
Solomatic Auto CBD contains a whopping 21% CBD and only 1% THC. As a result, folks with depression may find this particular strain to be excellent for treating their symptoms. It lacks enough THC that can cause potential side effects like increased anxiety or low energy, making it one of the top strains for depression overall.
These autoflowering seeds are very easy to grow either indoors or out. Solomatic Auto CBD's medicinal value will feel even more prevalent when you notice its ginger and pine flavors, which are mixed with sweet and fruity notes, combining into a distinct aroma that you won't find anywhere else. Try this cannabis variety if you need help relaxing and relieving chronic pain or soreness.
Super Lemon Haze (Green House Seeds)
A feminized cannabis strain from Green House Seeds, Super Lemon Haze cannabis seeds offer multicolored flowers, excellent flavors, and the titular citrus scent with an appropriate tart taste. They have a minimal amount of CBD (just 0.21%) but a relatively high THC concentration of 19.33%.
As a result, the strain delivers a potent high that does not reach excessive levels, making it excellent for treating depressive symptoms or just relaxing at the end of a long day. Its lemony flavor and fragrance can recharge and regenerate the mind and body, particularly in the summer months when enjoyed with a cool drink.
Grandmommy Purple (Herbies Seeds)
Grandmommy Purple has a unique name and a uniquely high THC concentration of up to 33%! As a result, it may only be one of the best marijuana strains for depression if you already know that cannabis doesn't exacerbate your condition.
If you decide this strain is safe to smoke, you'll enjoy high-quality and powerful waves of euphoria, plus a deeply relaxing effect toward the end of the experience. Note that Grandmommy Purple produces a particularly strong smell, as well as berry and candy-like fragrances and flavors.
Orange Sherbet Auto (FastBuds)
Orange Sherbet Auto is arguably the top choice for autoflowering plants with its THC concentration of 24%. This cannabis strain provides a phenomenal and energizing smoking experience – folks with depression may find their symptoms significantly alleviated after a single puff. The exceptional high experience is bolstered by citrus/orange flavors and fragrances.
Each plant produces abundant and heavy buds, so keep this in mind when growing it for maximum harvesting potential.
Cookies Gelato (Royal Queen Seeds)
Cookies Gelato is a combination of two classic cannabis strains, resulting in a high THC concentration of 28%. It packs a decent punch but, more importantly, is comforting and relaxing at the same time. This aromatic strain offers both a sweet and sugary flavor – it isn't called "Cookies" Gelato for nothing!
These cannabis seeds can be grown effectively both indoors and outdoors and only ever reach manageable heights. As ambient temperatures drop, Cookies Gelato's colors shift into a rich purple, making for an interesting visual experience.
Blueberry Hill (Herbies Seeds)
Blueberry Hill comes from Herbies Seeds, and we've created this 95% Indica plant so that it includes 26% THC in every dose and tons of buds for a fantastic harvest every time. Even better, this plant can be grown capably indoors thanks to its compact and stocky shape.
Blueberry Hill is one of the best medical marijuana strains for depression, general relaxation, or mood-boosting. As its name suggests, Blueberry Hill produces fragrances and tastes reminiscent of blueberries and other berries, with just a hint of spiciness to keep things interesting.
Gorilla Cookies Auto (FastBuds)
Last but not least, Gorilla Cookies Auto provides 27% THC per dose and is exceptionally strong, making it one of the best cannabis strains for depression thanks to its power to relieve depressive symptoms and chronic pain. Fans of this cannabis strain often note its excellent flavor, which is sophisticated and kushy. The aroma, on the other hand, is a pleasant contrast with notes of fresh mint chip cookies.
Moreover, the strain takes only 10 weeks to flower when planted indoors, and it produces an excellent high experience for relaxation or euphoria. Individuals in a low-energy mood can whittle away those depressive symptoms with Gorilla Cookies Auto's intense but not overwhelming effects.
What's Your Pick?
As you can see, the above choices are the best weed strains for depression if you want to tackle mild to moderate symptoms. When used in conjunction with lifestyle changes or other medication, cannabis may help alleviate depression and get you back to enjoying life. Have you ever used cannabis to improve your mental health? What strains are your favorite for this purpose? Let us know in the comments below!
Herbies Head Shop expressly refuses to support the use, production, or supply of illegal substances. For more details read our Legal Disclaimer.