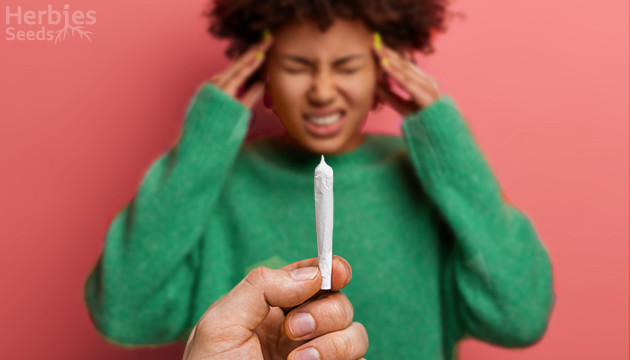 Migraine is ranked as the 7th most disabling disease around the globe. An agonizing illness, migraine headaches are classified as severely painful headaches that are often preceded by distressing sensory signals, including tingling in limbs, and visual flashes of light or colors.
With an astonishing prevalence of around 1 in 7 people, one would assume that treatment options be vast and effective, but this is not the case. Many people rely on strong pharmaceuticals to find relief, with the risk of dependence and negative side effects, while others search for years with no prevail.
Inhaled cannabis reduces self-reported headaches by 47.3% and migraine severity by 49.6%.
Alternatively, the use of marijuana for migraines has come to light, and its effectiveness is gaining awareness through recent studies and feedback showing astounding results. The most recent study, released in 2020 in The Journal of Pain, stated "Inhaled cannabis reduces self-reported headaches by 47.3% and migraine severity by 49.6%." Finding the right strains for migraines can also improve results tremendously.
Common Triggers and Symptoms of Migraine Headaches
Despite the years of research conducted around migraine and its causes, there is no absolute known cause; symptoms and triggers can vary significantly between subjects. However, it is possible to work out what the triggers are for an individual to prevent and treat efficiently.
Symptoms
In general, symptoms of migraine tend to be consistent among sufferers, although severity may vary. There are also warning signs to be aware of that may give you insight and help you identify and treat your migraine more readily. Some warning signs and symptoms include:
Visual disturbances, including bright spots, colors, and even temporary vision loss.
Pins and needles in an arm or leg.
Weakness or numbness in the face or one side of the body.
Pain on one side of the head, or both.
Pain that throbs or pulses.
Sensory sensitivities, particularly to light.
Nausea and vomiting.
Common Triggers
It is vital to work out what triggers your migraines which can be done by making note of the circumstances, environment, and sensory input you encountered before the attack. With chronic migraines, you can keep a notebook with you and jot down the information. Here are some triggers commonly found to be associated with migraine:
Drinks: Alcohol or too many caffeinated beverages.
Foods: Aged cheese, processed foods, and food additives.
Poor eating habits: Skipping meals, fasting, or eating an excess of one food.
Medications: Vasodilators and oral contraceptives.
Physical exertion: Rigorous activity.
Poor sleep: Missing sleep, getting too much sleep, and jet lag.
Lifestyle: Lack of stress management.
Sensory stimuli: Bright lights, loud noises, and strong smells.
Hormonal: Fluctuation of hormones in women and hormonal medications.
Medical Cannabis Strains
VIEW ALL
In What Way Does Cannabis Help With Migraines?
All of the cannabis strains for migraines on our list can be used to effectively treat symptoms of migraines and can even be used for prevention. Weed is known for its powerful analgesic and anti-inflammatory properties and is effective in both high CBD strains and high THC strains.
According to a study posted in Pharmacotherapy Publications, cannabis effectively reduced the frequency of migraine headaches from an average of 10.4 to 4.6 headaches per month. Not only did they report reduced overall attacks and lower severity of symptoms, but many reported that smoking cannabis during the onset of an attack resulted in an aborted migraine.
Along with the general treatment for symptoms and prevention, cannabis can also help in the treatment of common comorbidities associated with chronic migraines such as depression and anxiety. This is due to how smoking cannabis for migraines can lower overall stress levels and provide an uplifting effect.
Top Strains Of Cannabis For Migraines
When it comes to using cannabis for migraines, studies have found that strong strains are equally effective whether they have high THC or high CBD percentages. That is because these and many other cannabinoids in weed are all responsible for the positive effects.
Weed acts on the endocannabinoid system in the body and can reduce inflammation in the protective dura mater tissue in the brain, it can also stop pro-inflammatory chemicals from being released, according to neuroscientist, Dr. Jim Polston.
However, not all strains are created equal, one strain might offer relief to one person and prove unhelpful for another. This is why it is important to choose one of the best marijuana strains for migraines before deciding if cannabis is a good option for you.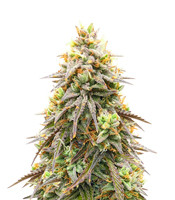 Pineapple Express Auto (Barney's Farm)
Autoflowering

Brain storm

600 g/m² indoors

14 %
View strain
Pineapple Express
Offering a delicious tropical flavor, Pineapple Express is famous for more than just its name. This strain can produce some of the most soothing marijuana for migraines with powerful stress-relieving effects.
You can smoke this weed to release tension during the onset of a migraine attack, and you can use it to relieve pain, anxiety, and nausea in the middle of one. Smoke enough, and you may find yourself drifting off only to wake up migraine-free in the morning.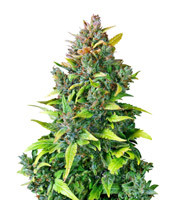 CBD Auto 20:1 (FastBuds)
Autoflowering

Cures body and soul

0.3 - 0.85

350 - 450 g/m² indoors
50 - 170 g/plant outdoors
View strain
CBD Auto 20:1
To effectively ward off chronic migraines, the CBD Auto 20:1 strain is not only sweet like honey but it won't leave you feeling intoxicated either. The CBD to THC ratio for this strain is 20:1, exhibiting CBD levels of up to 20%!
With high CBD and very low THC levels, you can enjoy moderately relaxing and pain-relieving effects, mild enough for daily, daytime use yet strong enough for migraine prevention and taking the edge off an attack.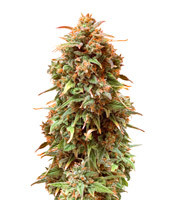 Solomatic Auto CBD (RQS)
Autoflowering

Helping the world with its pain

150 - 200 g/m² indoors
30 - 80 g/plant outdoors

1 %
View strain
Solomatic Auto CBD
One of the absolute best CBD strains for migraines, Solomatic Auto CBD is an Indica dominant strain with CBD levels up to an impressive 21% and THC lower than 1%.
This plant offers all the strong medicinal effects of CBD finessed with a delightfully sweet, fruity flavor with hints of pine and ginger. Smoke daily to help prevent migraines without an intoxicating effect, while offering relief from pain and inflammation.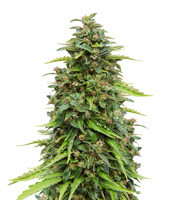 CBD Lemon Potion Auto (Barney's Farm)
Autoflowering

Inhaling health

400 g/m² indoors

15 %
View strain
CBD Lemon Potion Auto
The perfect balance between psychoactive effects and medicinal goodness, CBD Lemon Potion offers a 50/50 ratio of CBD and THC with levels of 15% for each. You can enjoy mild uplifting effects to elevate your mood while enduring a migraine or to help bring you back to baseline.
Thanks to the interaction of CBD and THC, this strain is great for daytime use and can also be used for migraine prevention, pain relief, inflammation, and nausea. Expect gentle hints of lemon with a comforting earthy taste to finish off the experience.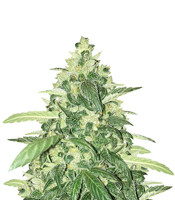 Vanilla Kush (Barney's Farm)
Photoperiod

Forget about tension

22 %

600 g/m² indoors
View strain
Vanilla Kush
A queen amongst Indica dominant strains, Vanilla Kush plays with the senses, offering soothing fragrances of vanilla dessert with hints of pine, while leaving a pleasant tingle down your spine thanks to a bewildering 22% THC level!
This is a noteworthy strain of cannabis for migraines delivering instant results that go directly to your head. Expect to be pulled into an intoxicating zone of relaxation, offering strong mental relief from the pain, zapping away nausea, and helping to stop a migraine in its tracks.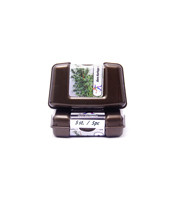 Harlequin CBD (Kera Seeds)
Photoperiod

No official information

A pinch of craziness

0.2 - 0.5
View strain
Harlequin CBD
Among the top strains for migraines, but not as strong as some others, Harlequin CBD is a great weed strain to start with if you are new to medicinal cannabis use.
Ultra-low THC levels of less than 0.5% and moderately high CBD levels of up to 17% create a fantastic strain to dissolve tension and worry from your body without any "high." With a tasty savory flavor, soak in the relaxation and keep migraine pain to a minimum.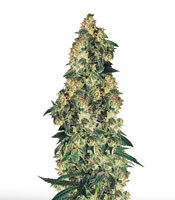 Northern Lights (Sensi Seeds)
Photoperiod

Legendary taste

No official information

High
View strain
Northern Lights
A potent Indica dominant strain, Northern Lights will light up your world with a powerfully uplifting effect while your body sinks into the sofa amidst a cloud of lemon smoke.
On the list of good marijuana strains for migraines, this strain is one of the finest for reducing the intensity of a migraine attack in full swing. The strong body feel can help reduce pain and improve the chances of falling asleep while helping uplift your mood, all-in-one.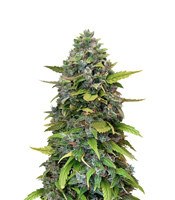 Gorilla Glue Auto (Barney's Farm)
Autoflowering

Psychoactive journey

25 %

600 g/m² indoors
800 g/plant outdoors
View strain
Gorilla Glue Auto
Heavenly smooth on the inhale and THC levels at an astonishing 25%, Gorilla Glue Auto is one of the best weed strains for migraines, offering treatment for a wide range of symptoms including nausea, pain, and anxiety.
A well-balanced strain with an Indica, Sativa ratio of 55/45, you can enjoy a euphoric, yet mellow high to enhance your mood and provide a soothing body effect to relieve migraine pain and keep you sinking into a more comfortable state of being.
Find Relief From Migraines With Cannabis
Suffering from chronic migraines can leave you feeling defeated and disorientated, desperate to find relief. Although there are plenty of treatment options to choose from, it isn't easy feeling forced to subject your body to dependence-forming medications and a restrictive lifestyle of avoidance tactics.
Using medical marijuana for migraines could be your strongest ally and help you reclaim your strength to live your life to the fullest once again.
Choose a strain that resonates with your needs and find a dosage that works for you. If one strain doesn't do the trick, another may be your saving grace. Don't give up hope! You are not alone, and relief is out there, it just needs to be found.
Herbies Head Shop expressly refuses to support the use, production, or supply of illegal substances. For more details read our Legal Disclaimer.