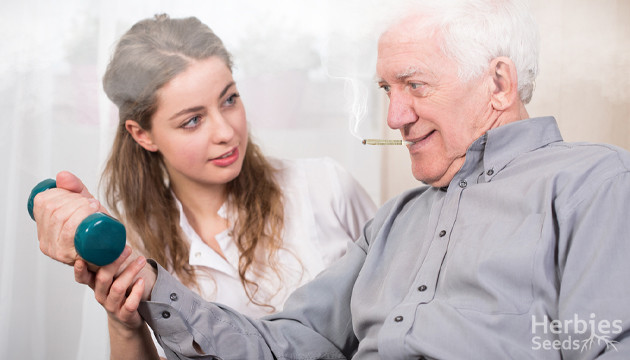 Evidence from medical research shows that cannabis and stroke recovery are a healing combination that survivors should know about. If you haven't before considered the possibility, marijuana can be incredibly helpful in managing symptoms, complications, and recovery related to stroke. However, it's important to note that this is not medical advice – always consult with your doctor if you have questions.
Possible Complications After Stroke
During a stroke, the patient's brain is starved of nutrients and oxygen. This can have catastrophic results leading to brain damage, disability, and even death. The most common form of stroke is the 'ischemic', which is also the most survivable. This article reviewed by a doctor outlines the types of strokes, symptoms, and how CBD can be helpful for stroke victims. Stroke survivors often have to deal with impairments or complications, even in the long term, as common long-term issues following a stroke include:
Speech impairment
Muscle weakness and/or spasticity
Numbness and/or pain
Seizures
Difficult with memory and attention
Depression
And more. The possible symptoms are dependent on which region of the brain has been affected by stroke.
Medical Cannabis Strains
VIEW ALL
Evidence That Cannabis Is Effective In Stroke Recovery
Stroke recovery can be a long and difficult journey, but science has shown that cannabis can help in the process. A patent held by the United States government, U.S. Patent No. 6630507B1, states that cannabinoids, specifically CBD, "have particular application as neuroprotectants, for example in limiting neurological damage following ischemic insults, such as stroke and trauma."
A study published in 2012 outlines an experiment performed on rats, in which cannabis was administered after stroke, and researchers found that CBD "reduces long-term brain injury and restores neurobehavioral function." Essentially, cannabinoids can penetrate deep into the central nervous system, and are remarkably well-suited for limiting neurological damage, decreasing inflammation, and restoring neurological functions. Marijuana after stroke is known to be helpful in recovery, and in more ways than one – read on to learn more about the various ways in which THC, CBD, other cannabinoids, and terpenes can be healthy for stroke survivors.
High THC Strains
VIEW ALL
Marijuana For Stroke Recovery: THC Or CBD-Rich Strains?
Depending on the symptoms the user is looking to alleviate, it may be appropriate to choose a THC or a CBD-rich strain. Both cannabinoids provide benefits that differ slightly, but can be most beneficial when combined. Conditional to the ailments the patient is suffering from, marijuana and stroke recovery could be the right medical decision.
Pains Related To Stroke Alleviated By THC
THC, well-known as the psychoactive cannabinoid present in cannabis, acts primarily on CB1 receptors in the brain and nervous system. This makes it amazing at pain relief and management. This 2012 study found that cannabis consumed by vaporization at low doses was incredibly effective at relieving neuropathic pain. The results found that pain was relieved up to 30% in the patients studied, with mild side-effects such as confusion and sedation visible at higher doses. When micro-dosed, THC seems to be a viable solution for neuropathic pain, with very few side-effects.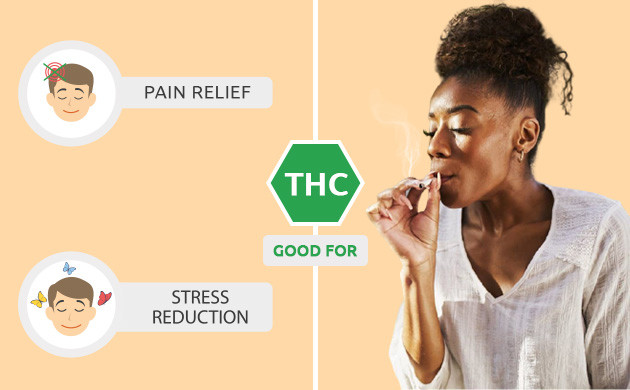 CBD To Protect Neurons
Neurons damaged by a stroke are a cause of side-effects, and cannabis can help protect them. A study published in 1998 tested the effects of THC and CBD on rats, finding that both cannabinoids "lock a neurochemical, known as glutamate, that leads to the formation of toxic oxidizing molecules that kill brain cells." Another study also revealed that marijuana's naturally anti-inflammatory properties are effective against stroke-related brain inflammation. CBD is the more effective of the two cannabinoids in blocking glutamate and preventing brain damage. It's also capable of improving neuron health through supporting two important chemical processes: calcium ion handling and neuron metabolism.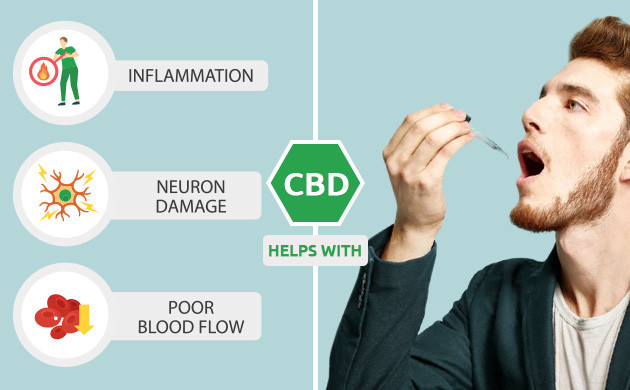 CBD As A Powerful Antioxidant
Cannabidiol can also function as a powerful antioxidant, and without the patient developing a tolerance over time. In a 2007 study of mice, scientists found that CBD "is a potent antioxidant agent without developing tolerance to its neuroprotective effect," as opposed to THC, which requires increased doses over time. CBD is a potent antioxidant that can protect the brain's neurons from damage.
CBD For Lower Blood Pressure
Maintaining healthy blood pressure is essential for stroke prevention; one of the primary causes of subsequent strokes is high blood pressure. CBD has been reported to reduce blood pressure, as found in a clinical trial. Treating blood pressure is a main method used to prevent subsequent strokes. Consult your doctor to decide whether CBD is an adequate blood pressure treatment for you.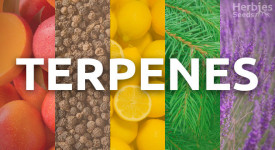 Terpenes 101
READ NOW
CBD And Terpenes For Improved Blood Flow
One of the causes of ischemic strokes is poor blood flow; improving blood circulation is necessary for recovery, and cannabis products can help with that. Terpenes themselves have a variety of therapeutic benefits, such as improved cerebral blood flow. This is also true of CBD, which has modulating effects on serotonin receptors, as observed in this study. Both help regulate the amount of blood that enters the brain, which means patients should reach for full-spectrum extracts that contain CBD as well as essential terpenes to take advantage of the "Entourage Effect" that presents itself when cannabinoids and terpenes are combined.
How To Consume Cannabis After A Stroke
Smoking, in general, increases the risk of stroke. According to the U.S. patent mentioned earlier, the official suggestions for cannabinoid ingestion following an ischemic stroke are via continuous intravenous infusion or hourly intramuscular injections. These are unlikely to be viable options for most patients. If you're interested in treating stroke symptoms with cannabis, there are plenty of other methods of consumption that do not involve smoking: edibles, tinctures, oils, and vaporization, for example. Start with a small dose and increase incrementally until the desired results are achieved.
Talk To Your Doctor About Medical Marijuana For Stroke
Cannabis can help protect the brain, improve blood flow, help repair neurons, and manage other post-stroke symptoms. Although science supports cannabis as a stroke recovery tool, you should always talk to your doctor about alternative treatment methods before trying anything. Your healthcare professional will know best if cannabis or any derivatives would be helpful in your recovery.
Herbies Head Shop expressly refuses to support the use, production, or supply of illegal substances. For more details read our Legal Disclaimer.