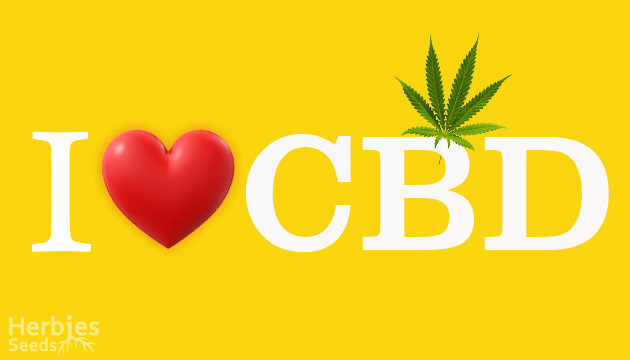 Whether you're looking for the health benefits of CBD or just want to explore marijuana effects other than those provided by pure THC, high CBD strains are a great choice. While there are many to choose from, you can't go wrong with any of these handpicked top CBD strains.
Dr Bruce Banner CBD: Relax in the Sweet Company
If you're looking for CBD weed strains that provide relief from pain, anxiety, and nausea, Dr Bruce Banner CBD is the top choice. Bred by Original Sensible Seeds, Dr Bruce Banner CBD is a balanced hybrid that promotes relaxation and provides a delicious citrus and fruit taste. Its unique effects are achieved through a genetic mixture of Bruce Banner #3 and CBD-enriched Carmen. These are high CBD seeds for growing that's easy: Dr Bruce Banner CBD is a hardy plant that's mold-resistant and ready to harvest in about 60-70 days of flowering.
Black Jack CBD: a CBD Twist on a Classic
Black Jack CBD by Sweet Seeds is the CBD-heavy offshoot of the classic Black Jack. With this feminized hybrid strain with an approximate 1:1 ratio of CBD to THC, each peaking at 17-18%, you can get the health benefits of both CBD and THC in order to take advantage of the entourage effect. For growers, it produces a large yield and is ready to harvest outdoors in late September, and indoors after flowering for about 8-9 weeks. You'll notice it produces a sweet, lemony taste alongside a subtle note of incense.
CBD Tonic: Smoke the Pain Away
If you're shopping around for the best CBD strains, there's a good chance you're doing so for their health benefits. If so, then CBD Tonic by World of Seeds is one of your safest bets. It's a feminized strain with a 1:1 THC to CBD ratio of 7-10% THC and 7-14% CBD, and boasts an aroma reminiscent of cedar-infused lemons. It's an especially popular choice for medical patients, who appreciate its pain-mitigating and appetite-stimulating properties. It takes about 7-8 weeks of flowering to harvest and generates an average yield.
CBD Lemon Auto: Two Goals, One Stone
With a CBD to THC ratio of 1:1 (17% each), these CBD autoflower seeds from Herbies Seeds become an easy-to-grow plant with buds that are as recreational as they are medicinal. The result of a collaboration between Herbies and top-notch Spanish breeders, CBD Lemon Auto delivers quick aid against physical and mental symptoms. This cross between Lemon Kush and a CBD-enriched autoflower is slightly Indica-dominant, produces a spicy lemon fragrance and gives out a generous yield while inducing uplifting, calming, and creative sensations in its consumers.
Tatanka Pure CBD: a High-CBD, Low-THC Strain
RQS' Tatanka Pure CBD is some of the strongest high-CBD seeds, with CBD levels soaring around 14%, and THC always testing below 0,25%. This negligible amount of THC makes this strain legal in lots of countries in the world! A crossbreed of Elixir Vitae and Medical CBD, it's an easy-to-grow variety that delivers XL yields. This plant performs well indoors or outdoors so long as humidity is kept low. Because of its high CBD content, Tatanka Pure CBD is an especially popular choice for medicinal cannabis consumers looking for relief from tension, pains, inflammation, stress, and other symptoms.
CBD Critical Cure: a High-Performance Favorite
Here's another high CBD strain from Barney's Farm with some legendary parentage. CBD Critical Cure is a cross between the renowned Critical Kush and Shanti Bab's CBD-enhanced strain. An Indica-dominant hybrid with a high CBD level of 18% and a moderate THC levels of 12%, CBD Critical Cure is rightly famous for being one of the best medicinal CBD strains out there, especially for anxiety and chronic pain. As far as cultivation goes, although it does slow down a bit during the final weeks, CBD Critical Cure is a fast-growing plant that generates some impressive yields of 600g/m2 (228 oz/ft) indoors or 500g (18 oz) per plant outdoors.
Buddha Medikit CBD: Just What the Doctor Ordered
With a name like Buddha Medikit CBD, you know this strain from Buddha Seeds is going to be good for both the body and soul. A 50/50 Indica/Sativa hybrid with just 1% THC and 20% CBD, it's one of the best high CBD/low THC strains to be found. Better still, the aromas of mango, orange, lemon and pine are downright mouth-watering. For all you cultivators out there, Buddha Medikit CBD is easy to grow, and final yields can really be bumped up thanks to her side-branching—just make sure to give the plant plenty of light and nutrients.
CBD Auto 20:1: Lots of CBD for Medicinal Users
As you might have guessed, FastBuds' CBD Auto 20:1 boasts 20 times as much CBD as it does THC (20% to 0.85%), making it a great medicinal choice for consumers who want to avoid any psychoactive effects. In terms of health benefits, the strain tends to provide moderate relief for ailments like insomnia, anxiety, chronic pain and inflammation. Its lime green leaves, red pistils and dark green buds also make this short and bushy plant a delight to look at. It grows well in almost any environment and is highly resistant to pests and disease.
CBD Auto Compassion Lime: a Prize-Winning CBD Strain
Having taken home 1st CBD Weed Prize at the Highlife Cup Netherlands 2017, it's hard to argue with the fact that CBD Auto Compassion Lime from Dutch Passion is one of the world's best marijuana strains that's high in CBD in both taste and smell. It has strong orange and citrus flavors thanks to its parent strains, Californian Orange and Daiquiri Lime. Those strains have been crossbred with CBD Compassion to deliver a CBD amount of about 9-10% and a moderate THC level of 7-15%, with the CBD usually a bit higher than the THC. This mix of THC and CBD results in a mild and relaxing body buzz that's excellent for combating anxiety.
CBD JAM: the Full Package
Here's another high CBD strain that also sports high enough levels of THC for instant mood elevation. CBD JAM from Delicious Seeds has 7-14% CBD in every flower, and 7-10% of complementary THC. It's a truly delicious remedy with notes of pineapple and other varied juicy fruit and berries. Just a couple of these sweet tokes and you'll be granted relief from migraines, nausea, anxiety, stress, and physical discomfort and pains.
CBD Seeds for Sale at Herbies
There you have it: a high CBD strains list that's bound to have something to satisfy every type of cannabis grower and consumer. From strains that balance out the psychoactive properties of THC with CBD to others that show strictly medicinal properties, the world of high CBD strains is large, diverse and exciting to explore.
Do you know already what CBD-rich strain you'll be growing next? Share your picks in the comments below – we're psyched for you to experience all of the fantastic benefits of CBD!
Herbies Head Shop expressly refuses to support the use, production, or supply of illegal substances. For more details read our Legal Disclaimer.