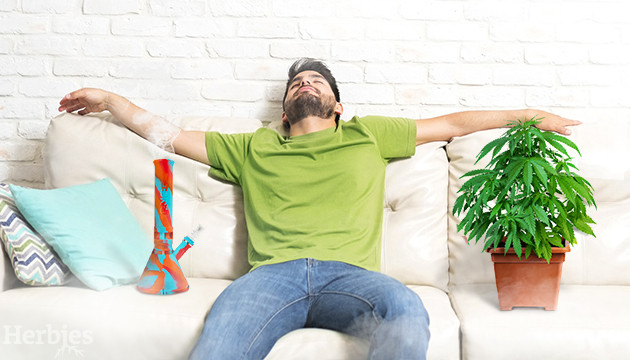 Every cannabis smoker has their own reasons to love this plant. Some value its ability to alter perception and lend a fresh perspective on the world and life, others smoke it to put themselves in a party mood, and still others appreciate weed's body-centric effects the most. In this post, we'll look at the best body-high strains of the modern market, as some genetics are definitely better than others at providing body-focused effects.
What is a Body High?
To those who haven't experienced the effects of body-high strains (or haven't tried cannabis at all), it's hard to describe the blend of physical relaxation and body tingling that washes over you when you smoke a bowl. It could be mild and mellow and feel like a soothing glow in your every bone and muscle. Alternatively, it may come as a sudden rush of euphoria that sweeps across your body and makes your knees weak.
Often, when you consume marijuana by smoking (and have coughed out a substantial part of your lungs), the irritation of your airways itself becomes a source of pleasurable feelings and irradiates sensual waves through the whole body, making your toes curl.
Of course, we appreciate body-high weed strains for much more than the simple pleasure of the physical buzz. They also give us the opportunity to get relaxed and wind down after a busy day, while the full-body sedation masks fatigue and various aches and pains with floaty, tingly sensations. The most potent varieties even create body-numbing feelings that take care of serious symptoms, such as chronic pain and spasms, which is why body-numbing strains are so valuable medicinally.
What Are the Best Body-High Strains?
The best weed strains for body highs are Indicas. Frankly, the division of cannabis varieties into Sativas and Indicas is a very controversial subject, as this seldom reflects the actual genetic origin of a particular strain. Moreover, most commercial strains are hybrids anyway. However, when we say that this is Indica and that is Sativa, it can be a useful convention that tells us what type of effect to expect from the smoke.
So, when we choose an Indica, we can count on it producing a body stone with a strong physical impact and often some sedating and tranquilizing qualities to boot. Indicas also tend to make you sleepy, so they're perfect when you have insomnia or simply feel too wound up to sleep.
Herbies Presents: The Best Body-High Weed Strains
Out of our extensive cannabis seed collection, we've selected the best Indica strains for body highs that are perfectly suitable for either recreational after-work relaxation or addressing pain and discomfort in medical patients.
Grandmommy Purple
Because medical patients seek body-high strains the most often, and since they usually develop a very high tolerance to cannabis due to frequent use, we start out our top-10 list with the most potent Indica in our seed store. Grandmommy Purple boasts up to 33% THC – the kind of potency that even the heaviest of smokers should approach with caution. These sweet and berry-smelling buds will provide immediate bodily relief and make you nod off and drift away in no time.
Original Auto OG Kush
The Kush family is the epitome of medical marijuana with its pronounced physical effects and its calming nature, so why not grow yourself a great Kush from an autoflowering seed? Original Auto OG Kush is fast, reliable, has the recognizable smell of citrus and pine with a creamy and earthy taste, and packs up to 23% THC – enough to produce a cozy body stone and take care of serious pain. Smoke it from late afternoon up until bedtime to relax, listening to music or watching TV until you're ready to get some shut-eye.
Banana Punch
Who said that body-high strains should be bland or boring? Banana Punch is a perfect example of how much fun a body-numbing Indica can be. The pleasure starts with an incredible smell of sweet ripe bananas and is followed by a high that creates a burst of sunny euphoria on top of majestic waves of physical relaxation. Despite its 26% THC, there's nothing intimidating about this weed's effects, and with a little practice, you'll learn to moderate your consumption and adapt this relaxing medicine to any time of day or night.
Sweet Zombie
Looking for a way to fill your body with the molten gold of blissful relaxation while slowing down your brain? Sweet Zombie is the ultimate late-evening smoke, when you're done for the day and ready to stop the flow of time and meditate on the couch – with your TV turned on and your head switched off. The name of the strain also tells you what to expect from its flavor: the candy-like sweetness of the taste with the more subtle but also delightful aroma of hash and blackberries.
Total Paralysis
Sometimes, we get so exhausted and stressed out by the events of the day that we wouldn't settle for anything less than Total Paralysis in the evening. Remember how we said that the Indica/Sativa classification can be very unreliable? Well, this strain is proof – a dominating Sativa with pronounced Indica effects that are mostly felt in the body. This weed will make you motionless while the mind will remain hyperactive (but mostly concentrated on intense physical sensations). You'll forget about aching joints and muscles after inhaling this sweet and spicy smoke, and the effects will last for hours.
Blue Auto Mazar
A happy union of the world's most venerable Indicas – Blueberry and Mazar – with the addition of Ruderalis genes has produced an autoflower with all the usual perks of speed and hardiness, plus an enjoyable and cozy body high. A fresh and spicy aroma of forest berries with a complementary fragrance of forest earth completes the picture of total bliss. Despite a scary THC level of 22-26%, Blue Auto Mazar is a remarkably soothing strain – it melts the tension in your body and makes you feel good about yourself.
DDoS #33
Prepare for effects that first lift you up and send you flying but quickly catch you again and squeeze you long and hard. Ddos 33 is Herbies' in-house masterpiece that was bred with potency in mind (up to 27% THC of it), but it became famous for its incredibly euphoric character and its citrusy/spicy sweetness. Among the best Indica strains for a body high, this one stands out as it leads you by the hand from cerebral glee to deep bodily relaxation to blissful drowsiness, and at every stage, you feel that this is it – the happiest state you could be in.
Do Si Dos
A sister strain to the one just above, Do Si Dos can be even more potent, as the best-grown samples contain up to 30% THC. No wonder these buds are currently among the most popular in dispensaries across the US. Expect to feel the full force of gravity as you get stranded on your couch like some deep-sea creature washed up on a tropical beach. While you won't be able to move a muscle, you'll feel no need to – well, at least not for a few hours – after which you'll probably want to pack another bowl and repeat the experience.
Original Auto Cheese
Skunk varieties are famous among weed strains for producing sensual body tingling coupled with a peaceful head high. Original Auto Cheese adds something to the mix that not every Skunk possesses: the pungent tear-jerking stench of cured cheese with equally sharp notes of sweet fruit. It's an incredible and memorable combination against which you're going to gauge any smoke in the future. With 21% THC, the effects are strong but not overwhelming, and they always lift your mood – primarily by making your body feel great.
Cream Mandarine Auto
Cream Mandarine Auto counts Ice Cool among her parents, which promises a body-numbing stone. You know that face-melting type of high when you can hardly say a word because your lips feel anesthetized? Now imagine this happening to your entire body! The name is also a promise of a tropical terpene profile, and the smoke really smells like sweet fruit and leaves a fresh, delicious aftertaste on your palate. The 18-20% THC level is also high enough to drop newbies like flies and give the veteran smoker a comfortably long-lasting high.
Herbies Head Shop expressly refuses to support the use, production, or supply of illegal substances. For more details read our Legal Disclaimer.