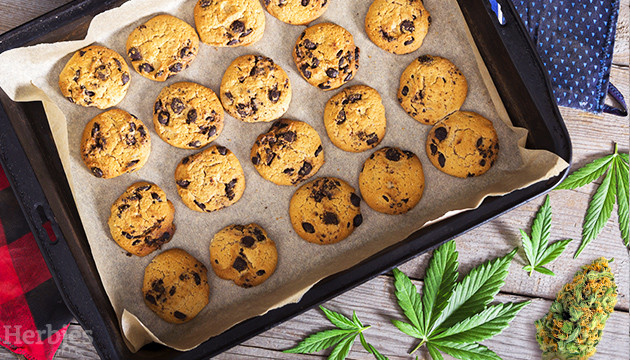 What up, folks! Most of us like to have our little J or bowl, while some prefer other ways of ingesting the plant. However, there's one route of administration that is by far the most efficient and potent of all. Eating cannabis has been practiced since time immemorial. Being processed in the liver, THC turns into its 11-hydroxy metabolite, which makes this way of ingesting weed much more potent than any other.
How do we make the process enjoyable? By making some awesome edibles, of course! You just need to remember not to confuse them with regular munchies material.
Can Butter Become Cannabutter?
Before we get to our special cookie recipe, we first need to cover the process of making cannabis butter (or cannabutter), which you can then use for many other recipes as well.
To make cannabutter, you'll need the following:
2 sticks or 1 cup (225g) of unsalted butter
½ cup (120mls) of water (be prepared to add more when necessary)
7g of that well-ground sticky-icky
Step 1. Decarboxylate your weed. Yes, we said it. Set the oven to 220°F (105°C). Spread your ground Mary Jane on top of a sheet pan covered with parchment paper or aluminum foil. Put the sheet pan in the middle and heat for 30-40 minutes, stirring only once. Let it cool off at room temperature for 30 minutes. Your cannabis should appear sort of toasted or golden brown in color. Now it's ready for cooking edibles!
Step 2. Mix the water with the butter in a pan, then bring it to a simmer on low to medium heat. Adding water helps maintain a stable temperature and keeps the butter from burning. We don't want that! Toss in your cannabis as you see that butter melting.
Step 3. Keep the heat on low and let it simmer for 2-3 hours while giving it a stir every once in a while. Make certain that the mixture never reaches full boil.
Step 4. Strain the hot liquid into a glass container through a cloth. Squeeze the plant material to extract as much liquid as possible. Remove any residual greens.
Step 5. Refrigerate any residual liquid overnight, or until the butter completely solidifies. Then it will separate from the water, allowing you to pull the cannabutter out of the jar! Discard the remaining water after removing the hardened cannabutter.
Now you've got some amazing stoner butter that makes everything taste and feel so much butter! That wasn't a Freudian slip – it was an invitation to finally try out our weed cookies recipe!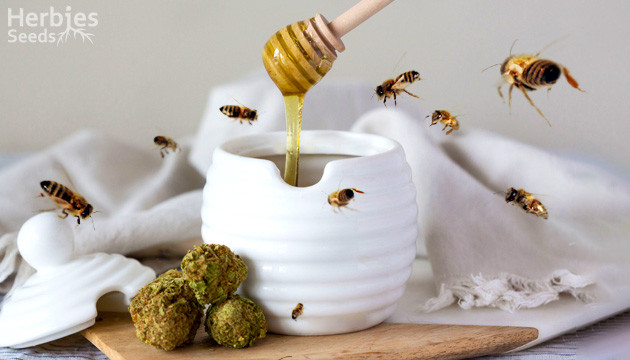 How To Make Cannabis Honey In 7 Easy Steps
READ NOW
Chocolate Chip Cookies v. 4.20
Basically, this is your good old chocolate chip cookie but with a 4/20 twist. It's easy to prepare, and the iconic oozing chocolate taste will leave everyone satisfied.
Before You Start
To ensure the best results, make sure you follow these tips before you start cooking:
Make sure the eggs are at room temperature so they mix well with the butter
Allow your dough to chill for a little while so the cookies don't spread too much
Don't overbake your cookies – they should be brown on the edges and very slightly undercooked in the middle
Ingredients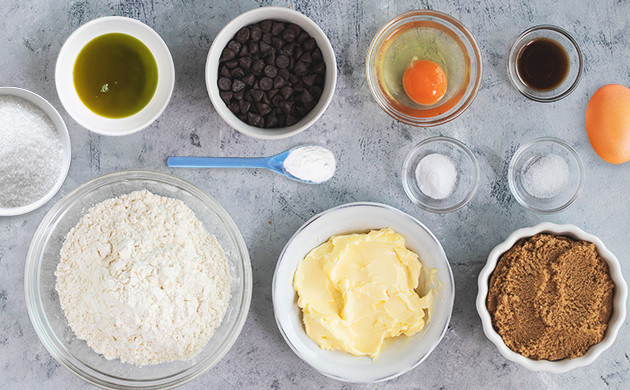 1/2 cup unsalted butter (113g) and ½ cup cannabutter (113g)
(or 1 cup cannabutter – 226g – for twice the kick)
1 ¼ cup brown sugar (250g)
½ cup sugar (100g)
1 egg + 1 yolk (room temperature)
1 ½ teaspoons vanilla extract
2 ¾ cups all-purpose flour (350g)
2 teaspoons cornstarch
1 teaspoon baking soda
¾ teaspoon salt
1 ¾ cup semisweet chocolate chips (bare minimum, rest is optional) (300g + on top)
Instructions
Step 1. In a large mixing bowl, thoroughly combine the melted butter and sugars.
Step 2. Stir in the egg and egg yolk, then stir in the vanilla extract. Set aside.
Step 3. In a medium-sized bowl, whisk together the flour, cornstarch, baking soda, and salt.
Step 4. Gradually add the flour mixture to the wet ingredients, stirring constantly until all the flour is absorbed. Mix in the chocolate chips.
Step 5. Place the dough in the refrigerator for 30 minutes to chill.
Step 6. Preheat the oven to 350°F (177°C) and line up the cookie sheets.
Step 7. Scoop out the dough by rounded 1 ½ tablespoons onto the prepared cookie sheets, placing them at least 2" (5cm) apart.
Step 8. Bake for 11 minutes. The cookies may still seem slightly soft in the middle – that's okay, they will cook perfectly well on the cookie sheets. However, don't overbake or your cookies will be too hard!
Step 9. If needed, gently press extra chocolate chips into the tops of the warm cookies.
Step 10. Allow them to cool completely on the cookie sheets.
How Strong Are They Going to Be?
A cup of cannabutter with 0.25oz (7g) of weed contains around 1500mgs of THC (as per an average THC level of 21%). Given that this recipe yields us around 45 cookies, each cookie will contain ~18mgs of THC when using half a cup of cannabutter (or a whole ~35mgs when using the whole cup). 10mgs of THC is considered a decent, strong dose, usually intended for users with high tolerances. So, it's best to start with half (or maybe even a quarter) of a cookie and wait for a good 2-3 hours before opting for more. Remember, you can always do more, but you can never do less!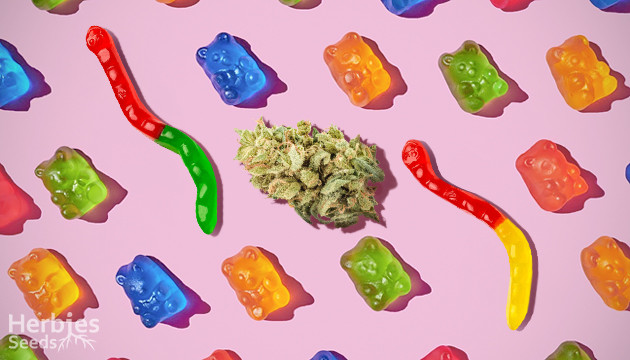 Improved Weed Gummies Recipe: Worms & Sour Bears
READ NOW
And There You Go!
The results are stellar! Let us know in the comments section about your attempts! How strong do you expect it to be? Do you want to go for the regular version or the extra-strong one?
Also, if you want to change something in the recipe or add different toppings, please share your ideas with us!
Herbies Head Shop expressly refuses to support the use, production, or supply of illegal substances. For more details read our Legal Disclaimer.