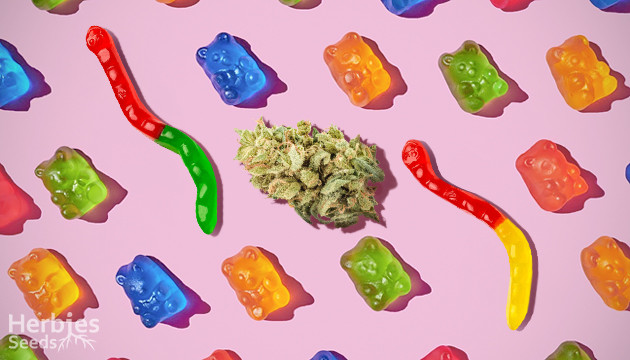 Having delicious home-made gummy edibles on hand the next time you need to dose up is a great way to simplify your THC or CBD intake and make it more fun.
In this weed gummies recipe, we have two exciting new variations for you to try. We're changing up the traditional fruit-flavored gummies we all know and love, and making weed gummy worms and sour bears instead.
With this recipe, you can make THC gummy worms or sour bears completely from scratch. These two new versions are just as quick and easy to make and can be done from the comfort of your own kitchen. So, settle in and let's get started!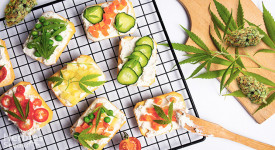 Best Strains For Edibles
READ NOW
What You Will Need To Make THC Gummies
Before we begin, get all your ingredients ready. If you want to make both gummy worms and sour bears in one session, simply double your measurements.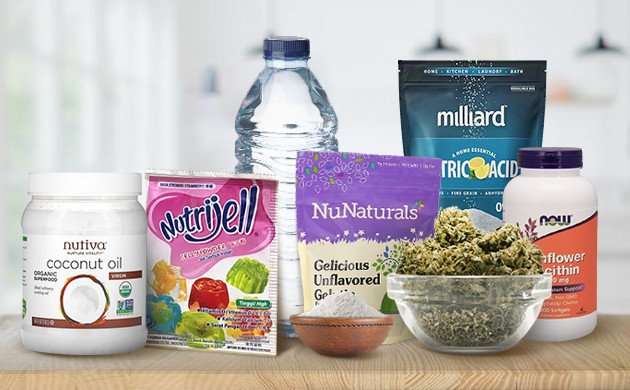 The Cannabis Oil Base
½ cup coconut oil
7 g cannabis bud (maximum – use less for less potent gummies)
The Gummy Mixture
½ cup cannabis oil base
½ cup of water
85 g sachet of instant jelly
2 tsp of unflavored gelatin
½ tsp of soy lecithin
Extra Ingredients
1-3 tsp citric acid
½ cup icing sugar
Quick Health Tip: If you want to make healthier gummies, you can switch out the water for fruit juice.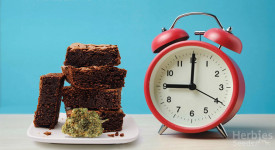 How Long Do The Effects Of Edibles Last?
READ NOW
Equipment
Next up, get your equipment ready – you don't want to be caught off guard! Most of these are simple items that you'll most likely already have in your kitchen.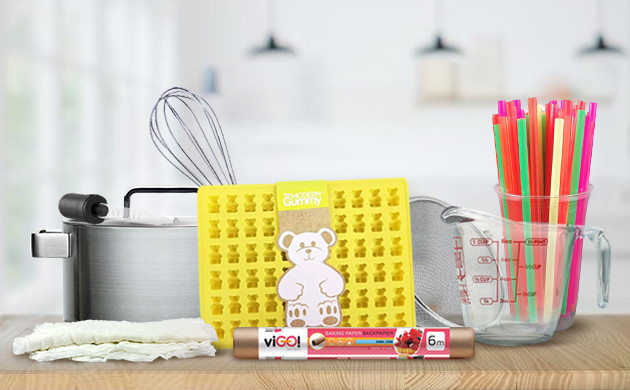 Stove with oven
A double boiler or saucepan
A pot
Baking paper
Cheesecloth
Whisk
Sieve
Dropper
Gummy bear mold
Cookie tray
Pack of drinking straws
Drinking glass
Large bowl
Quick Tip: If you don't have a mold, line a container with cling-wrap and pour in your gummy liquid. When the liquid has set, you can cut it into gummy blocks or use cookie cutters to make shapes.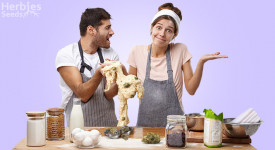 Common Mistakes When Cooking With Weed
READ NOW
Instructions
Once you have everything you need, start with the cannabis oil base. If you already have cannabis coconut oil pre-made, jump straight ahead to making your marijuana gummy worms or sour bears.
Making The Cannabis Oil Base
For any weed gummies recipe, you need to start with a cannabis oil base. However, before you start, it's important to know that you need to decarboxylate your weed to transform the THCA into active THC – otherwise, you'll end up with ineffective oil. Follow these steps to get the best results:
Break up the cannabis bud onto a baking tray lined with baking paper.
Bake in the oven at 105-120°C (221-248F) for approximately 35 minutes.
Remove the tray from the oven and prepare the coconut oil.
Place your measured coconut oil into the top of a double-boiler or in a saucepan until it's simmering at approximately 60°C (140F).
Stir in your decarboxylated cannabis bud and allow to simmer.
After about an hour, your oil will be infused. Remove it from the heat and strain it into a container using your cheesecloth.
Now that your cannabis oil base is ready, you can move onto the fun part!
If you want to learn more about coconut cannabis oil and its uses, or simply need more directions, read our special article on plant-based cannabis butter.
Making The Gummy Mixture
Getting the gummy mixture right is vital to avoid a lumpy, separated result. Follow these steps to getting a great gummy mixture on the first try:
Place your pot on the stove on low heat.
Mix in the water, cannabis oil base, and soy lecithin.
Stir until the mixture is a consistent texture before slowly adding in the sachet of instant jelly and the unflavored gelatin.
Allow the mixture to simmer for 10-15 minutes while whisking regularly. Make sure all the gelatin dissolves. Do not let the mixture boil.
Remove the mixture from the heat and pour it through a sieve to catch any clumps.
Quickly move on to molding your gummies before the mixture cools.
Making Gummy Worms
If you've chosen to make weed gummy worms, follow these simple steps before your mixture cools:
Pour your mixture into your drinking glass, filling it almost to the top.
Slowly lower a dense handful of straws into the glass of mixture with the bendy parts first.
Place your glass into the freezer and place something on top of the straws to stop them from lifting.
Leave them to set for at least 20 minutes.
Once the gummy mixture is set, dip the glass into a bowl of hot water to loosen the mixture and pull the straws out.
Take each straw and gently dip them into the hot water to loosen the gummy on the inside of the straw. Keep the gummy bits from the outside – they aren't pretty, but still potent.
Squeeze each straw from the bottom and watch your gummy worms wiggle out the other end.
Store your worms in an airtight container in the refrigerator – gummies should stay fresh for a few weeks in the fridge.
Making Sour Bears
If you've chosen to follow the sour weed gummy bears recipe, follow these simple steps before your mixture cools:
Place your gummy bear mold onto a cookie tray.
Carefully and quickly use your dropper to fill each gummy bear mold before your mixture solidifies. Stir the remainder of your mixture regularly while you work.
Place the tray in the freezer and allow it to set for at least 20 minutes.
Once set, carefully pop each gummy bear out of the mold.
Mix the icing sugar and citric acid in a bowl and throw your gummy bears in, making sure they're covered all over.
Remove the gummy bears from the sugar and place them in an airtight container in a cool cupboard – do not keep them in the fridge, as they'll become slimy.
FAQs
If you still have some questions left, let's answer them for you now.
How Strong Will These Weed Gummies Be?
The potency of your gummies will depend on the THC percentage of the weed you used and how many grams of bud you added to your oil base. To work out how strong your gummies will be, you can use this formula to determine the milligrams of THC per gummy:
For example, if you used 3.5 grams of cannabis with a 15% THC level and your gummy mixture made 30 gummy bears, the THC potency per gummy bear would be 17.5 mg. If you want milder gummies, you can find a tray that makes smaller gummy bears, only eat half at a time, or use a milder strain of cannabis.
How Can I Make CBD Gummies Instead?
The type of weed gummies you have depends on the strain of weed you use. To change your THC gummy bear recipe into a CBD gummy bear one, simply choose a strain of weed with very high CBD to make your cannabis oil base.
You can find the perfect CBD strain to fit your needs in Herbies' CBD Seeds Collection.
How Should I Store Edible Gummies?
Always store your edible gummies in an airtight container in the refrigerator out of reach of children.
If you want to follow the sour weed gummy bears recipe, we suggest only coating a week's worth of your gummy bears in the sugar and citric acid mixture and keeping those few in an airtight container outside the fridge to keep them from going slimy.
Success! Now Enjoy Some Home-Made Weed Gummies!
Learning how to make sour weed gummies or weed gummy worms might seem like a lot of effort at first, but once you've made them once, there's no going back. One batch of gummies can last weeks, and making your own is so much more cost-effective and fun.
Now that your gummies are stored and ready, snuggle up on the sofa with a hot cup of tea and take the edge off with a delicious marijuana gummy. Savor the success of making your own edible gummies and enjoy!
Herbies Head Shop expressly refuses to support the use, production, or supply of illegal substances. For more details read our Legal Disclaimer.