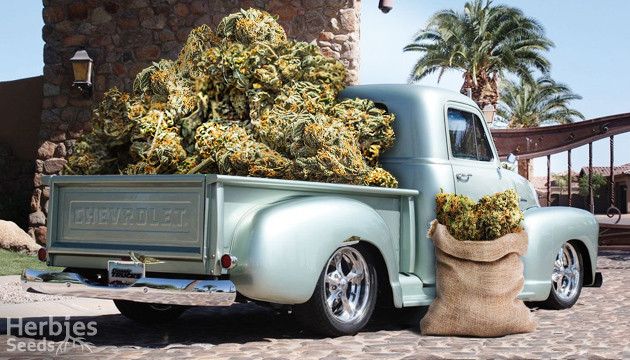 Highest-yielding marijuana strains are always in demand. To commercial growers, they give a chance to find the biggest yielding variety for their collection of mother plants. For inexperienced gardeners, they mean an opportunity to make their share of freshman mistakes and still walk away with a sizeable harvest. And many of us, even if we don't really need that much bud, can't resist the thrill of watching and smelling the monstrous mass of dank that these heavy yielding cannabis strains invariably produce.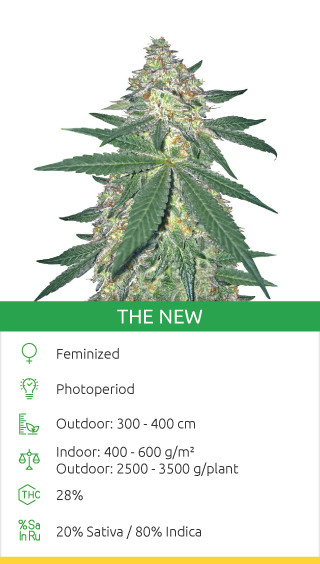 The New: An Obvious Choice For Commercial Growers
Sometimes a brash newcomer comes to challenge established champions and wins huge in every department. The New, a cross of Girl Scout Cookies and Larry OG (made by Humboldt Seeds) boasts 28% THC, which drops newbies like flies and makes veteran smokers feel like it's their first time. It's amazing that such potent weed can also be harvested by the cartload: 2.5-3.5kg (5.5-7.7 lb per each giant plant outdoors. In a tent, the plants will obviously be much smaller, but still quite productive.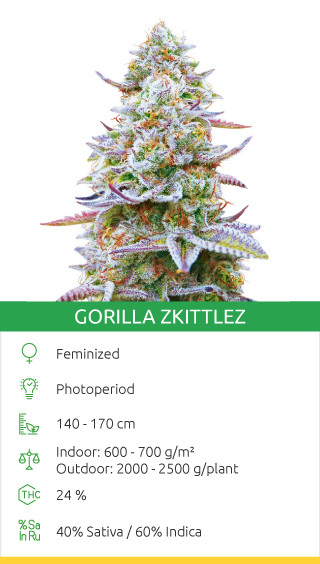 Gorilla Zkittlez: Loads Of Treats For Grown-Ups
These buds of Gorilla Zkittlez look absolutely mouthwatering – like a bunch of candy stuck together and then dropped into a bowl of powdered sugar. When you see 2-2.5kg (4.4-5.5 lb) of these sweet treats on one compact bush grown outdoors, it's like a child's fantasy come alive. Indoors, the 600-700g/m2 (2-2.3 oz/ft2) is equally amazing. The 24% THC hidden in this delicious fruit will put you in a happy, deeply meditative mood for several hours.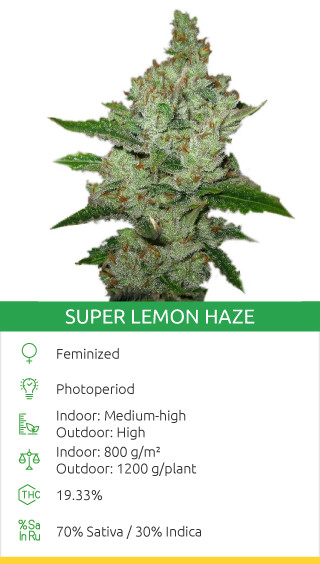 Super Lemon Haze: Super-Sized Yields Of Citrusy Punch
What is Haze cannabis family most known for? The answer is simple - bright citrusy flavor palette and euphoric highs. Super Lemon Haze by Green House Seeds is a Sativa-dominant weed strain that brings these qualities to a whole new level with the pronounced aroma of zesty lemon peels and quickly hitting energy rush. The best part about it, this enhanced combo comes in maximized yields of 800 g/m² (2.6 oz/ft²) indoors and 1200g (42oz.) per plant outdoors!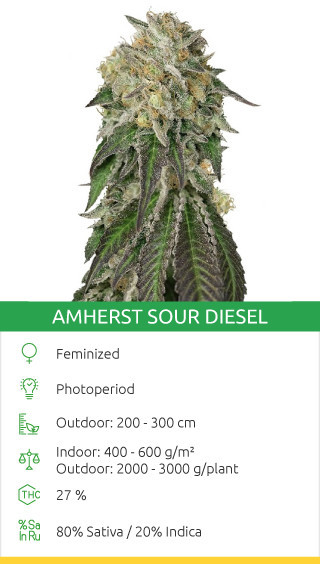 Amherst Sour Diesel: A Strain That Dwarfs Others
In our top 10, this is the second installment from Humboldt Seeds, who seem to make breeding high-yielding outdoor strains their thing. When creating this fragrant, tasty and potent Sativa-dominant Amherst Sour Diesel, the breeders were obviously inspired by redwoods and Douglas firs. Imagine a tree 3m (10ft) tall and with 3kg (6.6 lb) worth of dry buds. And that's exactly how much you can harvest outdoors by late October – probably be enough for a whole year of wake-and-bake and partying.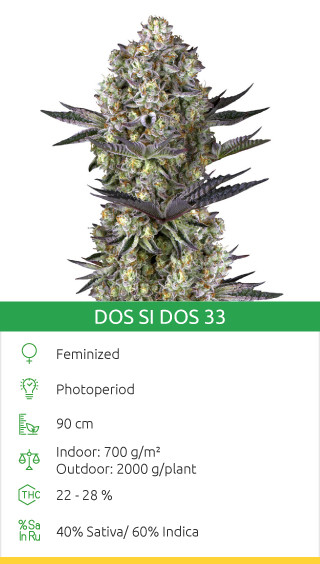 Dos Si Dos 33: So Big And Powerful, It's Ridiculous
This champion of indoor and outdoor bud production is very short, unlike its parent strains, which include Face Off OG, Cookies Kush and Gelato #33. With a pedigree like this, no wonder its THC content measures as high as 28% and the yields are epic: 700g/m2 (2.3 oz/ft2) in a SOG setup, or 2kg (4.4 lb) per plant outdoors. Expect the hybrid vigor – Dos Si Dos 33 can take anything – as well as the hybrid effect: at first, the soaring Sativa rush, then the heavy-handed Indica relaxation.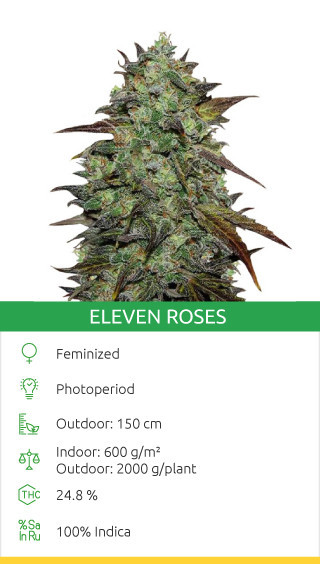 Eleven Roses: Like Your Favorite Indica, But Bigger
It's always hard to find 100% Indica genetics, especially among high-yielding varieties, but Eleven Roses is as pure as a landrace. Ironically, it's not simply found genetics, but the result of a 3-year long breading project in which Delicious Seeds improved on their famous Sugar Black Rose, the winner of more than 30 awards. With 24.8% of lab-tested THC and yields of 600 g/m2 (2 oz/ft2) or 2kg (4.4 lb) per plant, this weed is a must-have for all Indica lovers.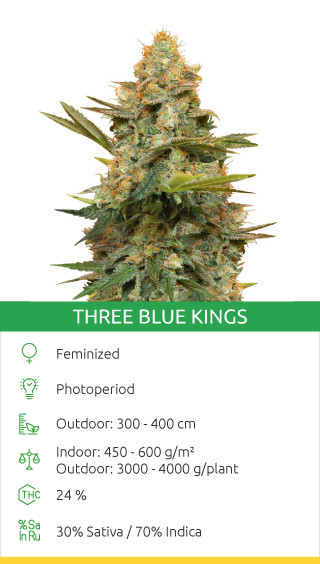 Three Blue Kings: A 3-in-1 Of Yield, Taste And Power
Humboldt Seeds strikes yet again – these guys really know how to raise champions. Three Blue Kings offers 24% THC in this Indica-dominant cocktail of cannabinoids and terpenes; expect rich flavors of fruit, pine, citrus and fuel, but also amazing bud production. This strain provides up to 600g/m2 (2 oz/ft2) or 4kg (8.8 lb) per plant. Wow! And the dream-like tranquil stone is pure magic.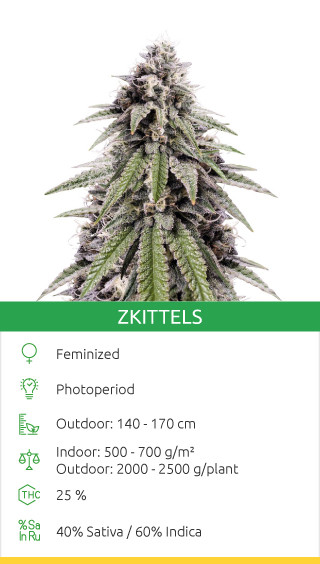 Zkittels: Pounds Of Sweets Way Before Halloween
If you're lucky enough to have an outdoor garden somewhere in the Mediterranean or California, by all means, grow this Zkittels version by Kera Seeds. The amount of bud that you can harvest is truly awe-inspiring: up to 2.5kg (5.5. lb) per plant by early October. If you're not blessed with a warm and sunny climate, this cannabis will do just as well indoors, where the 700g/m2 (2.3 oz/ft2) will make even the heaviest of smokers happy. Fair warning though, the pleasant but powerful Indica stone is not for the faint of heart.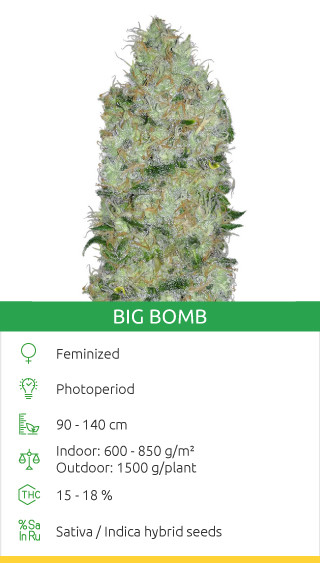 Big Bomb: When Your Grow Tent Bursts At The Seams
One of the biggest weapons in the arsenal of Bomb Seeds, Big Bomb marijuana strain is very high-yielding outdoors and even more so indoors, where experienced growers can produce as much as 850g/m2 (2.8 oz/ft2). Despite this record production, the plants reach only a medium height. They are ideal for inexperienced or hands-off type gardeners, and the buzz offered by the earth and pine-smelling buds is profoundly relaxing and mellow.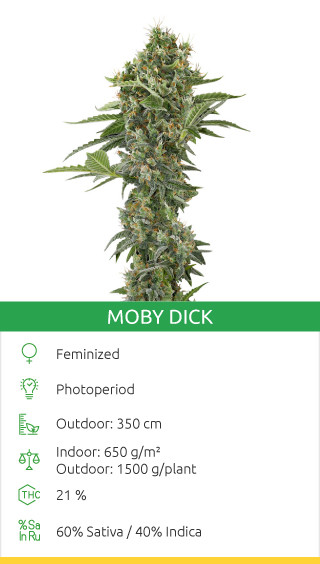 Moby Dick: A Whale Among Marijuana Strains
This strain was named after the mythical whale for three reasons: it's huge, it's massive, and it's white. This Sativa-dominant hybrid has been harvesting international awards since 2007. After so many years, Moby Dick still remains a standard against which all aspiring breeders measure their creations. Indoors, this cross of Haze and White Widow is large but manageable, and can deliver 650g/m2 (2.1 oz/ft2). Outdoors, it can reach a height of 3.5m (11.5 ft) and produce up to 1.5kg (3.3 lb) per plant by late October. With 21% THC to boot, this is one super potent cannabis variety.
Why Choose Between Quality And Quantity?
Now that you've met these representatives of the highest yielding strains in the world, you've probably come to the obvious conclusion: with today's strains, high production never means compromised quality. Instead, it's a package deal – you'll get the best of the best in each and every aspect, and lots of it!