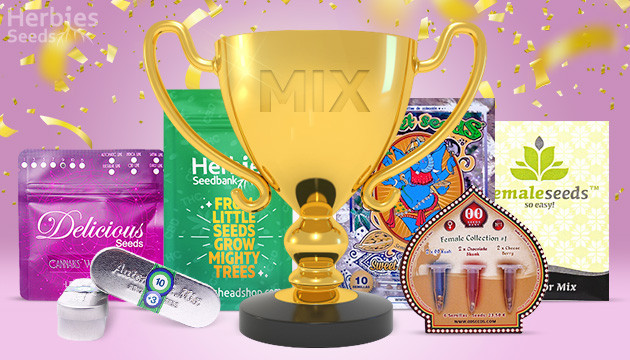 The outcome of your cannabis is all in the seed, and choosing the right strain to suit your needs isn't always as easy as one-two-three. With the extensive list of cannabis strains out there, buying a cannabis seed mix pack is a great way to guarantee getting your hands on several exciting, high-quality strains at once (and at a lower price) with just the click of a button.
Whether you want to grow indoor strains, autoflowering strains, or simply grow the tastiest, award-winning strains on the market, there's a mix pack available that's just waiting to blow you away with its carefully chosen contents.
Why a Variety Seed Pack Rules
Being spoiled for choice with so many incredible cannabis strains, variety packs give us a great bypass where suppliers have done the choosing for us, creating mix packs for every grower's needs. Here are a few advantages to buying cannabis seed mix packs:
Mix packs often contain carefully chosen, high-performing strains.
There are packs curated for specific needs, such as all-feminized seed packs, auto-flowering seed packs, CBD mix packs, etc.
Seeds in the pack usually have similar growing characteristics, which makes for an easily controllable and uniform canna-garden.
Buying seeds in a mix pack is often much more affordable than purchasing the same single cannabis seeds separately.
A cannabis seed variety pack is a quick way to create a diverse stash of strains for any occasion.
Auto Mix Pack #1 (Herbies Seeds)
The Auto Mix Pack #1 by Herbies seeds is an autoflowering cannabis seed mix bringing you three iconic, delicious, and highly potent cannabis strains carefully selected to knock your socks off and delight your tastebuds with considerable yields of pungent bud.
Prepare yourself for the euphorically relaxing cookie flavored potency of Godzilla Cookies Auto with its 27% THC content, the autoflowering version of the all-time ice-cream classic Gelato Auto with 26% THC, and the sweet and sour flavor explosion of Purple Juice Auto with its 23% THC level and epic uplifting yet soothing effects.
Automatik Mix (Advanced Seeds)
Another great autoflowering cannabis seed mix is one of Advanced Seeds' most popular multipacks, the Automatik Mix. In this pack, Advanced Seeds has thrown together some of their most beloved, high-yielding auto strains, including favorites such as Auto Purple Diesel, Auto Strawberry Gum, and Auto Gelato #33.
Thanks to this relatively cheap autoflowering seed mix pack, you can grow three top-grade strains, ranging from powerful Indica-dominant strains to exciting Sativa hybrids, all while going easier on the budget. Topping it off are yields between 450-650g/m2 (1.5-2.1oz/ft2) in lightning-fast flowering times averaging below 10-12 weeks!
Indoor Mix (Female Seeds)
The ultimate lucky packet for indoor growing enthusiasts, Indoor Mix by Female Seeds is a well-curated cannabis seed mix pack of no less than the very best female indoor strains, all yielding extra-large yields and growing no more than 100cm (3'3") with super-fast flowering times.
This pack is loaded with greatness with so many epic strains together in one pack. Prepare to be surprised with delicious strains like BubbleGummer and Lemon Kush, wonderfully potent strains like White Widow, Pure AK, and Grapefruit, and the fastest-growing strain of the lot, the THC-maxed-out ICE.
Gourmet Collection – Automatic Strains #2 (Delicious Seeds)
Get ready to grow three exceptional, easy-to-grow cannabis strains purposefully selected for the Gourmet Collection – Automatic Strains #2 cannabis seeds mix pack by Delicious Seeds. This pack contains 9 autoflowering seeds in total, each with its own impressive qualities. This cannabis seed variety pack will be a perfect choice for medical patients looking for relief: all of these strains are highly medicinal
The first strain in this autoflowering seed mix pack, Delicious Candy Auto, is a high-yielding, sweet and spicy Indica-dominant hybrid with high levels of both THC and CBD and lovely, long-lasting calming effects. The second addition is the 20% THC La Bella Afrodita Auto, a floral and fruity bud with a narcotic-like, meditative effect. Finishing off this feminized autoflowering seed variety pack is the elusive Northern Light Blue Auto, another fast grower producing thick, solidly resinous buds with a THC content of 18%. We're drooling!
Female Collection #4 (00 Seeds)
00 Seeds has put together this feminized seed variety pack called Female Collection #4, and it sure does deliver! Featuring three classic strains, the curators of this pack picked only the very best, with high-yielding, fast-flowering feminized seeds to take your grow to the next level.
Enjoy three hybrid beauties with THC levels ranging between 19,5-21%, which produce the most delectable resin-abundant plants. 00 Skunk delivers a pungent citrus kick with a powerful mental punch; Caramel Kush offers the legendary caramel taste and aroma, which envelop a strong cerebral effect perfect for socializing; and Sweet Critical completes the buffet with an ultra-relaxing, melt-in-the-mouth sweet and fruity experience.
Sweet Mix Femanizadas (Sweet Seeds)
For the brave and the bold, Sweet Seeds has thrown together a cannabis seed variety pack of 10 randomly selected, top-notch feminized cannabis strains in their Sweet Mix Feminazadas pack.
Like opening a treasure chest, these seeds come contained in a single tube, ready for you to take the lucky draw and plant a mystery strain that will keep you guessing until she flowers. Expect quality buds from the likes of strains such as Cream Caramel, Jack 47, and Green Poison.
Dessert Mix Pack (Herbies Seeds)
Having taken the concept of a feminized cannabis seed variety pack to the next level, Herbies Seeds is presenting Dessert Mix with genetics that can be found exclusively in this bundle! These are 3 of our most terpene-packed strains to date with THC levels reaching 33%, complex effects, and intense sweet flavors. Besides, it's also a high yield mix pack: harvests from these plants reach 2,600 g (91,7 oz) per plant!
First, we have a 25% THC Banana Pudding for that dense fruity smoke that makes you relaxed and completely care-free. Next is our sweet best-seller Apple Betty: growers are crazy about her 33% THC content and intense psychedelic effects that make the world seem brighter. Last but not least is our tropical Mango Mousse that's both uplifting and calming – ideal for use throughout the day.
Choose a Quality Cannabis Seed Mix Pack
Deciding what strains to grow can be an exciting part of the cannabis growing process, but it can also be a point of frustration with so many unique strains to choose from.
Choosing a quality cannabis seed mix pack is a great way to override this tough decision and get straight to the fun part of growing some of the top strains conveniently sent to your doorstep. Save yourself the trouble and plant from one of the favored seed bundles on this list.
Herbies Head Shop expressly refuses to support the use, production, or supply of illegal substances. For more details read our Legal Disclaimer.