Dessert Mix Pack Feminized Seeds From Herbies Seeds
Description
Perfect For: Dessert Lovers Wanting Potent Effects
Wholesome dessert flavors
High THC levels between 21-33%
Indica-dominant genetics
Dessert Mix Pack Smoke Review
These three strains are fresh out of the Herbies pantry, delivering classic, down-to-earth flavors and an exciting array of Indica-dominant effects. Between the lineages of Jack Herer, Chem's Sister, and Purple Punch, you'll definitely be coming back for seconds!
Dessert Mix Pack: Effects
While each strain is high on the Indica side, you'll find that their effects wax and wane with perfect levels of classic Indica and Sativa to rock your world.
Banana Pudding
The old wives' tale of cooking up a banana before bed has never been more accurate than with Banana Pudding. Just a couple of hits of this 25% THC fruity delight will slowly but unrelentingly lull you into deep full-body relaxation with an uplifting mental linger.
Apple Betty
Like Grandma's famous apple pie with a secret ingredient you wouldn't expect, Apple Betty leaves you glued to the couch with heavy-handed euphoria after just one bite! And no wonder – its THC levels reach 33%! Enjoy staring at the wall watching psychedelic patterns emerge while your mind melts into a happy relaxation.
Mango Mousse
Smooth and creamy to smoke, the 21-26% THC Mango Mousse melts in your mouth, leaving you exceedingly calm and relaxed for hours on end. Her effects are perfect for classic Indica heads and although relaxing, are still very potent.
Dessert Mix Pack: Flavors
This mix pack is exploding with terpenes. From fruity to spicy, if you love classic old-school desserts straight from your childhood, this one's for you!
Banana Pudding
Featuring creamy banana with a dash of spice, this delicious strain is better than a banana split on a Sunday afternoon. Enjoy tropical fruits and a strong ripe banana aroma when you crack open the lid.
Apple Betty
Get ready for a trip down memory lane as Apple Betty shares a slice of mouth-enveloping wood-fired apple pie, along with hints of cinnamon and chocolate to keep you coming back for more.
Mango Mousse
Mango Mousse throws a tropical spin on desserts with her nuanced coconut and mango appeal. Expect intense fruity flavors and aromas that may surprise you!
Dessert Mix Pack Grow Info: Appearance and Grow Tips
A trifecta of fast-flowering feminized seeds, this mix pack will deliver three medium-sized plants that you can grow alongside each other and expect to harvest at the same time with a flowering period of just 55-65 days. With Apple Betty leading at an outdoor grow of up to 2,600g/plant (91oz/plant), Banana Pudding at up to 1,000g/plant (35oz/plant), and Mango Mousse reaching 900g/plant (32g/plant), prepare for a jaw-dropping harvest.
Before you get too excited, remember that great results come from great care, so follow this grow info to give your plants the best possible chance at impressing you:
All three plants grow thick and bushy with dense buds. Space them out adequately to allow for better airflow.
Mango Mousse grows long branches. Try adding some support to help these branches hold heavy buds.
Be prepared for buckets of trichomes. Keep some of your harvest or trimmings aside if you like couch lock-inducing edibles.
Mango Mousse turns purple as she matures. In climates with hot days and cold nights, watch your plant transform with an exotic purple eruption!
Growing to heights of about 150+cm (60"+) outdoors, make use of LST methods to control these strains' sizes.
Dessert Mix Pack Seeds
Now that your mouth is officially watering, you can buy this mix pack of dessert seeds online today and receive discreet packaging right to your doorstep. Each strain is individually labeled. Happy growing!
Seeds in this mix come in individual packaging marked with the name of each strain.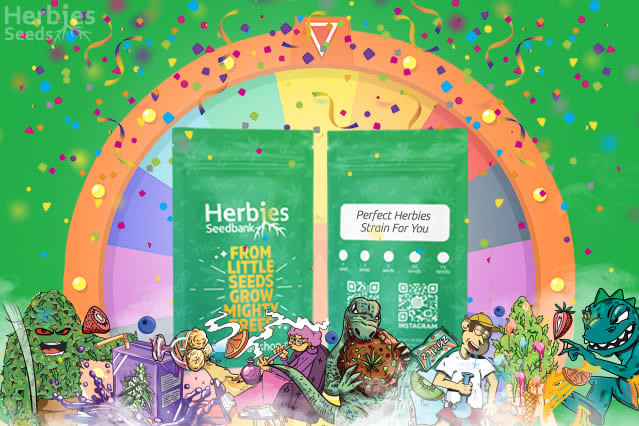 What Herbies Seed Is Right For You?
Characteristics
Brand

AKA seed bank. They create and preserve cannabis genetics, then we get them to you.

Learn more

Herbies Seeds

Type of seeds

Regular or feminized. Pick feminized if you want female plants only.

Learn more

Feminized

Type of seeds

Either autoflowering or photoperiod. Both have their pros and cons, but growing autos is easier.

Learn more

Photoperiod

Different types of seeds in package

This mix, or variety pack, has different strains inside.

Learn more

Mix

Suitable for growing

This strain is perfect for growing both indoors and outdoors.

Learn more

Outdoor, Indoor

Effect *

Each strain produces a certain effect on your body. This is what you can expect from this variety.

Learn more

High worth tasting

% Sativa/ Indica/ Ruderalis

The ratio of Sativa/Indica/Ruderalis in this particular variety.

Learn more

Mix of Indica and Sativa seeds

THC

The main psychoactive compound in cannabis. The higher THC level, the more potent the strain.

Learn more

21 - 33 %
*Herbies sells cannabis seeds exclusively as souvenirs that aren't meant for cultivation or germination. Customers should be aware that the germination of cannabis seeds is illegal in most countries. Herbies sells cannabis seeds exclusively for collecting and preservation for future generations. We advise customers to check with their local laws before germination, as Herbies does not accept responsibility for the illegal use of our products.
No reviews on this product yet.
Be the first one to share your opinion - it may help someone to make their choice!
Add review