Auto Mix Pack #1 Feminized Seeds From Herbies Seeds
Spain
Herbies Seeds' Auto Mix Pack #1 is our ultimate assortment of potent, complementary cannabis seeds, carefully selected for the leisure-seeking weedsmith. You'll be able to grow three exciting strains – Gelato Auto, Purple Juice Auto, and Godzilla Cookies Auto – that are already known for their gobsmacking THC percentages and droolworthy flavors.
Read more
Herbies Seeds
Feminized
Autoflowering
Outdoor
Indoor
Mix of Indica and Sativa seeds
THC 23 - 27 %
All characteristics
Perfect for: Growers who want a garden of potent autos
Three distinctive strains
Unique flavor blends
Only includes easy-to-grow plants
Auto Mix Pack #1 Smoke Review: Effects and Flavors
With an impressive lineage including the famous GG #4 and GSC, Godzilla Cookies Auto offers this pack's highest potency levels – it can reach up to 27% THC! Gelato Auto comes close, flaunting up to 26% THC and a lineage featuring strains such as Gelato and GSC. Finally, Purple Juice Auto offers a moderately high potency level (up to 23% THC) while standing out thanks to its 70% indica dominance.
Purple Juice Auto
Purple Juice Auto induces pleasant fits of giggly laughter, uplifting your mood while gently soothing your tension. Expect easy-going, sweet flavors that create contrast with a subtle grapelike sourness, all tied together with a final dash of lemon that will leave you wanting more.
Godzilla Cookies Auto
The best of both worlds, Godzilla Cookies Auto encourages deep belly laughs and interesting convos with good friends around the fire – along with a surprisingly relaxing high that will knock you off your feet. No matter what you're looking for from this strain, you'll appreciate its pungent, delicious cookie flavor, enhanced by overtones of diesel and subtle hints of citrus.
Gelato Auto
Explore your artistic side with strong surges of creative energy from the tantalizing high of Gelato Auto. With sweet cookie dough and cream flavors reminiscent of the famous Italian dessert, followed by a comforting earthiness, be careful not to eat a scoop too many – otherwise, you might find your overindulged self glued to the couch!
Auto Mix Pack #1 Grow Info: Appearance And Grow Tips
Each seed in this pack is autoflowering and simple to grow, with impressive harvests averaging around 500g/m2 (17.5 oz) and discreet growing heights as low as 60-80 cm (24"-32"). Gelato Auto will be ready to harvest in less than 65 days; Godzilla Cookies Auto's flowers take up to 75 days to grow and mature; and Purple Juice Auto can take as little as 65 days to blossom into delicious, matured bud.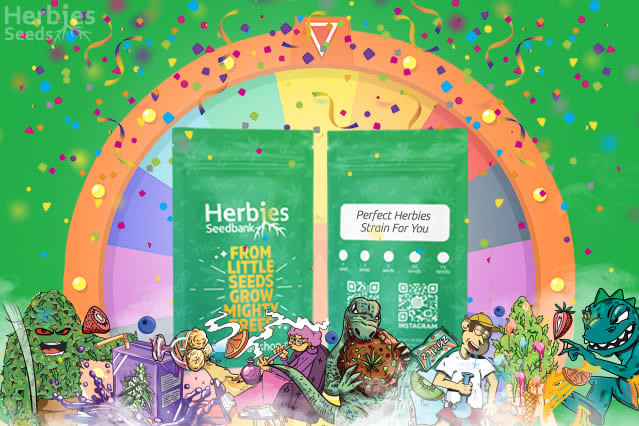 What Herbies Seed Is Right For You?
Although the process of growing each strain in this pack is practically foolproof, here are some extra tips to give your new plants a boost:
Consider purchasing a carbon filter to help eliminate unwanted smells, especially for pungent strains like Godzilla Cookies Auto and Gelato Auto.
Godzilla Cookies Auto grows super-fast and may require extra support for heavier branches with the onset of flowering.
Purple Juice Auto and Godzilla Cookies Auto may benefit from light training to increase their yield.
Consider feeding Purple Juice Auto extra nutrients if you want to see her harvest explode!
With such a tasty bud, you'll want to get the most out of Gelato Auto. Do this by flushing approximately two weeks before harvest time. 
Characteristics
Brand

Herbies Seeds

Sex

Feminized

Flowering type

Autoflowering

Different types of seeds in package

Mix

Suitable for

Outdoor

Suitable for

Indoor

Effect

Triple goodness

Yield

400 - 600 g/m² indoors

Genotype

Mix of Indica and Sativa seeds

THC

23 - 27 %