Purple Juice Auto Feminized Seeds (Herbies Seeds)
Spain
We guarantee that you've never seen a strain like Purple Juice Auto before. Its unique purple appearance and incredible flavor must be experienced firsthand. Purple Juice Auto's bright color isn't just for novelty value – this is the most complex Purple cannabis strain out there! Expect an uplifting daytime high and plenty of turning heads with this autoflower that's bred to perfection.
Read more
All characteristics
Purple Juice Auto Strain Info
As the breeder is us at Herbies Seeds, you know you're in for a treat. Because of the strain's intensity, most consumers don't believe it's an Indica-dominant plant. It's also 30% Sativa, meaning you get a body and mind high. No matter your preferences, anyone can enjoy its soothing yet energizing effects.
Genetics
We're only revealing part of this strain's lineage, as it's truly unique. In addition to the original Purple Juice's family tree, there are also Ruderalis genes for autoflowering properties.
Flowering Time
The flowering time for this strain isn't too long – it will mature in about 70 days from seed.
Yields
Wherever you plan on growing this strain, prepare for a large harvest. When grown in indoor pots, these unique seeds yield around 550g/m2 (1.8oz/ft2). Meanwhile, it offers up to 250g (8.8oz)/plant when cultivated in outdoor operations.
Effects
We wouldn't blame you if you assumed this bud was Sativa dominant after smoking it! With a reasonable 22% THC content, you won't have to worry about couch lock with Purple Juice Auto. Instead, you'll experience an energizing high that gently soothes a tired body and alleviates many symptoms, including stress, pains, and insomnia.
THC and CBD Levels
Another prominent feature of this unique plant is its high level of THC. With up to 23%, you'll certainly feel it kick in. It lacks CBD content, but you won't hear many complaints while using it.
Taste and Smell
The unique terpenes present offer a delicious sweet, spicy, and citrusy blend. For such a complex terpene profile, the strain feels surprisingly well balanced. It has a nice lemony finish that keeps it from becoming too sour.
Grow Tips
This will likely be one of the taller strains you will grow. No matter which medium you prefer, it reaches an impressive height. Expect plants to stretch well over 1m indoors – possibly up to 120cm (up to 47 inches). Although Purple Juice Auto is easy to grow, you'll be even more successful if you consider this grow info:
Your yields will increase dramatically if you give your Purple Juice Auto nutrients. Just remember that autoflowers don't require as much feeding.
Flush two weeks before harvest to produce the best-tasting cannabis.
Use light low-stress training (LST) on this strain, which is perfect for this method due to its great internodal spacing. LST will increase your yields while decreasing the space taken up by this vigorous grower.
Purple Juice Auto Seeds
We guarantee that you've never had seeds like these before. Buy this unique autoflower today and see for yourself how gorgeous it looks in purple. At Herbies Seeds, you can buy Purple Juice Auto online at the best price with stealth shipping to anywhere in the world.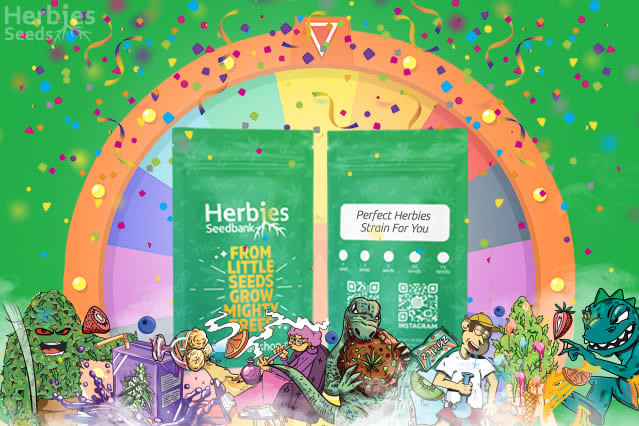 What Herbies Seed Is Right For You?
Characteristics
Brand

Herbies Seeds

Sex

Feminized

Flowering type

Autoflowering

Suitable for

Outdoor

Suitable for

Indoor

Effect

Between soothing and energizing

Genetics

Purple Juice x Unknown Ruderalis

Height

70 - 120 cm

Yield

400 - 550 g/m² indoors

From seed to harvest

65 - 70 days

Genotype

30% Sativa / 70% Indica

THC

23 %
How To Post Your Review?
Thank you for sharing your opinion about our website!
Your feedback will be posted shortly after our moderator has reviewed it.
Please note that we do not publish reviews if they:
Written in all CAPS
Contain aggressive or offensive language
Have a promotional content (contact details or links to other websites)