Glookies feminized seeds
Description
Glookies Strain Info
Glookies is a feminized photoperiod cannabis strain developed by Barney's Farm. Stemming from two infamous American varieties, Glookies gets not only a quirky name, but also a perfect combination of their effects. This is what makes Glookies a favorite among both medical and recreational users.
Genetics
Glookies weed strain is a cross between two legendary USA strains, Gorilla Glue and Thin Mint Girl Scout Cookies. Together, they created a strain that offers the best of each powerful parent and delivers heavy yields of large, dense, and sticky buds.
Effects
Glookies' effects start with an incredibly cerebral head rush that can fill anyone with joy and love of life. As the session progresses, the body buzz overtakes this and relaxes every muscle in your body. This combination makes for ideal nights creating art, listening to music, or simply chatting with friends. Trust us, you'll feel inspired!
Glookies THC Level
Barney's Farm is famous for making extremely potent strains, and Glookies is no exception. Its THC content clocks in at 25% – more than enough to stay high for many hours.
Smell And Taste
As is to be expected, Glookies has a complex nutty smell and tastes of diesel and lime thanks to its wonderfully aromatic parents. The freshness of Thin Mint Girl Scout cookies really shines through as well, leading to buds with excellent visual appeal.
Glookies Flowering Time
Indoor flowering time for Glookies is 9-10 weeks, while outdoor growers can harvest at the start of October.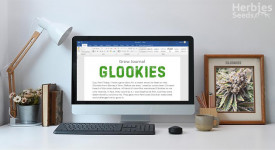 Glookies Strain Yield
The easiest way to grow Glookies is indoors using a soilless hydroponic setup (70:30 coco coir/perlite) with powerful LED lighting, which really allows you to hit the upper end of the 700-800g/m2 (2.3-2,6 oz/ft2) average indoor yield for this strain. However, your returns can be improved even further by growing this strain outdoors, where growers can expect up to 3kg (6.6lb)per plant if the strain is provided with the correct growing conditions.
Glookies Grow Tips
Glookies is easy to grow and will treat you with neon green buds resting in dark olive leaves. Fiery orange pistils and crystals of resin complete the stunning look. Here's some more information to consider when growing Glookies:
Be aware that Glookies reaches a final indoor height of 1m (3'3") and a huge 1.8m (5'10") outdoors.
SCRoG is recommended due to her long, flexible branches.
Glookies Seeds
Glookies is a rare blend of Original Glue and Girl Scout Cookies. Luckily, you can grow it yourself from feminized cannabis seeds available for sale at Herbies, where stealthy and speedy shipping is guaranteed!
FAQ
What strain is Glookies?
Glookies is a feminized photoperiod strain created by the Dutch breeder Barney's Farm. It came to be as the result of crossing two legendary American genetics, Gorilla Glue and The Original Thin Mint Girl Scout Cookies.
What does Glookies taste like?
Thanks to having two terpene-bombs as parents, Glookies has earned quite a reputation for its complex, sumptuous flavors. Glookies mainly tastes like a combination of pungent diesel and fresh lime, while exuding aromas of roasted nuts.
Is Glookies Indica or Sativa?
Glookies is an Indica-leaning hybrid with 30/70 Sativa to Indica ratio. This dictates her complex effect that starts with the initial rush of positive energy slowly morphing into a pleasant body buzz. Thanks to this genetic blend, Glookies can be used to help with pains and aches, stress, nausea and other ailments.
Is Glookies a good strain?
Glookies is a strain of exceptional quality and stable genetics guaranteed by the breeder, Barney's Farm, who remains one of the leading seed producers in the world. Ever since its first emergence on the market in 2019, Glookies has earned raving reviews from growers all over the world for its ease of growing, happy effects, and big yields.
What is stronger, Girl Scout Cookies or Glookies?
Both GSC and Glookies are highly potent strains. While Glookies can boast with a THC level of 25%, some Girl Scout Cookies varieties test at levels as high as 28%. However, that doesn't necessarily mean that Girl Scout Cookies is stronger than Glookies! The thing is, the effect of cannabis also depends on the rest of its chemical composition, including other cannabinoids, terpenes, and flavonoids. Besides, everyone's reaction to strains is different.
Where to buy Glookies strain seeds?
Cannabis seeds of Glookies by Barney's Farm are available to purchase online at Herbies Seeds. It's a reputable retailer with 2 decades on the market, thousands of seeds, and lots of benefits for its clients, including discreet worldwide shipping, free seeds with every order, expert customer service, and more.
Characteristics
*Herbies sells cannabis seeds exclusively as souvenirs that aren't meant for cultivation or germination. Customers should be aware that the germination of cannabis seeds is illegal in most countries. Herbies sells cannabis seeds exclusively for collecting and preservation for future generations. We advise customers to check with their local laws before germination, as Herbies does not accept responsibility for the illegal use of our products.