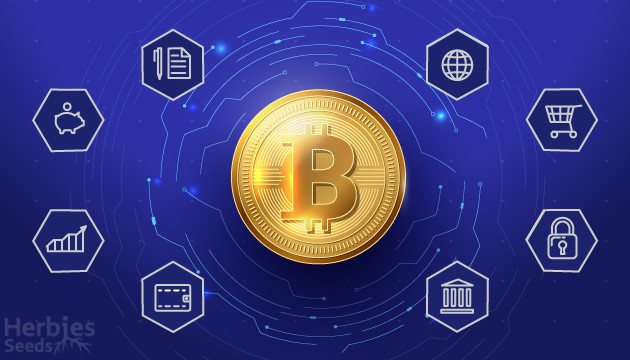 From the moment you decide to buy cannabis seeds, you may feel vulnerable and look for ways to purchase safely. At Herbies, we understand this and do our best to protect your anonymity. To ensure that, we give you the option of paying for your order with bitcoin. Bitcoin transactions are virtually impossible to trace, which means you will be leaving no money trail whatsoever.
But before you use bitcoin for payments, you first need to buy it, and that's what this article is all about. Read on and learn how to create a bitcoin wallet and how to fund it using various cryptocurrency services.
First Things First: How To Create A Bitcoin Wallet?
It's actually fairly easy. Here, you'll find a set of instructions about opening an account at one of the most popular online wallet providers. There are many other options as well, but this one is the most convenient and safe. We're talking about Blockchain.com. This website has the largest number of users, a mobile version, and a full range of tools for extra security including two-factor authentication. Their fee for sending funds is only a little higher than if you create a wallet on your PC, but it's quite reasonable considering the security and convenience this gives you.
First thing, go to Blockchain.com, and click "Get Started".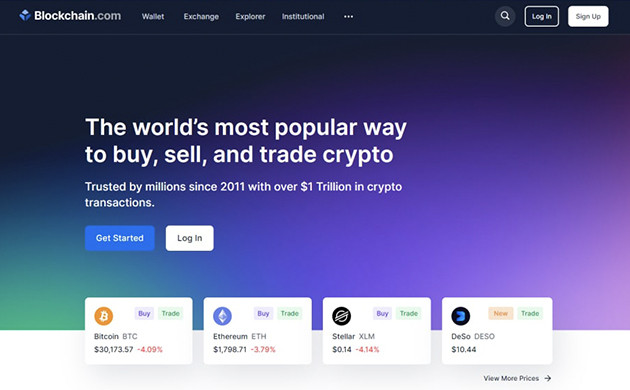 You'll be prompted to enter your valid email address, country of residence, and a password. By clicking "Continue", you agree to Blockchain's terms of service and privacy policy.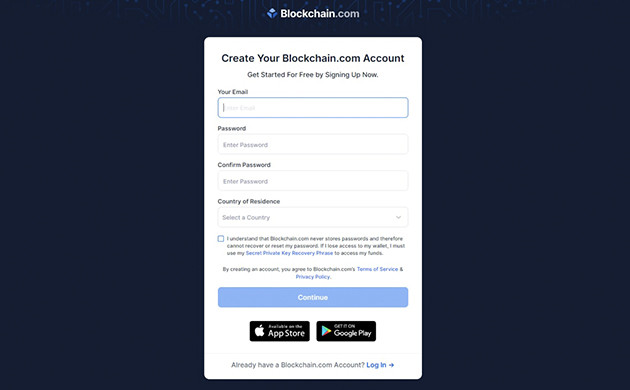 It only takes about 30 seconds to create your account, after which you'll be taken to your dashboard.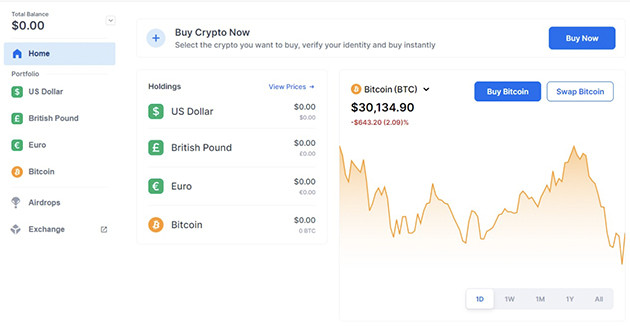 Now you need to confirm your email address. Go to your mailbox, find and open the message from Blockchain.com, and click "Yes, This Is My Email". This will take you back to the website, where you'll see that your email has been verified.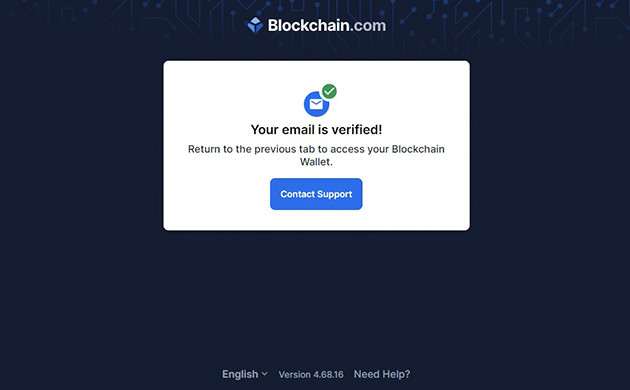 Take note of your wallet ID in the email you've received, which looks like a sequence of digits and letters. Be sure to copy the ID somewhere for safekeeping, or better still, write it down on a piece of paper and store in a safe place.
Now you're ready to make transactions. We also suggest that you take some time to study your dashboard and make your account more secure from hackers.
Where To Buy Bitcoin?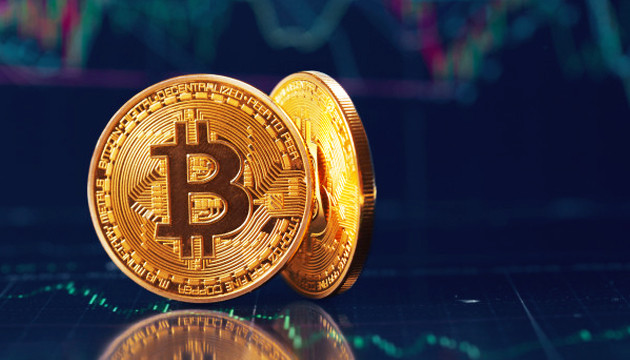 The answer mostly depends on how much money you're ready to spend on fees. There will be some fees in any case, and most people prefer to find a website where these are the lowest. However, bear in mind that the lower the fees, the higher the risk – be suspicious of any website that seems to offer something too good to be true.
Most people buy bitcoin through some type of exchange. Some of these exchanges are meant for trading, others for a casual purchase of this or that electronic currency. We will describe both in more detail, but first, let's talk about the advantages and disadvantages of each:
Exchanges made for trading let you save money because you can buy bitcoin quite cheaply. However, there are also drawbacks, and the main one is the need to identify yourself using documents (you may be required to upload a scan of your ID with a photograph). It may take a whole day or even two to complete the verification process. Besides, every exchange of this type requires that you create an account and wallet with them. The third issue is dealing with a rather complicated interface, because these exchanges are meant mostly for regular trading, not casual transactions. On the other hand, you'll find enough tutorials and instructional videos that will teach you how to create wallets and withdraw funds from a particular exchange.
Exchanges designed for buying e-currencies operate in a simpler manner and let you buy bitcoins considerably faster. Moreover, they don't require long verification processes, and often none at all. It's as simple as specifying what amount should be withdrawn from your credit card, PayPal, or some other electronic account, and what bitcoin wallet should be funded with its equivalent. The main drawback here is higher fees, although as you'll see, even these are not really all that high.
Buying Bitcoin Through Exchanges Meant For Trading
We won't try and describe in detail the process of the registration and creation of wallets, or else this article will be many pages long. However, there's no need to worry; you'll find step-by-step instructions on websites of each and every exchange, or elsewhere on the Internet. For our part, we'll give you the list of the most reliable exchanges and describe their main advantages.
World's no. 1 exchange, the most secure and reliable.
Supports almost all fiat currencies (regular money), which makes it a universal platform.
The fastest-growing Chinese exchange, with its own cryptocurrency, BNB.
Reasonable fees.
The website offers a wide selection of trading and analytical tools, which makes working with it both convenient and efficient.
All funds are stored on hardware-based wallets that stay offline and thus minimize the risk of theft of BTC from outside.
Platform offers multi-factor protection.
Comparatively easy interface.
Transparent fees.
Instant transactions.
Even under heavy load, always online.
High-speed website.
Relatively low fees.
Cashback available.
Website supports 9 languages.
Has a wide range of fiat currencies – Japanese Yen, Euro, USD, British Pound, etc.
Up to 3 separate accounts per user.
5 years on the market with a spotless reputation.
Rated third in the world for best cryptocurrency exchanges.
Higher level of security, as all funds are cold-stored in offline wallets. To access them, a multi-signature is required. They are impossible to break.
Website supports 13 languages.
Proprietary mobile app for all platforms available.
How to Pay with Bitcoin via Cash App (for the US and the UK)
Customers from the U.S. and the UK can pay with Bitcoin via Cash App. To do this, please follow the instructions below.
Already Have a Cash App Account?
Choose Bitcoin on the Investing tab

Buy the required BTC amount and press Next

Confirm your order

Tap the Banking tab on your Cash App home screen

Select Bitcoin

Press Withdraw Bitcoin

Press Use Wallet Address and enter the address provided at checkout or by email

Confirm with your PIN, Touch ID, or Face ID.
No Cash App Account?
Download Cash App

Sign up

Add a payment method

Get a Cashtag

Press Bitcoin at the bottom of your Cash App home screen

Get verified

Tap on the Investing tab and choose Bitcoin

Buy the required BTC amount and press Next

Confirm your order

Tap the Banking tab on your Cash App home screen

Select Bitcoin

Press Withdraw Bitcoin

Press Use Wallet Address and enter the address provided at checkout or by email

Confirm with your PIN, Touch ID, or Face ID.
Let's Wrap Up: Why Pay with Bitcoin?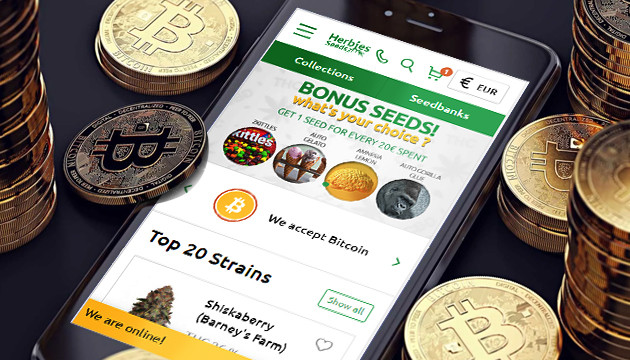 Now let's recap why bitcoin may be the best payment option for you on our website:
It's the most anonymous payment method online.
We place no limits on order size.
We provide a 5% discount on all orders paid with BTC.
All you need to pay with Bitcoin at Herbies is transfer BTC to our automatically generated wallet. To do this, you can use a QR code. You'll receive a payment link that will be valid for 3-8 hours, depending on how busy the servers are. It takes 10-45 minutes to process the payment. Please keep in mind that there might be a transaction fee depending on what BTC wallet you use.
An email confirming the successful payment will then be sent to your inbox. If you don't see it, check your spam folder. If the message isn't there either, you'll need to contact our support through online chat or send an email to [email protected]. We'll do our best to resolve the issue as soon as possible. Please have all payment details including the transaction ID ready.
***
And that's it. Now you know all that's needed to make your purchases at Herbies even more convenient – simply choose bitcoin as your payment option at checkout and pay in the most secure and anonymous way possible. If you're experiencing any difficulties with using Bitcoin, message us in chat — we're ready to help.
Herbies Head Shop expressly refuses to support the use, production, or supply of illegal substances. For more details read our Legal Disclaimer.