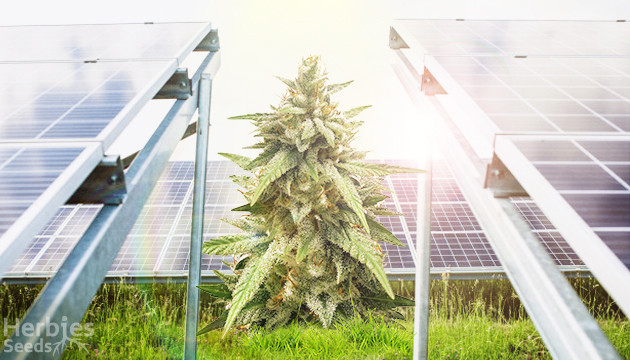 Weed has been getting better and better, stronger and stronger since home growing became popular in the early 1980s. People began to breed cannabis according to desirable characteristics, and as a result, the quality and THC levels in weed have been steadily rising. Thanks to the work of old-school stoners and cannabis enthusiasts, countless strains are now available with a massive range of effects and potencies. As the season of outdoor growing is already upon us, today we're taking a look at the best outdoor cannabis strains that show exceptionally incredible results when grown under the sun.
How Potent Can Outdoor Marijuana Seeds Be?
The potency of weed today is way, way stronger than back in the day. Before home cultivation and specialized breeding picked up speed, marijuana usually had about 4% THC compared to the 15% average today. If you're still not satisfied, crossing strains and breeding them for desirable characteristics has led to even stronger weed. Continue reading to check out a list with some serious powerhouses that carry anywhere from 26 to 33% THC.
Is There A Way To Increase THC In Weed?
If you keep an eye on the growing conditions and harvest at the right time, you can be sure to maximize your plants' potential for strong bud. Check out our article How To Increase THC In Cannabis: Proven Methods And Dangerous Myths for further information on how to secure a potent harvest. Of course, the most reliable way to guarantee a THC-rich harvest is to pick out seeds that are bred for potency and already known to be high in THC. There's a huge selection out there – don't let it go to waste!
These Outdoor Weed Strains Will Knock Your Socks Off
Whether you're looking to grow on a balcony, in the garden, or on a farm, this list of the best outdoor marijuana seeds is great for growing pot outdoors – and it also packs a punch.
GG#4 Original Glue Delivers A Hefty And Potent Harvest
GG#4 Original Glue is a famously potent hybrid strain with 28% THC. The buds are pungent and taste of chocolate and pine – a truly harmonious terpene profile. This strain is not only potent, but also attractive to growers for just how much bud it produces! The plants reach 180cm (5'10") and can yield up to 1000g (2.2 lb) per plant. That's a bunch of bud that will be sure to glue you to the couch!
Runtz Punch for a Dream-like High
Runtz Punch is the latest rendition of award-winning Runtz genetics, and also some of the best outdoor cannabis seeds you can find. Not only it's extremely potent testing at 29% THC, it's also perfect for a stealthy outdoor grow. While growing stocky, Runtz Punch still delivers hefty harvests of 1 kilo (35oz) per plant – that's a lot of highest-quality bud oozing with uplifting, happy, cream-flavored resin.
Cookies Gelato: Potency For Experienced Growers
At 28% THC, Cookies Gelato will take your breath away with its long-lasting effects. Cookies Gelato is quite easy to grow, so even beginners can reap bountiful yields of these delicious citrus and earth-flavored buds. After just 63 days of flowering, you'll be rewarded with massive plants that can reach up to 180cm (5'9") in height and yield 650g (1.4lbs) per plant outdoors – enough to provide you with several months of euphoric and ecstatic highs.
Wake And Bake With Mimosa Evo
What's better than coffee and weed? Mimosas and Mimosa Evo, an uplifting strain with a fruity and citrusy profile. Depending on the growing technique you use, Mimosa Evo can grow up to 220cm (7'2") outdoors and yield 2000g (4.4 lb). This Sativa-dominant hybrid is great for daytime use, but newbies should tread carefully when indulging in this 26% THC beauty.
Strawberry Banana Auto for a Potent Auto Grow
If you're a fan of autoflowers, you can still grow potent cannabis, like Strawberry Banana Auto, one of the best outdoor marijuana strains among autos! Not only it's 27% THC, Strawberry Banana Auto is also a delight to grow and smoke. Thanks to stable genetics, it's exceptionally resistant to harsher weather conditions. Smoke-wise, it's ready to punch with juicy and sweet flavor of strawberry, masking potent euphoric effect.
Bruce Banner #3 Is Big, Mean, and Green
When you get Bruce Banner #3 growing outside, you'll understand the Hulk reference. These plants can get pretty darn tall, and for good reason: outdoor grows can yield up to 1000g (2.2 lb) per plant! Size aside, this is also one of the strongest weed strains in the world. This cross between Colorado Ghost OG and Strawberry Diesel delivers a good balance between high and stone with its hefty 28% THC.
Grandmommy Purple is Some of the Best Outdoor Weed
Grandmommy Purple is a fresh strain that's making waves for many reasons, one of which is its incredible potency. Grandmommy Purple typically clocks in around 28% THC but has even been tested at 33%, making it a total beast of an Indica. She grows short and bushy, making her great for guerilla gardens of all experience levels. You'll be hard-pressed to find another Indica this powerful!
Super Strong Sativas And Incredible Indicas!
Sativa, Indica, or hybrid, you're sure to be growing some of the most bodacious bud out there with any of these strains. Your ganja garden will be heavy with flowers and your highs will be out of this world! Which one is your favorite hard-hitting THC tank?
Herbies Head Shop expressly refuses to support the use, production, or supply of illegal substances. For more details read our Legal Disclaimer.