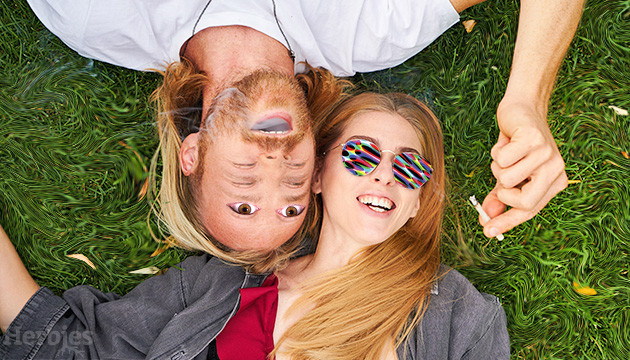 Have you ever gotten so high that the walls were shifting, colors changing, and you couldn't keep track of the passage of time? Some of the effects of marijuana can be quite psychedelic, leading to time distortion and changes in perception. Some folks even claim to have hallucinated from weed.
On the lookout for some seriously potent, psychedelic weed strains? Then you're in the right place! Let's talk about how weed matches up to other trippy substances and which strains of weed are the trippiest. 
Can Weed Produce Psychedelic Effects?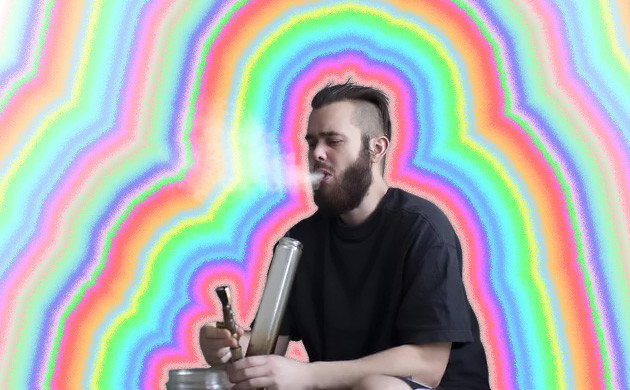 Psychedelic drugs are known to induce a feeling that can be described as "oceanic boundlessness" – a feeling of connectedness with the world and universe around you, combined with a sense of awe. Although usually associated with shrooms or acid, it has also been observed as an effect of high doses of cannabis. This phenomenon has even been covered in a scientific study published in the Journal of Psychopharmacology in March 2021, Cannabis-induced oceanic boundlessness, which we discussed in an installment of our weekly cannabis news earlier this year.
The question remains: is cannabis a psychedelic? The short answer is no, it's not classified as a psychedelic drug, like psilocybin or LSD. However, certain strains of cannabis at high doses can induce psychedelic effects like oceanic boundlessness, hallucinations, or another phenomenon called "dehabituation," which is looking at something with a fresh perspective. Essentially, cannabis can provide eye-opening effects and experiences that seem to echo those of other substances. 
The Most Psychedelic Strains Out There
Weed experts have been breeding psychedelic weed strains for decades, and the results we see today are truly trippy. Understandably, it can be quite the task to sort through a huge catalog to figure out which ones are the trippiest strains. That's why we've handpicked the top psychedelic marijuana strains the world has to offer – and they're all available right here at Herbies!
Trippy Gorilla (Big Head Seeds)
Looking to take things to the next level? Big Head Seeds has you covered with Trippy Gorilla. You'll want to hit the ground running after enjoying these sparkly purple buds imbued with pine and citrus notes. She surprises users with super Sativa effects and slight visuals. Not quite sure how to spend your time with this lady? This smoke report about a trippy bike ride might give you some ideas of how to enjoy Trippy Gorilla. Whatever you get up to, you're definitely in for an adventure! 
Amnesia Haze (Victory Seeds) 
We can't help but include Amnesia Haze among our favorites – an award-winning Sativa hybrid by Victory Seeds. This lady's genetics have been perfected over the years, leading to a super potent 25% THC content. Amnesia Haze can be considered quite a pioneer in the world of psychedelic cannabis, and the effects from this strain prove it! Her earthy buds will gently push you on a wave of psychic energy, sending you away to float on an ocean of connectedness.
Calamity Jane Auto (Buddha Seeds)
Buddha Seeds' Calamity Jane Auto is a Sativa-dominant autoflowering strain that's certain to help you find your way to nirvana. After just a few tokes, you'll find yourself lifted by waves of euphoria and bliss up into the clouds. Expand your consciousness by pairing this strain with some relaxing yoga: first, enjoy her sweet citrusy flavors, then plop down on the mat for some super elevated stretching. This lady is really potent, so it may not take much until you're riding that high! 
Durban Poison (Dutch Passion)
Nothing will throw you for a loop quite like Durban Poison. Your first impression of this delectable dame will be the spicy, fruity flavor, reminiscent of licorice and cherries. From there, the effects are immediate and can even be slightly disorienting. Users have even reported visual and auditory hallucinations after smoking Durban Poison, but typically with quite an uplifting attitude. Our suggestion? Pair this psychedelic strain with some mulled wine or hot apple cider for a smoky stroll through the snow, and see what delights the world has to offer you! 
Strawberry Amnesia (Herbies Seeds)
What better way to have a truly trippy experience than with one of Herbies' own strains? Strawberry Amnesia is an absolute Sativa queen with 22% THC content. Her buds are gorgeously green, berry scented, and densely packed. Strawberry Amnesia easily belongs to this elite group of psychedelic strains because of her potent, trippy effects. Hitting hard and fast, be prepared for a goofy euphoria that might make you forget why you just walked into the kitchen. Well, a snack wouldn't hurt, right?
Gorilla Glue Auto (Barney's Farm)
A list of the most psychedelic weed strains would not be complete without Gorilla Glue Auto by Barney's Farm, another autoflowering variety that busts out potent buds in a fraction of the normal time. Gorilla Glue Auto tests at 25% THC and above, inducing a super stoney experience with her hybrid-tastic effects. This strain will lift your spirits to an absolutely euphoric level, with long-lasting effects that will have you grinning for hours. 
Black Ghost OG (Original Sensible Seeds)
A legendary cross that's proven to be one of our favorite psychedelic cannabis strains, Black Ghost OG from Original Sensible Seeds is certainly unique. Bred from Colorado Ghost OG and Black Domina, this hybrid lady is pungent, kushy, and strong! Tasting of strawberry candy, she might just be the perfect date for a trippy picnic in the botanical gardens. You'll feel ultra-relaxed, yet with stimulated senses, making this strain ideal for soaking in the beauty of nature. 
Crystal Meth Auto (FastBuds) 
If you're really looking for a strain to break bad, Crystal Meth Auto is your girl. This autoflowering strain from FastBuds is super high in THC and easily one of the trippiest weed strains out there. Her piney aroma will send you on an adventure of creativity and energy! This lady is sure to be the perfect companion for a colorful art session, or even for a trip to your local modern art museum. 
LSD-25 Auto (FastBuds)
Sure to deliver a truly psychedelic experience, LSD-25 Auto lives up to her namesake. Another strain from FastBuds, LSD-25 Auto is one of the most psychedelic strains on the market. Such a potent dose of THC – 21%, to be specific – makes for a truly cerebral experience that can lead to a more psychedelic trip. Don't worry though, this girl is still pretty chill, and you'll definitely enjoy feeling a happy connection to the universe. 
Mimosa Shot (Herbies Seeds)
Finally, another trippy hit from Herbies seeds, Mimosa Shot is the pre-game smoke you need for a night of intoxicating euphoria. Share some Mimosa Shot buds with your buds before hitting the club, and feel the beats start to take over and the lights shine so much brighter. Super citrusy, after just a few puffs, you'll feel bubbly and excited. With limonene as a main terpene, it's no wonder this strain tastes like bottomless mimosas at brunch. 
Get Your Trippy Weed Seeds From Herbies
Some occasions call for purely medicinal cannabis, while others demand trippy, psychedelic strains. Maybe we're a little old school, but it sure is fun to try some cannabis that really hits hard. What's better than getting lost in the experience of getting stoned? With this collection of psychedelic cannabis seeds, your next harvest is guaranteed to take you to another planet.
Herbies Head Shop expressly refuses to support the use, production, or supply of illegal substances. For more details read our Legal Disclaimer.