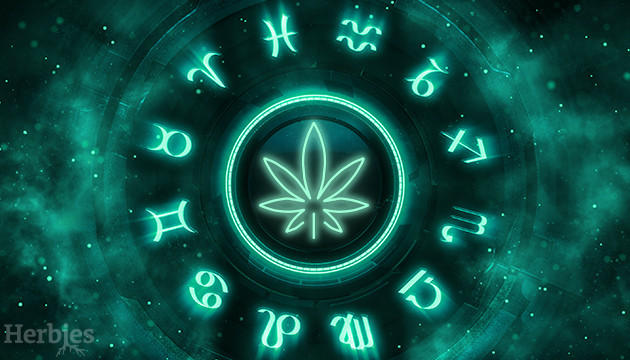 Did you know that your cannabis destiny may be written in the stars? 2023 is looking like a prosperous year for all the zodiac signs. Each sign will face different challenges and triumphs, which warrants a specific weed strain to support you – mind, body, and soul. Keep reading to find out what 2023 holds for you and which strain will best complement your sign this coming year.
Aquarius (January 20 - February 18)
Moving into 2023 with a lot on your mind, Aquarius, this year's horoscope is looking like a breath of fresh cannabis-filled air for you. While the year may not be void of challenges, this is going to be the time when your life feels back on track with your goals and desires. However, it's up to you to make this year a success. Be sure to put your best foot forward in every situation and that your heart is in the right place. Then, just go with the flow and watch your year unfold.
The Perfect Strain for Aquarius: Banana Purple Punch Auto (Fast Buds)
You work hard, and you need all the relaxation you can get. That's why your perfect strain this year is Banana Purple Punch Auto by Fast Buds. Quick and easy to grow with 75% Indica dominance, this strain will ease your tension and help you sleep better at night with its 26% THC and heart-warming terpenes. Enjoy pineapple flavors with a moreish diesel undertone and an uplifting and clear-headed yet sedating high to see you through 2023.
Pisces (February 19 - March 20)
This year is set to challenge your dual nature. To have the most amazing year of happiness, you need to keep your focus on the positives. Make sure to practice gratitude throughout the year, and you'll then attract the ease and joy that you seek in 2023. Just when you thought the intensity of the year before was over, the new one will catch you by surprise with its energy. So ride the wave, dear Pisces, and may weed bring you the hope you need!
The Perfect Strain for Pisces: Golden Tiger (Ace Seeds)
To help you stay optimistic throughout 2023, Golden Tiger by Ace Seeds is the perfect Pisces companion. Its 100% Sativa genetics with roots in Malawi and Thailand will have you smiling from ear to ear. You won't need much, as this strain is meant for experienced users only, with its THC content reaching up to 28%. You'll find its flavors are just as psychedelic as its effects as the floral, lemon, and spice aromas unfold before your eyes.
Aries (March 21 - April 19)
Just like the ram that symbolizes your sign, Aries, you're heading into 2023 as stubborn and motivated as ever. You're going to need this driving force to get through the year ahead, as it will not be a simple one. This is your year for incredible transformation. The challenges you'll face are only to test you, and you have what it takes to conquer them all. With a joint in hand, you must persevere. The abundance that will come in 2023's second half is worth the wait.
The Perfect Strain for Aries: Shiskaberry (Barney's Farm)
Shiskaberry by Barney's Farm will bring you all the berrylicious, body-buzzing bud that you could wish for in 2023. With its 100% Indica genetics, this strain brings about a perfect balance of peace and relief after a stressful day – something that won't hurt such a passionate and energetic sign as Aries. As you've probably guessed, you can expect deliciously pungent berry terpenes with a fresh, forest-like aroma. As for the potency, you won't be disappointed either by an epic 26% THC.
Taurus (April 20 - May 20)
This will be a year of great learning for you, Taurus. While there are no significant lows predicted and blessings are on the horizon, your choices are going to make all the difference for the outcome of the year. Think carefully when making decisions and set your focus on positive changes in your life. Don't be disheartened by the social conflicts around you. Instead, roll some green and keep your head up in 2023.
The Perfect Strain for Taurus: Gelato Auto (Fast Buds)
With a creativity boost and uplifting effects, Gelato Auto by Fast Buds is the ideal strain to help you make good calls and snap decisions while tackling the lows that 2023 may bring. Its 26% THC and well-balanced genetics make it heavy-handed in euphoria for both the mind and body. But what's more uplifting than the high this strain brings? The experience of smoking what tastes and smells just like authentic gelato, which is nothing short of joyful!
Gemini (May 21 - June 20)
With the potential to be your dream year, 2023 is a gift you have to unwrap carefully, dear Gemini. Practice patience in the trials ahead and don't let your duality get in the way – a quick hit of your zodiac strain will help here. While there are many people in your life willing to help you, this is the year you realize your strength and learn to face challenges on your own. Keep up with your goals and make the necessary changes to your life to make this year a success.
The Perfect Strain for Gemini: Gorilla Glue #4 (Original Sensible Seeds)
Get back in balance with Gorilla Glue #4 by Original Sensible Seeds, a genetic masterpiece with 50:50 Sativa and Indica genetics. Its effects are nothing short of genius, as it lifts your mood in seconds, melting away your stress, then slowly sinking you into a full-body relaxation that will glue you to the couch with the strength of a Gorilla. It should come as no surprise that this strain's THC content reaches 28% – but with so much power, you probably wouldn't expect the unique flavor combo of chocolate, pine, and citrus.
Cancer (June 21 - July 22)
We all love our comfort zones, dear Cancer, but 2023 is not the year to hide in your shell. Have faith in yourself and go after your dreams and desires with everything you've got. With the right energy and enthusiasm, a potentially rocky year can take a turn for the better. Try to stay out of your head and don't be shy to express your emotions when conflicts arise. If that feels tricky for you, let cannabis be your guide.
The Perfect Strain for Cancer: Critical XXL (Herbies Seeds)
Manifest your dreams while you enjoy the deeply peaceful, relaxing effects that Critical XXL by Herbies Seeds has to offer with its 27% THC content. Let the Indica-dominant, long-lasting effects take the edge off 2023, giving you the best starting point to easily face any challenges. As your mind drifts into your happy place, allow the strong spicy aroma and zesty undertones of lemon to captivate you in a bubble of bliss.
Leo (July 23 - August 22)
Your confidence outshines any hardships you may face this year, brave Leo. 2023 will not come without challenges, but you are set to tackle them head-on and win. You only want the best for yourself, and this will pay off. However, this might be the year to load up on your ideal bud, as the stars show some health challenges ahead. But fear not – after 2023's third quarter begins, you'll experience positive changes in your career path and personal happiness.
The Perfect Strain for Leo: Grandaddy Purple (BlimBurn Seeds)
Focus on your health this year with Grandaddy Purple by BlimBurn Seeds. This strain is a powerful grape-flavored medicine with noticeable pain relief, nausea reduction, and incredible relaxing properties for sleep and anxiety. With up to 35% THC, no health scares are going to get the better of you, Leo. Just puff away your worries and enjoy the sweet wine and wildberry terpene profile that Grandaddy Purple has to offer. Just beware – the moreish flavors are so good that you could accidentally sleep the year away!
Virgo (August 23 - September 22)
Virgos can relax, as 2023 has little in the way of challenges for them. While you will face regular ups and downs, you can rest assured that nothing major is coming your way. You shall reap what you sow this year, and not just in your cannabis crop. However, beware, Virgo, you need not jump to conclusions when things don't go your way. Stay level-headed and enjoy every moment that 2023 brings. 
The Perfect Strain for Virgo: Green Crack (BlimBurn Seeds)
Crank up the fun this year and stay out of your head with Green Crack by BlimBurn Seeds. This highly energizing strain is just what you need to get the most out of 2023 with its 21% THC content and Sativa dominance. Let the fruity candy flavors and pungent earthy aromas excite your senses as your cerebral cortex gets a jolt of euphoria. Get creative, have fun, and move out of your own way with Green Crack.
Libra (September 23 - October 22)
New opportunities, luck, and positive outcomes await you in 2023, dear Libra. However, these will not come without life shaking up the balance that you cling to. Focus on growing your introspection and understanding life's events from a deeper perspective, and you will then find the silver lining. Cannabis is a great friend throughout the year, but don't be afraid to ask for help from those who want to be there for you. Put your ego aside, and balance will find you again.
The Perfect Strain for Libra: Auto Ultimate (Dutch Passion)
Roll into 2023 with Auto Ultimate by Dutch Passion, the hybrid strain that produces glistening, resin-coated buds to match your shining luck and success this year. With up to 26% THC, this gorgeous strain will charm you into a classic stoned high and happy relaxation, giving you all the tools you need to tackle the various ups and downs. The cherry on top is its tasty lemon and pine sweetness on the tongue.
Scorpio (October 23 - November 21)
2023 is set to be an eye-opening year for you. Get ready for your beliefs about life and the people in it to be shaken up by the planetary transits throughout the year. But don't fret, dear Scorpio, the second half of the year shows a purge of the toxicity you may have had in your life. Just practice patience and keep pushing forward as you wait, joint in hand, for things to finally fall into place.
The Perfect Strain for Scorpio: CBD Lemon Auto (Herbies Seeds)
There's no room for negative side effects this year, and that's why CBD Lemon Auto by Herbies Seeds is the perfect match for you in 2023. With a perfect 50/50 balance of THC and CBD, this life-changing hybrid only brings good vibes with no chance of paranoia. Float through the year on a cloud of lemon smoke with hints of spice and earthy undertones as your mind drifts into a lovely state of happy relaxation.
Sagittarius (November 22 - December 21)
The stars are looking out for you in 2023, dear Sagittarius, so lace up your boots and get ready for a year of exploration and understanding on your life path. If you notice a roadblock on your journey this year, trust that it's for the better and keep moving forward. Focus on being your authentic self and discovering who that is as you puff away introspectively – just keep your wits about you, and only change direction if you have a clear vantage point.
The Perfect Strain for Sagittarius: Blue Gelato 41 (Barney's Farm)
Blue Gelato 41 by Barney's Farm pumps out abundant yields of epic resin-coated buds that will see you through any roadblock you hit this year, sweet Sagittarius. An Indica-dominant hybrid with up to 25% THC is just what you need, as this strain's powerful clear-headed high will keep you motivated and thinking straight. As you indulge, you can enjoy terpenes as fresh as a glass of lemonade, with sweet citrus flavors and earthy notes on the exhale.
Capricorn (December 22 - January 19)
Don't give up, dear Capricorn – 2023 holds many triumphs for you. With your strong will and sharp strategy, you'll make it through any adversity you may face this year. While you can enjoy stable finances and a flourishing love life, don't be shy with cannabis, as your health might need your attention. Any loose ends from the year before will find themselves resolved, so pace yourself and stick to what you know best for a prosperous year ahead. 
The Perfect Strain for Capricorn: Moby Dick (Barney's Farm)
As you face this year head-on, you'll need a strain that will cover all grounds, such as Moby Dick by Barney's Farm. This strain's uplifting effects and up to 27% THC will make any activity feel like a breeze as your anxiety flies out the window and an incessant joy takes over. Say goodbye to stress once and for all and savor the instantly recognizable terpenes of lemon zest, pine, and elegant vanilla.
The Stars Align for 2023's Weed Horoscope
No matter what 2023 may bring, start growing the perfect strain for your zodiac sign and get the ultimate herbal support. If you resonated with your weed horoscope this year, why not help your friends out and let them know what they're in for? Share this article on your socials or directly, then buy your seeds today for an amazing new year with Herbies.
Herbies Head Shop expressly refuses to support the use, production, or supply of illegal substances. For more details read our Legal Disclaimer.