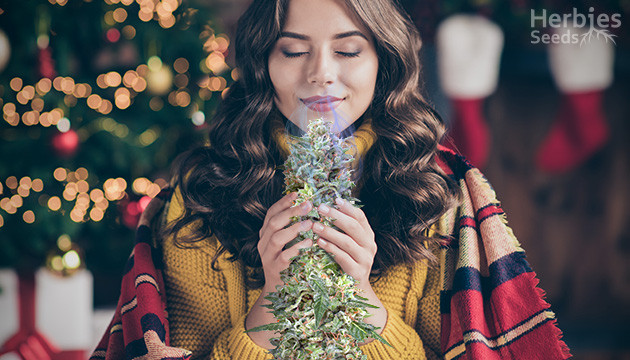 With Christmas just around the corner, it's about time to get into the holiday spirit! There are lots of ways to do so – wrapping gifts, playing in the snow, or hearing "All I Want For Christmas Is You" can easily make you feel a little merrier. As a cannabis blog, we've come up with our own way of bringing the Christmas spirit closer, and that's to grow and enjoy some very special weed strains. In this article, we'll get you acquainted with nine marvelous cultivars with not just happy effects but also warm, Christmas-like flavors!  
Girl Scout Cookies Auto – Just Like Nana's Spice Cookies!
Girl Scout Cookies Auto (Auto Seeds)
Autoflowering

24 %

Stargazing effect

450 - 650 g/m² indoors
Go to strain
Do you remember those delicious old-fashioned cookies with spices and molasses, covered in snow-white frosting and a sprinkle of zest? That aroma is perfectly replicated in Auto Seeds' Girl Scout Cookies Auto! This strain's cozy smoke is filled with nutmeg, cardamom, ginger, sugar, and just enough zesty lemon. The Sativa-like effects are euphoric and make you feel like you're in a dream, completing the calm, grounded sensation of 24% THC Girl Scout Cookies Auto – the ultimate spicy smelling weed.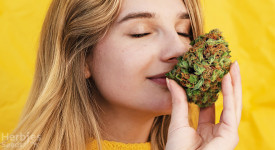 Strains With The Best Aroma
READ NOW
Vanilla Kush – A Spoonful Of Soft Vanilla Pudding
Vanilla Kush (Barney's Farm)
Photoperiod

Forget about tension

22 %

600 g/m² indoors
Go to strain
Vanilla Kush from Barney's Farm is all about softness! It's 100% Indica nature wraps you up in gentle relaxing effects that warm up your every muscle, while simultaneously alleviating any negative thoughts you might have going on. Flavor-wise, Vanilla Kush is quite complex. The taste and aroma start as pine-smelling weed, but soon develop notes of bourbon vanilla and dry lavender – a perfect complement to a winter night with a cup of hot chocolate.  
Lemon Pie Auto – Citrus And Buttery Crust
Lemon Pie Auto (FastBuds)
Autoflowering

Heaven high

24 %

450 - 550 g/m² indoors
50 - 170 g/plant outdoors
Go to strain
With a strain like Lemon Pie Auto from FastBuds, what you see is exactly what you get. This potent 24% THC strain is a tangy fusion of citrus and cream, making for a rich palette reminiscent of lemon curd, cookies, and… maybe even a sweet and sour effervescent vitamin-C tablet? Makes sense, as just like citruses and vitamins, Lemon Pie Auto turns your thoughts to positivity and refreshes your mind, making it clear and focused.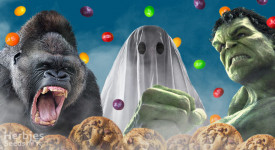 Highest THC Strains
READ NOW
Stardawg – A Walk In A Pine Forest
Stardawg (Blackskull Seeds)
Photoperiod

24 %

Energetic with a mellow relaxing

550 - 700 g/m² indoors
800 g/plant outdoors
Go to strain
If you're looking for pine weed, Stardawg from Blackskull Seeds is another great option – after all, the more the merrier, right? These cannabis seeds produce plants and buds that are all about that rich pine flavor. The smell of a crushed flower will make you feel as though you're in a pine forest looking for the perfect Christmas tree, and the same goes for the taste of the smoke. This is all thanks to the abundance of pinene in Stardawg's terpene profile – plus, besides its connoisseur-level flavor, this strain offers 24% THC and a euphoric high to go with it.
Auto Orange Bud – Oranges And Cloves
Auto Orange Bud (Dutch Passion)
Autoflowering

Activation of creativity

26 %

400 - 500 g/m²
Go to strain
Oranges are great in winter, since they evoke memories of summer and make cold days feel warmer. Auto Orange Bud from Dutch Passion does exactly that, but also gets you so high that you can almost start seeing reindeer running around your room. That's because its piercing fruitiness and spiciness are backed up with a crazy 26% THC and accompanying energizing effects. If you're looking for a getaway from the winter blues, Auto Orange Bud is the way to go.
Purple Punch Auto – Baked Cinnamon Apples
Purple Punch Auto (Barney's Farm)
Autoflowering

18 %

Devastating delight

350 - 400 g/m² indoors
400 g/plant outdoors
Go to strain
Here's another great choice for a toke at Christmas dinner – Purple Punch Auto by Barney's Farm. The smoke of this weed is sure to make the vibe more celebratory with its notes of baked apple and spices, including cinnamon and cloves. The effects of this 80% Indica variety will also help by lightening the mood, making everything seem funnier and alleviating social anxiety.
Ladyburn 1974 – A Bag Of Hot Roasted Nuts In The Cold Outdoors
Ladyburn 1974 (GHS)
Photoperiod

Total mind and body relaxation

21.8 %

800 g/m² indoors
up to 1000 g/plant outdoors
Go to strain
If you've been a naughty kid who smoked too much weed this year, don't worry about not getting a present from Santa – you can still spoil yourself with a delicious nutty weed strain to grow and enjoy, courtesy of Ladyburn 1974 from Green House Seeds. This marijuana develops an irresistible sweet flavor of roasted nuts that's simply perfect for trying during wintertime! Its 22% THC content will help you feel cozy and relaxed wherever you are, while also providing a powerful head high to keep you entertained.
Monkey Glue (Gorilla Glue #4) – Chocolate Dipped Orange Bites
Monkey Glue (Gorilla Glue 4) (Growers Choice)
Photoperiod

Dreamy monkey

25 %

500 - 700 g/m² indoors
800 g/plant outdoors
Go to strain
This might come as a surprise, but Gorilla Glue #4, so beloved around the globe, is also a perfect Christmas cannabis strain. That's because it combines so many flavors that remind us of one of the best days of the year. Gorilla Glue #4 is more than just woody weed – she's got it all, including notes of pine, ginger oranges, and chocolate, all of which mix together into a dense smoke that feels amazing as it lingers on the palate. And of course, you've already heard of GG4's effects. To put it simply, its terpenes and 25% THC will make you glued to the couch – or in this case, maybe even a rocking chair by a fireplace.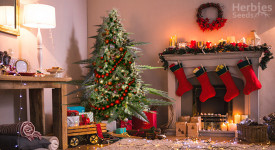 Grow Weeds Not Trees!
READ NOW
Glookies – Caramelized Walnuts And So Much More
Glookies (Barney's Farm)
Photoperiod

Begin your own mind trip

25 %

700 - 800 g/m² indoors
2000 - 3000 g/plant outdoors
Go to strain
You can call her a nutty weed strain, but Barney's Farm will repeat again and again that its 25% THC Glookies needs to be experienced and not just read about. That's because this strain's flavor profile is one of this breeder's most sophisticated creations! Yes, there's a distinct note of sweet walnut, but the layers of the palette keep changing, bringing you key lime pie and even diesel. Glookies is a perfect Christmas strain because it takes a classic flavor and adds its own twist to make the holiday eve unforgettable – and don't forget about the mind-bending, extra stoney effects, either!
Get Into The Christmas Spirit!
If you didn't know before, now you know that weed can smell and taste like apples, cinnamon, walnuts, pine, and even more, just like Christmas itself! This means that toking on one of these delicious strains is a great way to beckon the Christmas spirit a little closer! So what are you waiting for?
Herbies Head Shop expressly refuses to support the use, production, or supply of illegal substances. For more details read our Legal Disclaimer.