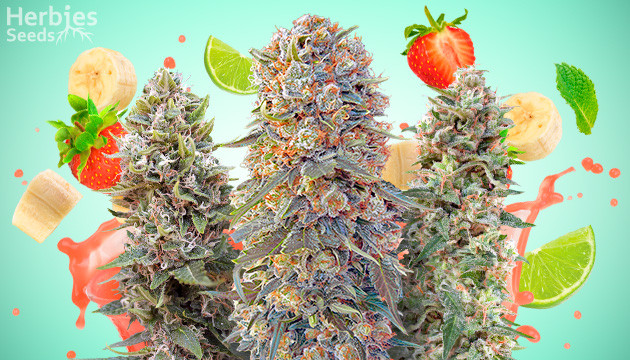 Cannabis strains come in all different flavors, so if you have a sweet tooth and are searching for some of the best fruity cannabis seeds on the market, look no further. Our list of the top ten strains will provide you with all the information you need to know about their THC levels, terpene profiles, flavors, and aromas of your new favorite fruity strains.
Auto Cinderella Jack (Dutch Passion) – Fruity With A Savory Twist
Packing an incredible punch with THC levels of 26%, this Sativa/Indica hybrid strain, Auto Cinderella Jack, will leave you with feelings of happiness, creativity, and motivation. The effects are a hybrid of potent, long-lasting highs and powerful body stones, which can relieve body aches and give you that extra kick to be active and productive. Dominant terpenes of pinene, myrcene, caryophyllene, and limonene create a combination of pine, spice, and citrus flavors with earthy, floral, and fruity aromas. This feminized autoflower is a wonderful and tasty fruity strain with long-lasting effects.
Purple Punch Cookies (Original Sensible Seeds) – Soothing Lavender
A well-balanced hybrid resulting from a cross between Gelato, Granddaddy Purple, and Girl Scout Cookies, Purple Punch Cookies can be perfect as an after-dinner treat or the highlight to a long day. With THC levels of 25%, it provides enough for a quick-hitting sensation before settling into more soothing, relaxing, and sedating effects while aiding with stress, sleep disorders, and physical discomfort. With a terpene profile dominant in caryophyllene and linalool, lavender and spice undertones complement the grape and berry flavors and aftertaste – now that's a marvelous sensory experience!
Fruit Punch (Heavyweight Seeds) – Happy Pine & Citrus
Fruit Punch feminized seeds have THC levels of 22% combined with 1.2% CBD, and with fruity flavors reminiscent of the namesake drink. A high terpene count of caryophyllene and humulene makes the aromas of this Sativa-dominant strain a perfect mixture of sweet citrus with pine and earthy undertones. A sweet, tropical aftertaste follows flavors of pine and mint. Common emotions of happiness, energy, and creativity can help combat the effects of depression, anxiety, and stress, leaving you feeling like the life of the party.
Gelato (Blimburn Seeds) – Gelateria Of Flavors
Known for its dense buds and rich terpene profile full of caryophyllene, limonene, and humulene, Gelato has a dessert-like aroma, remarkably sweet and fruity berry and orange flavors, and menthol and spice undertones. THC levels as high as 27% have been tested in these highly potent Sativa dominant hybrids. Used to help relieve symptoms of depression, anxiety, and insomnia, Gelato's effects can help with mental clarity, relaxation, and improved attitude, allowing creative and uplifting feelings to emerge.
Fat Banana (Royal Queen Seeds) – Therapeutic Bananza
A prime Kush strain with impeccable genetics, this strain originates from the mouthwatering Chiquita and the legend that is OG Kush. With such a fantastic heritage and THC levels as high as 25%, Fat Banana is a strong and powerful Indica-dominant hybrid that's effective in reducing stress, insomnia, and relieving body aches and pains. Intense effects of hunger, relaxation, and euphoria will begin to creep in as a sweet and fruity banana aroma complements the hints of citrus, along with earthy and sour citrus undertones.
Fruity Chronic Juice (Delicious Seeds) – A Warm Citrus & Spice Combo
This strain provides a nice balance between relaxation and a cerebral high, inducing calming and creative effects for a well-rounded buzz. A feminized strain seed with genetics from Chronic and White Widow, Fruity Chronic Juice is packed with 22% THC to help relieve pain, inflammation, stress, and anxiety. This Indica-dominant strain has a sweet citrus flavor with hints of orange and grapefruit thanks to its terpene profile high in myrcene and caryophyllene. Pine and spice undertones complement the sweet citrusy taste, making for a great flavor combination.
Strawberry Banana (Big Head Seeds) – A Juicy Smoothie
A genetic cross between Banana Kush and Bubble Gum, this Indica-dominant hybrid has THC levels of up to 25%. It's also irresistibly sweet and a perfect way to aid in relieving anxiety, depression, and insomnia by creating uplifting and dreamy effects, plus providing a boost of creativity and heightened sensory awareness. Linalool tops the terpene profile along with caryophyllene and humulene, allowing the intense strawberry and banana flavors to create a delightful taste. Once ground, the aroma of banana and a slight spice undertone complete the production of a powerful yet balanced fruity strain.
Blueberry OG (Barney's Farm) – Dreaming Of Fruit & Berry
A perfect blend of two of the most distinguished strains, Blueberry and OG Kush, Blueberry OG provides THC levels of 24%. Relaxation, happiness, and uplifting feelings complement the psychoactive effects of this Indica hybrid plant. The powerful aroma of sweet blueberry, citrus, and musk, with a terpene profile high in limonene, pinene, and caryophyllene, allows the fruity lemon and orange flavors to mix with the spicy pine undertones and create an overall sense of well-being.
Critical Sensi Star (Delicious Seeds) – A Perfect Ratio Of Sweet To Sour
A resinous Indica-dominant strain with THC levels of 24.8%, Critical Sensei Star induces feelings of relaxation, happiness, and euphoria to help combat insomnia, muscle spasms, body aches, and stress. A high caryophyllene profile with linalool and limonene provides a zesty citrus flavor of lime and grapefruit with skunky undertones. Meanwhile, a strong aroma of acidic notes and sweet fruit, like wine gums or strawberries, makes this fruity strain popular with consumers and perfect for relaxation and activities that require minimal concentration.
Wedding Gelato (Royal Queen Seeds) – A Dash Of Mint And Vanilla For Focus
A love triangle of Wedding Cake, Gelato, and Gelato 33 has produced this sweet and potent combination. With a THC concentration up to 25%, this nearly balanced Indica/Sativa hybrid provides waves of uplifting energy, euphoria, and relaxation. Sickly sweet fruity flavors of lemon, mint, and vanilla complement the earthy undertones from Wedding Gelato's myrcene, limonene, and caryophyllene terpene profile to stimulate productivity, reduce body aches, and provide a stress-free experience.
Fruity Weed Strains To Everyone's Taste
Has our informative list packed with all of the best fruity strains you need to consider adding to your collection given you any ideas? With each strain having its own unique flavors and scents, picking which one to try first will be the hardest decision you'll need to make, but there will be no losers! Each of these fruity weed seeds is a winning combo of incredibly rich flavors, stable genetics, and great potencies – be sure to choose yours for an unforgettable experience!
Herbies Head Shop expressly refuses to support the use, production, or supply of illegal substances. For more details read our Legal Disclaimer.