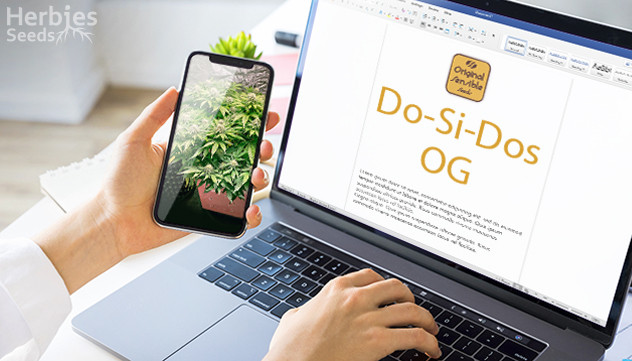 Here we go! My friend gifted me with a Do-Si-Dos OG bean by Original Sensible Seeds and asked me to keep a grow journal. I never pass up the chance to try a new strain, so I obviously accepted!
This lovely lady has it all: she smells nice, helps you relax, and makes you feel good. Do-Si-Dos OG is a Girl Scout Cookies x Face Off cross that hits like a cannon. Her smell and flavor is classic OG with some spicy and sweet tones, and her quality was top-notch come harvest day. These days, I always like to keep a grow journal whenever I grow a new strain of weed just to know my strains and variables better. So without further ado, here she is: Do-Si-Dos OG!
Do-Si-Dos OG Grow Journal – Garden and Gear
Before I get any further into this cannabis grow journal, I should cover my garden setup. I grow in my basement, a 60m2 (645ft2) room. It has great environmental controls with central air. A lot of people don't have access to this kind of a setup, but even if you don't, you can always use a tent!
I used a single 150-watt LED for this Do-Si-Do OG by Original Sensible Seeds grow journal. Since I was only growing one plant, I thought this was enough. I was wrong. I had to add another 300-watt LED at the end of the veg phase.
I always grow my girls in a soilless setup. I prefer coco coir – a middle-of-the road solution that blends the best of peat moss and rockwool. I began by planting my seed in a 1l (0.26gal) pot. I transplanted twice, first into a 15l (3.9gal) pot before its final 25l (6.6gal) resting place. I also used a nutrient blend combining Canna and BAC nutrients. It's a trick that an old grower friend of mine showed me.
Alright, that's enough about my setup for this marijuana grow journal. On to the actual cultivation!
Do-Si-Dos OG Grow Journal – Week By Week, Seed To Harvest
This lovely lady sure took her sweet time. She was ready for harvest 19 weeks after I planted her. That's an insane duration, but I think the results were worth it. Since Original Sensible Seeds' Do-Si-Dos OG is a photoperiodic strain, I had to change my light timer to 12/12 before it flipped to flower.
Weeks 1-9: Veg
And we're off! I planted my Do-Si-Dos OG seed directly into a small coco coir pot, keeping it under 24 hours of light for the first 2 weeks of its life. I kept my humidity high, around 80% in a clone dome.
By week 3, I scaled my light down to 18 hours per day. I also reduced the relative humidity to 70%, gradually decreased this until it hit about 50% by the end of the veg cycle.
This girl needed a lot of attention. As soon as she was ready (about halfway through week 4), I tied my primary branches down and topped my main cola. I topped again in week 5. My plant had gotten pretty bushy in week 6, so I removed any excessive fan leaves. It obviously wasn't enough though, because I needed to defoliate again in week 7.
Right before I flipped my plant from veg into flower, I added another 300-watt LED light. It seemed like my girl needed it, and what she wants, she gets. After I changed my lights to run at a 12/12 schedule, I was off to the races.
Nutrient Schedule For Do-Si-Dos OG In Veg
For the first 3 weeks of veg, I fed this plant nothing but Canna Rhizotonic at 0.25ml/l (0.95ml/gal). In week 4, I switched it up and used Organic Growth Nutrition at 1ml/l (3.79ml/gal) and Organic Root Stimulator at 0.1ml/l (0.38ml/gal). That nutrient mix lasted all the way until the end of the veg phase. Throughout veg, my mix was at 6 pH.
Weeks 10-19: Flower Phase
Wow! My girl really shot up during weeks 10 and 11. She ended week 9 at about 25cm (10 inches) tall. By the end of week 11, she was a full 60cm (23.6 inches) tall! I also reduced the humidity even more during this time to about 40%.
To convince this lady that the seasons were changing, I gradually reduced light at the end of the flower phase. I ran 11 hours of light and 13 hours of darkness in week 16. The next week, I reduced it to 10 hours and maintained that until harvest day.
What cannabis grow journal is complete without a nutrient schedule? Once I got into the flowering phase, I had to switch up my girl's diet. I kept my pH hovering at around 6 for the duration of the flower phase.
Nutrient Schedule For Do-Si-Dos OG In Flower
Weeks 10-12
Organic Root Stimulator: 0.3ml/l (1.14ml/gal)
Organic Bloom Stimulator: 0.1ml/l (0.38ml/gal)
Organic Final Solution: 0.3ml/l (1.14ml/gal)
In week 13, I added 0.8ml/l (3.03ml/gal) of Organic PK Booster.
Weeks 14-19
Organic Bloom Stimulator: 0.2ml/l (0.76ml/gal)
Organic PK Booster: 6ml/l (22.71ml/gal)
Organic Bloom Nutrition: 5ml/l (18.93ml/gal)
Do-Si-Dos OG Grow Journal – Post-Harvest Report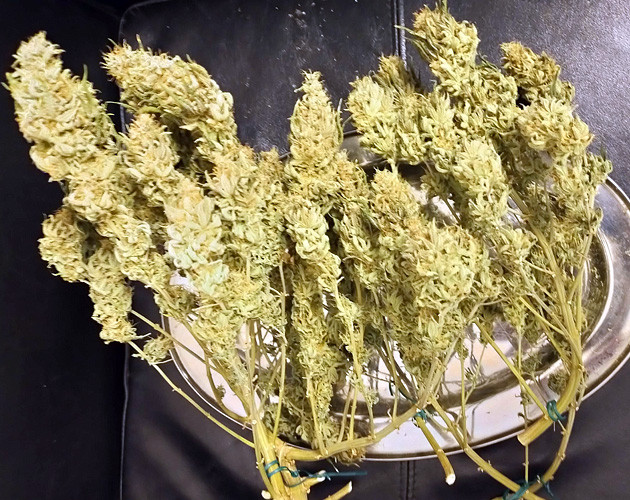 And now, the moment in this marijuana grow journal you've all been waiting for: the big reveal! All in all, I harvested 91g (3.21oz) from this Do-Si-Dos OG plant by Original Sensible Seeds. That's a little lower than I expected. However, I only used 150 watts of power during the veg phase, which is likely responsible for those numbers.
The quality of this girl can't be beat, though. The buds were thick, dense, sticky, and frosty. My entire basement stank by harvest day. I think I'll give this girl another try, but next time using more light throughout the entire grow cycle.
I hope this grow journal helps anyone else who wants to try their luck with Do-Si-Dos OG!
Original Sensible Seeds Strains
VIEW ALL
Herbies Head Shop expressly refuses to support the use, production, or supply of illegal substances. For more details read our Legal Disclaimer.