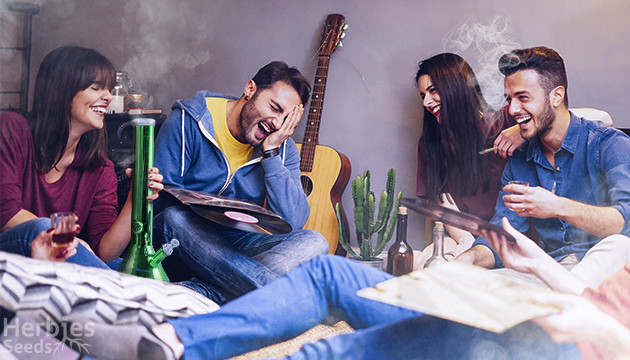 Tonight, a few friends and I are heading to a party in the neighborhood. It should be a relatively small get-together, maybe 20 people or so. We all meet up at my place around 8pm before making our way to Rachel's house.
As we're walking to the party, my friend Brian tells us about this strain he harvested not too long ago: Do-Si-Dos OG. None of us had heard of it before, so he tells us a little about it. Do-Si-Dos OG is a weed strain crossed from two types I've tried before: Girl Scout Cookies and Colorado Ghost OG. Brian 'warns' us that the strain is super potent: 28% THC! I'm a pretty darn experienced smoker if I do say so myself, but I don't think I've ever tried weed that strong before. I'm looking forward to it, hence I've decided to write this strain review on the effects of Do-Si-Dos. For reference, I am a 24-year-old woman.
Getting High With The Do-Si-Dos OG Weed Strain: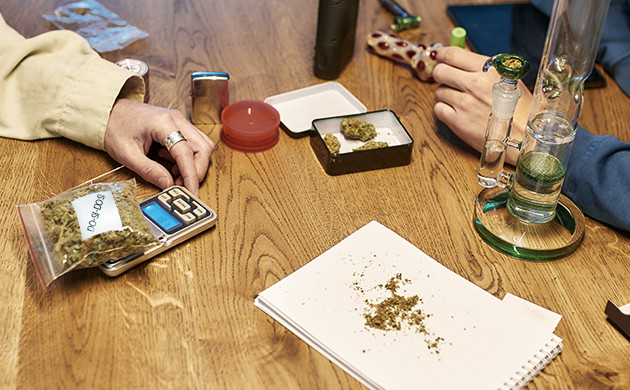 As we walk through the door, I'm surrounded by familiar faces and the thump-thump of electronic music. Everyone's smiling, drinks in hand, some people are smoking. I know most of the people here and make the rounds saying hello to everyone. Throughout the house, the vibe varies: there are a few people dancing to the music in the kitchen, some playing video games in the living room, and of course, the weed smokers are already congregated in Rachel's bedroom. We all hang out for a while, some of us drinking beer or wine.
After getting comfortable, maybe an hour later, several of us take a seat on the floor in the bedroom and Brian gets to work. He pulls a bong out of his backpack, along with a water bottle, grinder, and a jar of huge buds.
Being High: Effects Of Do-Si-Dos OG
After passing the bong around several times, loading up a fresh bowl as necessary every so often, we've succeeded in filling the room with smoke as well as getting ridiculously high. All of us now look like stereotypical stoners: dazed expressions, bloodshot eyes half-hidden by drooping eyelids, goofy smiles. Damn, this kicked in fast! I was feeling it after the first bong rip I took, but by now I'd probably hit it at least five times and am feeling really, really baked. Brian was right, this strain is potent!
Strains For Socializing
VIEW ALL
1 Hour In
We all gravitate toward Rachel's sweet gaming setup, as it's being abandoned by other partygoers. The game of choice this evening? Mario Kart. I slump onto the couch immediately, feeling myself getting more and more stoned. A wave of relaxation washes over me as the first race gets started. I'm usually a pretty competitive Mario Kart player but this time my reflexes are slower, and I can't help but laugh when I end up in last place. After several rounds, our friend Steven is declared the winner of the cup. Big surprise… not! He always wins.
I start to notice that after 30 minutes or so of playing, the intense body stone I was feeling has changed. It's hard to explain how I feel now – I'm still incredibly relaxed and high, but instead of feeling locked to the couch, I now want to run around, explore, go on an adventure! I can't help but bounce my legs a little bit to the music with all my newfound energy, although my legs had felt too heavy to move before.
2 Hours In
"Is anyone hungry?" my friend Emma asks, and my stomach rumbles at the idea of food. Yes, I'm hungry. I'm starving. I could eat a mountain of food. It takes us a while to rally the troops, but soon enough, we have a squad of stoners ready to trek to McDonald's, which is a 10-minute walk away. On our journey, not one of us is able to walk in a straight line, and we spill out into the street a few times. Alex, a guy we met at the party, is cracking jokes and skipping around like a kid. I'm feeling light and bubbly and am laughing more loudly than usual. Walking to get some greasy food is just as fun as the party!
Strains For Appetite Stimulation
VIEW ALL
3.5 Hours In
Soon we see them: the golden arches. Alex starts chanting hallelujah as he pushes the door open, and we all bust up laughing. I'm momentarily overwhelmed by the bright lights inside the McDonald's, and have to take a few steadying breaths while I remind myself how to order food. I do my best to pretend not to be high, but I'm pretty sure the cashier figures it out when I have a hard time counting out my cash to pay. Oh well, I'm sure they've seen more stoned people than me in here.
We grab our food to go and have a walk back similar to the one there, but this time it's a little quieter since Steven and Alex are eating their burgers as they walk. Us girls are walking ahead of them, giggling about our difficulties ordering the food. The walk goes by in a flash, and we head back to the party for a night of more smoking, video games, and music.
Impressions Of The Evening With Do-Si-Dos OG:
Rachel's party was super chill, a really nice low-key get-together with friends. Brian really came in clutch by bringing along Do-Si-Dos OG, and I'm glad I got to do an mmj review for my first time trying this strain. Since I'm no amateur when it comes to smoking weed, I wasn't truly overwhelmed by this strain, but I can see how it could be overwhelming for a less experienced smoker. Overall, I would totally smoke it again while partying, although at first, I wasn't so sure due to how stoned I felt. But in the end, we had a great time on our adventure for food, and I really enjoyed how my high evolved from a full-body stone to an uplifting high that had me buzzing and full of social energy. I'd rate Do-Si-Dos OG a 9/10; the only thing that would have made it better is if we'd better prepared for the munchies!
Original Sensible Seeds Strains
VIEW ALL
Are you ready to share your own experience?
Send us your smoke reports to [email protected] and get 3 high-performing seeds for free! There are only 2 requirements:
Your submission should review one of the strains that we offer for sale.
It should be at least 400 words long.
Herbies Head Shop expressly refuses to support the use, production, or supply of illegal substances. For more details read our Legal Disclaimer.