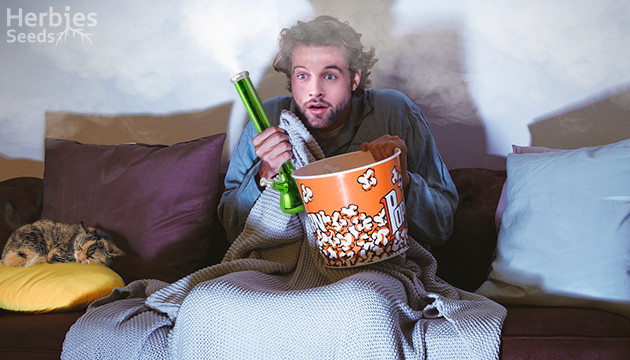 Watching a great movie has to be one of the best ways to spend some quality time relaxing. Combine a great film with some awesome cannabis and you've got yourself an all-time classic night in. But which movie to choose? With more streaming services than ever, we've compiled a list to help you find the best movies to watch while high.
Classic Comedies For Stoners
When you're picking movies to watch high, and thus don't want to bring on any unwanted side-effects (I'm looking at you, movie plot-induced weed-enhanced paranoia), there are a few top genres that stand out. The first is the bread-and-butter of cannabis consumer-orientated cinema: light-hearted comedy.
Shaun Of The Dead (2004)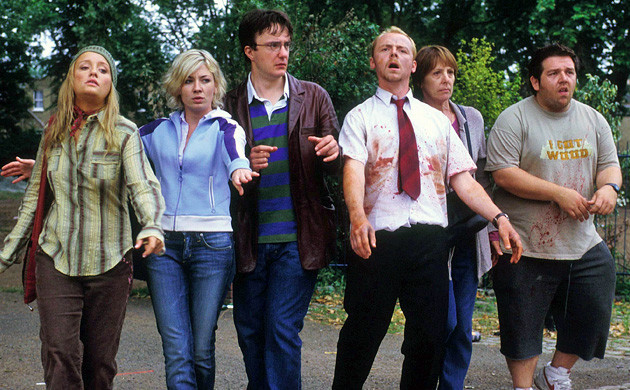 First up on today's list is Shaun of the Dead, a zombie horror-comedy that has gone on to become a cult classic. The genius of Shaun of the Dead, which is fabulously exaggerated when you're high, is the completely out-of-this-world plot that unfolds out of an otherwise normal day.
Pineapple Express (2008)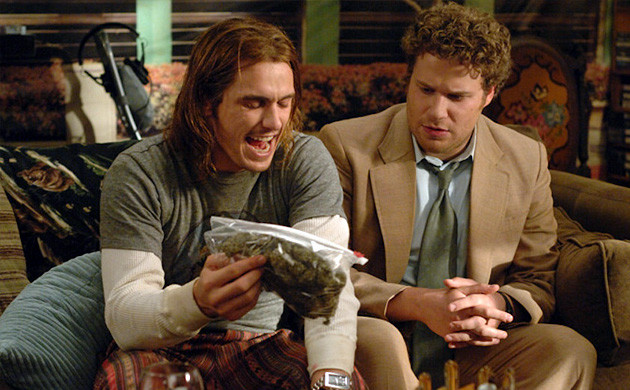 Anyone who knows both cinema and cannabis knows about Pineapple Express. But just in case you somehow missed this stoner-buddy cult classic, it's essentially a tale about what can go wrong in the world of illegal weed. Starring Seth Rogan and James Franco, Pineapple Express is, at its core, a bromance movie about bridging the gap between dealer and friend. Everything about this movie is weed-related, so why not make it a 4-D viewing experience and smoke along?
Scott Pilgrim Vs. The World (2010)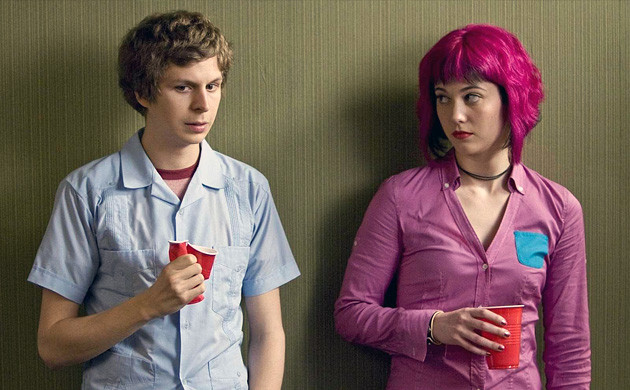 Scott Pilgrim (Michael Cera) is an unimposing 22-year-old playing in a not-so-hit garage band. Then he finds a new girl. Fights break out. Battle-of-the-bands go down. A good dose of action and comedy ensues. One of the best things about this movie is the over-stylized comic book graphics, which could come across as gimmicky but fit in perfectly when you're high to add an awesome emphasis, making this an excellent choice to watch while stoned.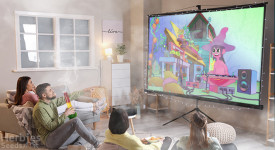 Cartoons To Watch While High
READ NOW
Hitchhiker's Guide To The Galaxy (2005)
Hitchhiker's Guide to the Galaxy is a sci-fi comedy that takes us deep into the unknown galaxy, where we learn that humanity is most definitely not alone. Meeting creatures and machines both friend and foe and trying to discover the meaning of life, this is a great movie to watch while high, as it allows you to settle in to fully enjoy the outlandishly dry, typically British sense of humor.
Awe-Inspiring Visual Effects
Another reason why movies are great to watch while high is the visual effects which, when done well, leave us believing that the fictional world that they've created in a film studio could actually be real.
Dr. Strange (2016)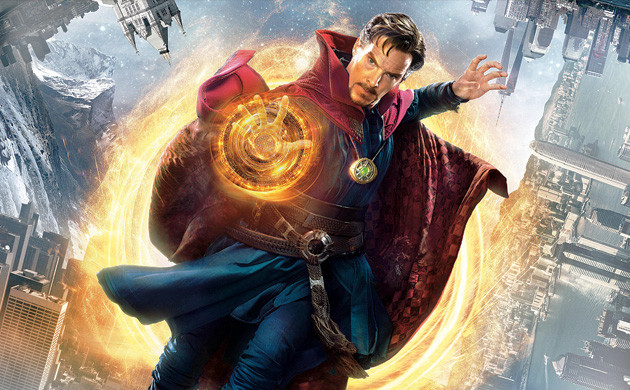 For any superhero cannabis enthusiasts out there, this one's for you. Dr. Strange is a wealthy, talented and arrogant surgeon at the very top of his game – before an accident leaves him scouring the world for a way to regain his lost talent. It's a great movie on its own, but watching it while high brings to life the amazing visual effects used throughout the film, and lets you empathize with a flawed but charismatic character.
Samsara (2012)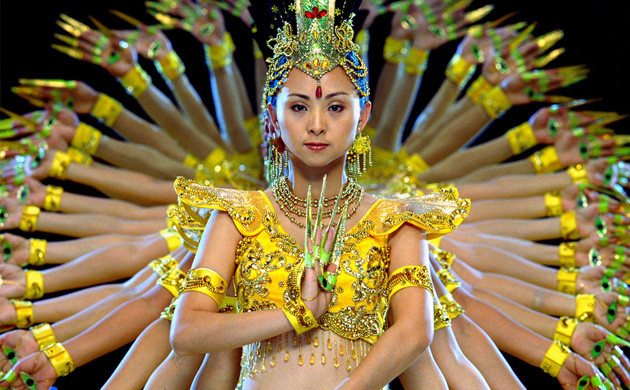 Filmed in 25 different countries over five years, this narration-free documentary is a breathtaking montage of the earth's existence from the human perspective. Described as "Neither a traditional documentary nor a travelogue", Samsara's director instead linked the film to a "form of a nonverbal, guided meditation." And what's the one thing that could make a picturesque guided meditation better? Some beautiful herb to accompany it.
The Fall (2006)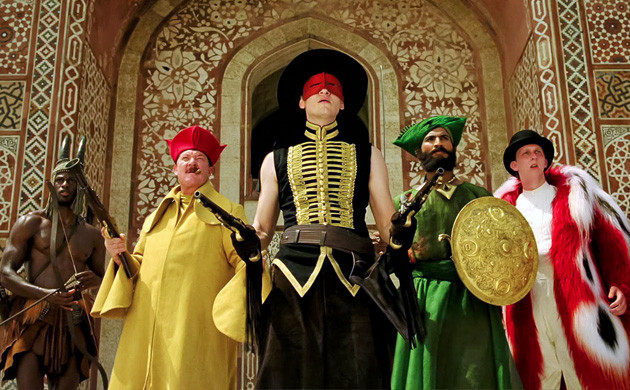 Set in early twentieth-century Los Angeles, The Fall is an adventure-fantasy film that's as beautifully imaginative as it is painfully tied to reality. Roy, a freshly injured stuntman in an infirmary, befriends a young girl who is a patient in the hospital, exchanging fairy tales for her help. The combination of a great storyline with amazing visuals, which are especially enhanced by cannabis, creates a magnificent movie that would be perfect for your next sesh.
Serious Films To Make You Think
Sometimes, good-quality humor and picturesque cinematography just aren't enough. For those looking for a bit more depth to their film and cannabis relaxation session, we've compiled some of the greatest films to keep your mind wondering long after the credits roll.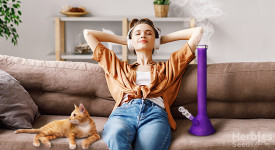 Top 5 Most Relaxing Strains
READ NOW
2001: A Space Odyssey (1968)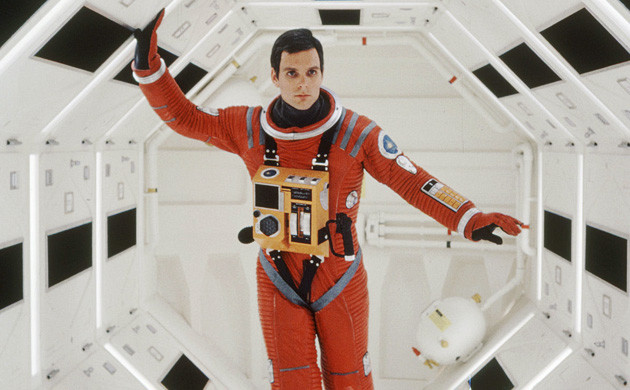 For anyone not familiar with the work of Stanley Kubrick, get ready for a wild ride. Although filmed more than 50 years ago, 2001: A Space Odyssey is just as relevant today as it ever was, as humanity begins to question more and more what our collective future holds. And we, unsurprisingly, find weed extremely helpful when pondering humanity's future.
Cloud Atlas (2012)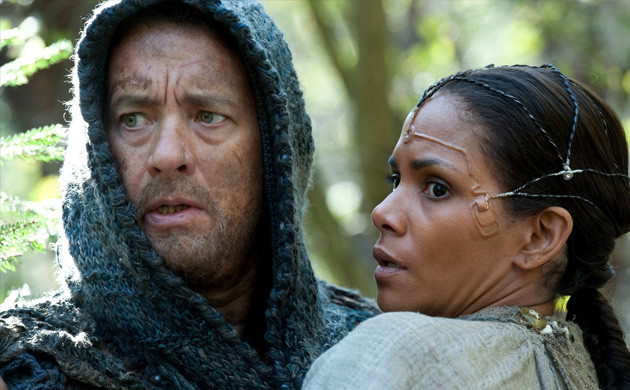 Cloud Atlas is another fantasy epic that beautifully captures the imagination, right before it tears our perceptions apart and makes us question what's real. Directed by the Wachowski sisters who brought us The Matrix trilogy, they like to describe it as a "pointillist mosaic". Which might sound confusing to some, and I think that's the point. Rather than try to describe it any more to you, I advise you to just pick some herb that lets your mind run freely, then sit back and enjoy the journey.
The Fountain (2006)
Finally on our list is The Fountain, a fantasy-romance film that seamlessly blends themes of history, spiritualism, science-fiction and adventure into an epic journey of love that stretches over millennia. Starring Hugh Jackman and Rachel Weisz as two lovers endlessly caught through time, The Fountain is really about questioning what love and immortality are, and what we would do for both. Any tasty, cerebral cannabis will go down well with this movie to help you concentrate on what really matters when you start asking those same questions.
Choosing Was Hard, But Not Anymore
There are so many great films out there to choose from that sometimes choosing itself is the challenge. This list of top 10 movies to watch when you're high should help you out the next few times you're winding down. They're all good movies on their own, but combine them with some great bud and a healthy helping of movie (munchie) snacks, and you've just created an unbeatable night in.
Herbies Head Shop expressly refuses to support the use, production, or supply of illegal substances. For more details read our Legal Disclaimer.