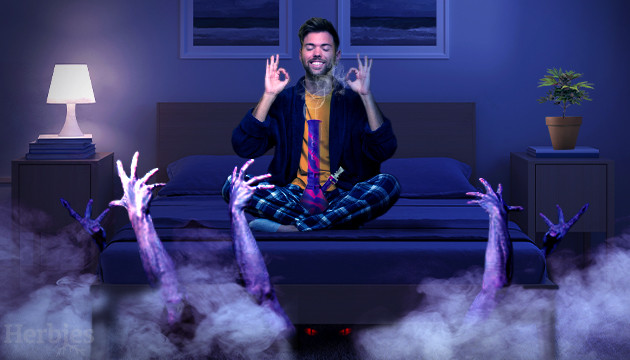 Paranoia from smoking the wrong kind of weed (or too much of it) is no fun. You only wanted to relax after a busy day and feel all snug and happy, but instead, you spend what feels like an eternity listening at the door and biting your nails. Whatever fear lay hidden deep inside you now feels like an imminent threat, out to get you for sure this time.
Don't you hate that? We do – so let's look at why weed makes you paranoid and what kind of weed doesn't cause paranoia.
Why Does Weed Cause Paranoia?
Paranoia, or the feeling of being persecuted, is a common delusion. People are hardwired to be on the lookout for danger, and when this natural and very useful mechanism gets broken, we become paranoid.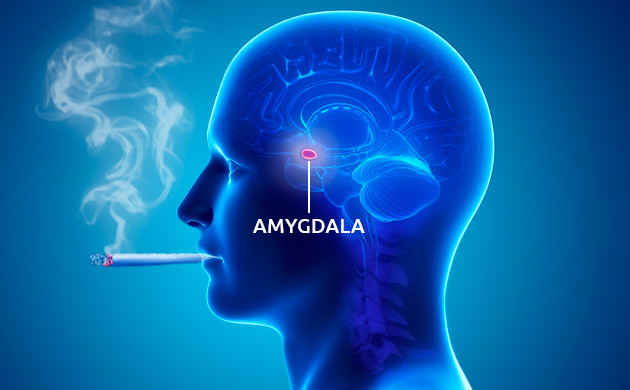 Weed causes paranoia because the THC in it, as well as some other cannabinoids, bind to the CB1-type receptors of our endocannabinoid signaling system. CB1 receptors are present in great numbers throughout our brain, including a special region called the amygdala, but what exactly is it?
Paranoia-Manufacturing Machine
The amygdala is the brain's fear-processing zip code. When it's activated – whether by THC or more natural causes – it sends distress signals to other brain regions.
Having a working amygdala was life-saving in the primeval forest but is often uncomfortable in modern times. Turn it off, and you'll become a much happier person: a charismatic visionary, a daring trailblazer, a fearless leader… and a dangerous psychopath. Being afraid – at least, for the safety of others – is one of those things that makes you human.
So we need our amygdala. What we don't need is the little bastard working in turbo mode (which is too often triggered by THC).
THC and Anxiety: Dose-Dependent Relationship
THC and anxiety is a subject that still baffles scientists. Why does weed relax some people but make others paranoid? Available research suggests that it all depends on the dosage. THC-rich marijuana strains can calm you if you smoke in moderation, but the effect is the exact opposite if you overdo it.
How to Avoid Getting Paranoid While High
It's a common observation that people who are naturally fearful and distrustful are the most prone to get paranoid when high on weed. So, if instead of feeling all warm and fuzzy inside, you only experience bone-chilling terror after a few tokes, maybe marijuana isn't your thing.
Alternatively, maybe you should go easy on THC and choose a variety that's also rich in CBD. CBD, or cannabidiol, is a powerful therapeutic substance in cannabis that's supposed to be non-psychoactive. This isn't exactly true; CBD does affect you, but primarily by calming you down and mellowing out the effects of THC.
And don't forget about terpenes. Cannabis is chock-full of these aromatic substances. Some of them, like myrcene, make the high even more profound. Others, like caryophyllene, make you less paranoid. It's even recommended to chew some black pepper (it's rich in caryophyllene) when paranoia seizes you in its cold, hard grip.
The bottom line is that a lot depends on the exact chemical composition of your cannabis strain. Both the ratio of cannabinoids and the terpene profile in your weed can mean the difference between a perfect chillout and a bad case of paranoia.
Strains That Don't Cause Paranoia
Many paranoia-prone users come to the conclusion that there's a certain class of weed that won't cause paranoia. The common wisdom is that Indicas are for calm and peace and Sativas are for energy, jitters, and a higher chance of paranoia. We wish it were that simple.
In fact, our list contains all kinds of strains – Sativas, Indicas, and hybrids – but there's a consensus among growers that neither strain gives you paranoia.
Green Crack Auto (FastBuds)
Green Crack is the perfect herbal stimulant to make you happy about your life and eager to do what needs to be done. You'll be far too immersed in your chores to feel any paranoia, and after the initial surge of energy comes mellow Indica relaxation. Growing this auto won't be a source of anxiety either; she's very fast, easy to grow, and high-yielding.
The Church CBD (GHS)
The original Church was famous for its smell of calm-inducing incense. This CBD-rich version adds high levels of cannabidiol to her pacifying mix. The THC content is also high, but in combination with the CBD, it loses its edge and leaves you blissful and serene. This cultivar is fast-flowering and mold-resistant – a dream come true for first-time gardeners.
Marmalate Early Version (Delicious Seeds)
So fast that she can compete with autoflowers, Marmalate Early Version can finish in September and bring in twice as much as the most high-yielding auto. And you'll need every ounce of it because you can smoke this weed day in and day out without a trace of paranoia. However, this doesn't mean she's weak – 21% THC is a formidable figure.
Runtz Punch (Herbies Seeds)
This 29% THC monster doesn't make you paranoid no matter how much you've smoked. You'll simply fall asleep if you overdo it. However, if taken in moderation, Runtz Punch is a great strain for thinkers, artists, and inventors. Your IQ will soar to new heights, and your head will be filled with only the brightest and happiest of thoughts.
Girl Scout Cookies Auto (FastBuds)
You can't get paranoid if your mind and body are drowned in euphoria, and Girl Scout Cookies Auto does just that. This famous Indica also boasts the smell and flavor of sweet baked goods, plus 20% THC that'll make you go from stupid grins to helpless giggles and back again. She's a low-maintenance cultivar, delivering her goods in just 8-9 weeks from seed.
Tropicanna Banana (Barney's Farm)
Tropicanna Banana can make you paranoid… but only because she grows so huge that no tall fence could hide her from your nosy neighbors. The yields are just as frightening – up to 2,000 grams (70.5oz.) per plant outdoors. Meanwhile, indoor cultivation is correspondingly rewarding. The high is all smiles and cheers with a powerful therapeutic effect to boot, and the smell and taste are a fruity bonanza.
Black Cherry Punch (Pyramid Seeds)
This body-numbing Indica is one of the most beautiful plants you'll ever grow. Her huge swollen calyxes are supposed to be purple but are in fact white from all that frost. Can something so beautiful cause such a nasty thing as paranoia? Not Black Cherry Punch. Her effect on your mind is a deluge of euphoria, and the 25% THC ensures it lasts for hours.
Super Lemon Haze (GHS)
When looking for Sativa strains that don't cause paranoia, Super Lemon Haze should be your obvious choice. Her strong uplifting effects can turn your weekend into a never-ending roller-coaster ride, but with a sense of perfect safety that doesn't leave you even for a minute. She's also a two-times Cannabis Cup winner and an amazing plant to grow.
Blueberry Hill (Herbies Seeds)
Achieve Zen-like balance and purge all worrying thoughts with this almost pure Indica. Blueberry Hill draws her super potency from an Afghani landrace, while her Blueberry heritage imbues the cross with exquisite flavors. This plant is also a massive producer, not to mention a powerful medicine for both body and soul.
Larry's Lemon OG (Garden of Green Seeds)
This 50/50 Sativa/Indica hybrid takes the edge off both physical pain and mental anguish. Larry's Lemon OG basically numbs all your bad feelings, leaving nothing but cloudless tranquility behind. It's like a long weekend compressed into a few hours. OG genetics are also famous for their ease of growing, growth speed, and commercial-size harvests.
We Hope You'll Find Low Paranoia Strains That Work For You
We'll be upfront with you: finding a strain of weed that won't cause paranoia requires some experimentation. The effects of marijuana are too complex to predict individual reactions. However, our list of strains that don't cause paranoia is a great starting point. After all, what worked so well for other people will probably work for you too.
Do you have a paranoia-free weed strain to recommend? Leave a comment below and let others know about your experience with marijuana varieties that don't cause any paranoia!
Herbies Head Shop expressly refuses to support the use, production, or supply of illegal substances. For more details read our Legal Disclaimer.