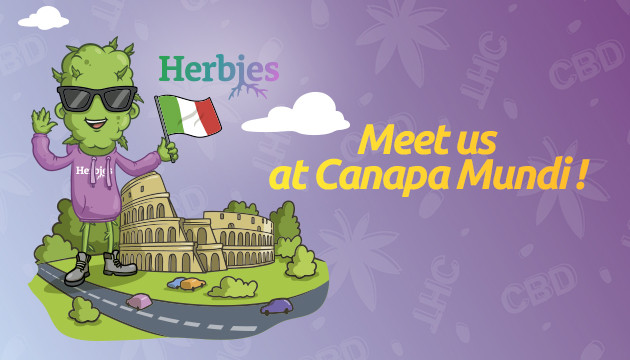 April 1st through April 3rd, 2022, Canapa Mundi, the international cannabis fair held in Rome, is making its triumphant return after the break that had to be taken due to the pandemic. The upcoming 7th iteration of the festival will host visitors at Fiera di Roma, Italy.
We're happy to announce that Herbies has become the official Platinum Sponsor of 2022's Canapa Mundi. This is a new milestone in our support of the Italian fair, which has already featured our company as a participant several times in its history. We can't wait to reconnect with our clients in real life, learn more about their needs and calibrate the direction Herbies is taking. It's also important that we share our recent developments with the rest of the industry. We've done so much in the last year, including the release of our new Herbies Seeds strains, and we want the news to reach every corner of the big cannabis world. At Canapa Mundi 2022, you can meet us at the stand G3.
In 2022, guests of Canapa Mundi can anticipate over 200 brands from across the industry and approximately 25,000 visitors. The event will be held from 11 am until 8 pm on Friday and Saturday, April 1-2, ending an hour earlier on Sunday, April 3rd. Tickets are € 8 per day or € 15 for a three-day pass. Discounted tickets are also available at € 5.
This all-ages convention combines exhibits, presentations, and products from throughout the legal cannabis industry. With the exhibitors' list including such big brand names as FastBuds, Sweet Seeds, Green House Seeds, Hesi, and many more, visitors can look forward to participating in many unique offerings from various categories, such as:
Articles for Smokers
Industrial Hemp
Legal Hemp
Food and Beverage
Cultivation
Cannabis Seeds
CBD Seeds.
Here's your chance to dive into the heart of cannabis growing culture. Come to Canapa Mundi and see the industry in its most current form. If you're unable to make it to Canapa Mundi due to travelling restrictions, virtual participation is also possible. Last year's virtual fair is still available for free. You can also access webinars and informative videos from 2021's speakers, conferences, and vendors. For more information, visit the official website of Canapa Mundi here.
We really appreciate the chance to meet you all again, and can't wait for it to happen! See you in Rome, Fiera di Roma, stand G3!
Herbies Head Shop expressly refuses to support the use, production, or supply of illegal substances. For more details read our Legal Disclaimer.