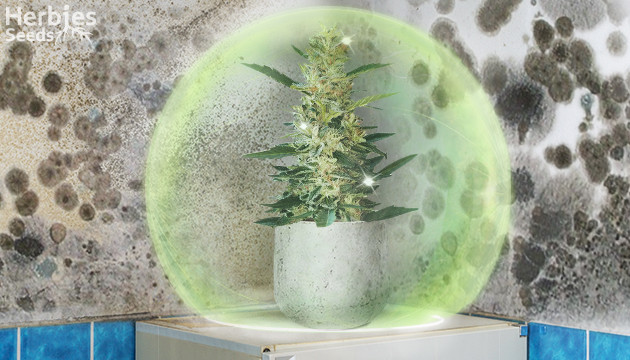 Mold is a type of fungus that thrives in damp environments with poor ventilation, posing a significant threat to the health of cannabis plants. In fact, mold is one of the most formidable issues that indoor cannabis cultivators can face. If not promptly addressed, it can compromise the entire harvest. However, cultivating marijuana in a confined, poorly-ventilated space isn't a lost cause. With the latest addition to our Indoor Cannabis Seeds collection, we can now offer mold-resistant cannabis strains that can thrive even in challenging growing conditions. Here, we'll share insights about the top ten mold-resistant strains currently available on the market.
Why Consider Mold-Resistant Strains?
If you reside in a region with rainy summers and falls or have a poorly ventilated growing space, raising cannabis can be challenging. The last thing any cultivator wants is to see their hard-grown buds succumb to mold and rot. Fortunately, certain mold-resistant weed strains can not only survive but thrive in damp, rainy climates. Indeed, these marijuana strains have naturally developed resilience against moisture-related issues. Keep reading to learn more about these remarkable cannabis strains.
Understanding Mold-Resistant Cannabis: Key Factors
What defines a mold-resistant cannabis strain? The answer lies in the plant's genetics. Many mold-resistant strains originate from the humid and rainy regions of Asia and Central America. Typically, these Sativa strains, also known as "landraces," have evolved over generations to adapt to their local climates, even when the growing conditions are less than ideal. Landraces have become so well-adapted to their original environments that they are naturally less prone to mold and are capable of flourishing in wet conditions. Through strategic cross-breeding, these strains have been combined with others to create hybrids that exhibit an exceptional level of mold resistance and hardiness. Notably, many of these strains feature spongier buds and wider internodal spacing, which promotes better airflow and, by extension, greater resistance to mold.
Best Mold-Resistant Strains
A fundamental attribute of mold-resistant strains is their ability to produce a high volume of resin, a feature that shields the plant from environmental adversities. As a bonus, the resin houses the majority of the plant's THC, CBD, and other cannabinoids, as well as terpenes that contribute to the unique aroma and flavor profiles of each strain. So, while you're getting strains that are resilient and robust, they also pack a potent punch.
To make your cannabis cultivation journey easier, we've rounded up some of the top mold-resistant strains. These strains have been selectively bred over the years to emphasize their hardiness, mold resistance, and potency. They are the perfect choice for growers in climates with high humidity or those growing in spaces with limited ventilation.
Mold-Free with LSD
LSD is a behemoth of a strain. With lemon and earth-flavored buds packed full of THC up to 25%, this strain is not for the faint of heart! To get the most out of LSD – one of the best outdoor mold-resistant strains – you'll need to practice some topping to maximize your harvest. She thrives best outdoors, where she can grow big and tall and won't be threatened by mold, since its great mold-resistance guarantees rewards even in colder climates.
Candy Kush Auto, a Strain that Basically Grows Itself
There are mold-resistant autoflower strains out there as well: Candy Kush Auto by Auto Seeds, for example. This Indica-dominant hybrid has plenty of terpenes that help the strain fend off disease, and which also give Candy Kush her spicy caramel flavor. She has characteristics that are attractive to every grower: super resistant to pests and weather, and a discreet height of 100cm (3'2") indoors. How easy Candy Kush is to grow isn't the only thing that's sweet – she also clocks in at 22% THC and 2% CBD!
Get Excellent Results with Northern Lights Auto
FastBuds' Northern Lights Auto, otherwise known as Original Auto Northern Lights, is a legendary hybrid with hard-hitting Indica effects and a natural resistance to colder climates. Growers will be pleased to know that Northern Lights Auto's genetics make this plant naturally mold-resistant , which it's been proving to growers for decades. Her resinous buds will protect your crop from disease and leave you pleased later with the potency, fruity flavor, and a narcotic-like knock-out effect. Original Auto Northern Lights plants are stocky and compact, which makes.them ideal for indoor growers.
The Power and Beauty of The Church
Another entry in our list of the best mold-resistant cannabis strains is The Church, also a strain related to Northern Lights. It has origins in the European region, which means that she can handle a wide variety of non-optimal growing conditions. Resistant to mold, mildew, and pests, The Church is incredibly easy to manage. All that sticky resin will keep your plant safe from mold – plus, you'll see a yield of about 700g (1.5lb) per square meter indoors. We also can't help but mention how beautiful the buds are: light green and full of trichomes, and adorned with orange and purple hairs.
The Sweet Escape with Kandy Kush
Next up is the sweet Kandy Kush from Reserva Privada, an Indica-dominant cross between Trainwreck and OG Kush. Thanks to the latter strain, this variety prefers colder climates and is naturally resilient to mold and mildew. You'll have nice yields whether you're growing her inside or out, and the buds will be deliciously fruity, dense, and sticky. You can definitely add Kandy Kush to the list of awesome mold-resistant indoor strains.
Durban Poison, of Course!
This wouldn't be a list of the best mold-resistant strains without Durban Poison, a pure Sativa that's exceptionally resistant to mold and disease. This strain has been around for decades, and for good reason: she's strong and hardy, but still gets absolutely massive when grown outdoors, with huge yields despite a short flowering time of 8 to 9 weeks. The heavy, resin-laden blooms make for 500g/m2 (1.6oz/ft2) of resilient buds that are also 22% THC potent.
Pest-Free with Panama
Brought to the masses from Central America, Panama is a triple threat Sativa that brings together the best characteristics of three mold-resistant strains: Panama Goddess, Green Panama, and Panama Red. This incense and vanilla-flavored strain can handle a variety of climates provided you supply her with enough nutrition! Expect to see alluring pinkish-red pistils packed into large, fragrant buds that will be sticky with 21% THC resin once it's flowering time! Great both indoors and out, Panama has exceptional resistance to pests and humidity.
Glookies: an All-Star Genetic
Glookies has earned her spot on this list from her reputation as an award-winning strain that's capable of enduring days of rain and wet weather, or generally high humidity, without catching mold. She's also an extremely heavy yielder: with plenty of nutrients, light, and water, you can expect an awesome harvest of 800g/m2 (2.6oz/ft2) indoors or 3000 g (6.6 lbs) per plant outdoors! Expect each of those buds to deliver a divine cerebral and creative high like no other strain on the market.
Super Silver Haze for Super Buds
Super Silver Haze is another strain with Northern Lights ancestry, but this time bred with Skunk and Haze to create a 70% Sativa hybrid. She gets her mold resistance from a thick layer of trichomes and high resin production – perfect for novices growing weed in high-humidity environments. Super Silver Haze likes hot, equatorial climates but also does well indoors. Give your plants lots of nutrients and, come harvest time, you'll see the results in immense, drooping branches full of sweet and citrusy 19% THC buds that glitter with resinous trichomes.
Sweet Ecstasy: Sugar Candy
Although this list isn't in any particular order, you could say we've saved the best for last with Sugar Candy – a sugar rush-inducing classic. This Indica-dominant strain is famous for her huge, dank buds containing a potent 25% THC. Sugar Candy is famously easy to grow from seed and also happens to be one of the most mold-resistant weed strains available. Although her natural resistance to sickness will make the growing process easy on you, be sure to give your plants some extra love and attention toward the end of flowering to ensure quality buds that ooze mango and spice flavors. An extra bonus for showering Sugar Candy with TLC is a ridiculous amount of resin, making these cannabis seeds a great choice for concentrate enthusiasts.
Golosa Early Version
Golosa Early Version is a luxurious strain brought to you by Delicious Seeds. The most striking feature of this Indica-dominant strain is its enhanced resistance to mold and other pests. The speed at which this strain completes its flowering cycle helps preempt potential problems and unexpected pests. This quick turn-around time, combined with the strain's inherent hardiness, makes it an ideal option for cultivators seeking a hassle-free and reliable growth process.
Say No to Mold with These Mold-Resistant Strains
Mold is a danger for both indoor and outdoor grow operations, and can render a cannabis harvest totally ruined. By making sure to keep the temperature and humidity under control, you can mitigate the chances of mildew finding its way into your crop. Choosing a strain that's specifically mold-resistant can nip the problem in the bud before you even start growing. What are your favorite mold-resistant weed strains to grow in wet conditions? Let us know in the comments below.
Herbies Head Shop expressly refuses to support the use, production, or supply of illegal substances. For more details read our Legal Disclaimer.