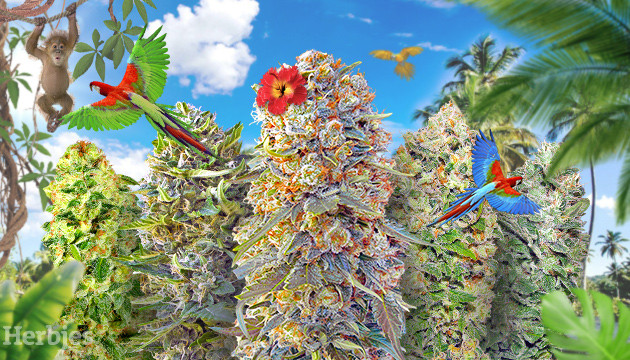 Depending on who you ask, there are about 800 different verifiable strains of weed on the market today. And many of them have become mainstream, household names that are widely available to the public. Conversely, exotic strains feature rare genetics from faraway lands, making it difficult to get your hands on them. Let's have a closer look at what makes a strain exotic, before delving into a list of the most exotic strains accessible today as we head into 2022.
What Are Exotic Weed Strains?
Exotic strains of weed need to tick certain boxes before we can classify them as such. To be deemed exotic the strain needs to possess at least one of the following traits:
Rare genetics: if a strain is available at every head shop in town, then it is not exotic. Exotic strains feature rare genetics taken from (usually) landrace Sativas and Indicas in hard-to-reach locations. Untainted genetics from places such as Afghanistan, Thailand, Laos, or Malawi will lend that exotic label to most resultant hybrids.
Crazy appearance: some strains produce buds that are beyond beautiful to behold with the eye. Some strains - such as the featured Ultraviolet Auto - grow flowers of pale green and bright purple that lends an exotic air. Others, such as Frisian Duck, grow leaves that do not even resemble a cannabis plant!
Unique aromas: most true cannabis connoisseurs can distinguish between terpenes and can recognize many of the mainstream strains by smell alone. And then occasionally something exotic comes along that sends your tastebuds into a frenzy. In this list we feature strains with the rare and exotic aromas of papaya, mango, and ginger.
Different effects: the different effects of Sativa and Indica weed are well documented. But an exotic strain blows all that out the water. Some of the exotic cannabis strains we feature come with hard-hitting psychedelic potential!
Top Exotic Strains You Should Grow
Now that we know exactly what an exotic strain is - and without further ado – here is our list of the most exotic strains of weed on the market today.
Golden Tiger
It is hard to find a more exotic pure Sativa than Golden Tiger from Ace Seeds. The breeders have taken specimens from the faraway lands of Malawi and Thailand, before crossing them to produce one of the hardest-hitting Sativas in the world. The buds can produce an eye-watering 28% THC, which is capable of inducing trippy, psychedelic episodes that are more common amongst stronger substances. It is, therefore, only recommended for experienced cannabis users. Golden Tiger is also aromatically delicious, with strong floral notes and hints of spice and lemon.
Ayahuasca Purple
When you read a name like "ayahuasca" on your weed, you know you're in for something special. And the people at Barney's Farm have delivered with their unforgettably exotic Ayahuasca Purple, named after one of the strongest psychedelic plants on earth. This 100% Indica produces vibrant and eye-catching deep purple buds that test higher than 20% THC. The aroma profile is dominated by the exotic and tropical smells of papaya, which gives way to nutty flavors with undertones of lavender and mango. And the effect? Expect a trippy glow that progresses to euphoria and complete relaxation.
Frisian Duck
Dutch Passion's Frisian Duck may be the most exotic-looking cannabis plant you've ever seen. It grows peculiar-looking leaves – not really like a cannabis plant at all – and is not even recognizable as a weed plant until she begins to flower. This makes it an ideal plant for outdoor guerilla growers requiring a bit of stealth. And if you're looking for the perfect daytime smoke, then we believe this is it. The beautiful purple buds produce a Sativa-dominant effect and normally test between 7 – 15% THC, which is good to blaze all day long. You may also be interested in her visually impressive exotic sibling Frisian Dew.
California Dream
Despite the US state in the name, California Dream is a cross between rare strains from Mexico and Afghanistan, making it one of the top exotic strains and an absolute dream to smoke! Experience a slight skunky aroma that is complemented by mint and herbal candy. The frost-covered buds average around 17% THC and are capable of inducing light euphoria coupled with full-body relaxation. This plant will only grow to one meter in height and is well-suited to both indoor and outdoor cultivation.
Caramelo
When it comes to funky-looking exotic bud, Caramelo by Delicious Seeds is up there with the funkiest. This 70% Sativa-dominant hybrid was created by crossing 4 strains capable of producing purple buds: Super Skunk, Big Skunk Korean, Afghani, and Hawaiian. The payoff is eye-catching fluorescent purple flowers that contain about 24% THC. The Sativa genetics provide an unbelievable rush of energy and euphoria that progresses to mind-stimulating relaxation. Expect a sweet and quite rare walnut flavor that melts in your mouth.
Hawaiian Snow
Hawaiian Snow won the High Times Cannabis Cup in 2003 (and many other awards), but her rarity - coupled with an utterly unique aroma - ensures her place in this list of exotic marijuana strains. The 80% Sativa buds test at around 23% THC, lending the user an uplifted, euphoric, and social experience. It is an ideal party weed, well-suited to both beginner and experienced tokers alike. And that utterly unique savory aroma? Expect caramelized and roasted onions intermingled with a touch of eucalyptus.
Six Shooter Auto
These exotic cannabis seeds are a cross between Crystal Meth Auto and Mexican Airlines Auto. Six Shooter Auto was bred with two things in mind: potency and yields. And this exotic weed strain delivers exactly that with tests revealing THC contents between 21 – 23% THC. She is capable of indoor yields of 500 – 650g/m2, while outdoors you can expect between 70 – 350 grams per plant. The 70% Sativa dominance unleashes predictably energetic and uplifting effects, while the aroma profile is complete with citrus, pine, and pepper.
Afghan Kush X Black Domina
Experience a sweet-and-fruity explosion of flavor with these widely-heralded and exotic genetics from the Hindu Kush in Northern Afghanistan. Afghan Kush X Black Domina is a 100% pure Indica and as such comes with wonderful therapeutic effects. It is ideal for those suffering from insomnia, or if you're just looking for a good night's sleep. She rapidly produces flowers when grown indoors, reaching the harvest stage after just 50 – 55 days.
Strawberry Amnesia
When it comes to high-yielding exotic strains with delicious berry flavors, you need look no further than Strawberry Amnesia. Capable of stretching to a sky-scraping 3 meters in height when grown outdoors, this 75% Sativa-dominant delight can produce 1.2kg per plant. Indoors you can expect to max out at around 700 grams/ m2. Feel your worries melt away as this powerful cross of Strawberry Cough and Amnesia delivers a huge jolt of energy.
Ultraviolet Auto
The first time you lay eyes on an Ultraviolet Auto is an event you are unlikely to forget. This gorgeous plant produces immensely pretty pale green and purple buds with resultant THC levels around the 21% mark. You will experience a combination of sweet, fruity, and citrusy flavors that combine beautifully on the palate. The Sativa-dominance of this cross between White Dwarf, Skunk, and Lavender ensures an uplifting, euphoric, and energetic experience that is ideal for daytime use.
Solomatic Auto CBD
Having combed the seed bank for the most exotic medicinal strain, we believe we have found it in the form of this autoflowering wonder, Solomatic Auto CBD. This cross between Diesel CBD and Asia CBD Auto brought with it a delightfully spicy Asian fragrance that is reminiscent of ginger, or perhaps even galangal. Those exotic flavors are complemented by 21% CBD and 1% THC, making it a powerful medicine, ideal for combating stress, pain, and anxiety.
Which Exotic Strain is Right for Me?
If you are chasing an exotic weed strain with mind-bending psychoactive properties, then Golden Tiger and Ayahuasca Purple are highly recommended. Caramelo and Hawaiian Snow offer those rare exotic terpenes that are unlike anything else out there. The most exotic Sativas are Strawberry Amnesia and Six Shooter Auto, while on the Indica side it is hard to beat Afghan Kush X Black Domina. For crazy exotic-looking plants, Ultraviolet Auto and Frisian Duck have you covered, while on the medical side of things, Solomatic Auto CBD is our preferred exotic. So there's definitely something for everyone – start growing exotic strains and blow your friends' minds come harvest time!
Have you had experience growing exotic weed? What strain was it? Let us and fellow growers know in the comments below.
Herbies Head Shop expressly refuses to support the use, production, or supply of illegal substances. For more details read our Legal Disclaimer.