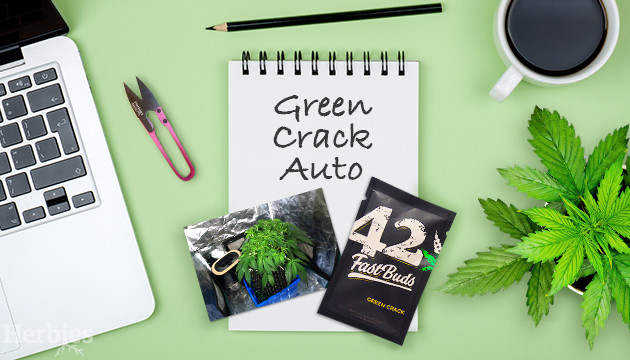 Hi, friends! Check out my Green Crack Auto grow diary in which I describe my bumpy ride to a great harvest from two Green Crack Auto seeds.
I started with just one Fastbuds Green Crack Auto, but the pheno was a superauto which wasn't in a hurry to start flowering. So I germinated the second seed after 5 weeks, and amazingly they both finished on the same day. The final haul was so good it far overshot the gram-per-watt mark.
A Lackluster Start
I germinated one Green Crack Auto seed in a jiffy pellet which, on day 6, I put in a 0.5-liter starter pot filled with coco coir. I was planning to do two repottings later on. I know that it's generally not advisable to transplant autoflowers at all because their life cycle is so short. However, in this instance, it worked out okay. My Green Crack Auto turned out to be a superauto, meaning one of those plants that keep on growing in veg and reach monstrous proportions.
Too Little Breathing Room
I didn't add any perlite to coco, and it was probably a mistake because coco on its own tends to retain too much water. It suffocates the roots (which love oxygen). Adding some 30% of perlite, on the other hand, creates a lot of air pockets inside the medium and lets the roots breathe as much as they want to.
I was using an AirPot container, and its design—full of holes in the walls—helps to oxygenate the medium but obviously not enough. So, throughout most of my Green Crack Auto grow, the leaves looked droopy as if overwatered.
Probably Calcium Deficiency
It's hard to say exactly what my Green Crack seedling hated so much, but her leaves looked all twisted. It might have been too much light from my LED light, but I thought it was calcium deficiency and treated it as such.
Coco coir is naturally calcium depleted so it sounds like the truth. I gave the seedling regular showers with a CalMag Foliar, and she soon recovered.
The Training Begins, and Explosive Growth Follows
Although the plant still looked terrible, I transplanted her into a 2.2-liter pot and was happy to see her recover. The new foliage didn't look twisted anymore, and within one week, I repotted Green Crack Auto into the final 12-liter container.
As an experiment, I topped her above the second node. Now she had two main growing points and was on a way to becoming a monstrously bushy plant. I also started to low-stress train her by simply bending her to one side. There were still no signs of even preflowers so I knew that this Green Crack Auto was going to be HUGE.
A Very Simple Feeding Schedule
The pre-flowering started in week 6 from seed—exactly when I started to feed my lady GHE Flora series. It's a very easy-to-use nutrient line that consists of three parts: the nitrogen-rich FloraGro, the PK-rich FloraBloom, and FloraMicro that has all the rest of the essential nutrients and can be used from seed to harvest. The whole feeding schedule looked like this:
As you can see, I simply bumped the doses of the grow formula for the latter half of the vegetative stage but lowered them in flower. On the contrary, I incrementally raised the usage of the blooming nutrient. The doses for MicroGrow stayed more or less the same. A very basic schedule, but it worked for me.
12/12 as the Last Resort For SuperAutos
It was week 10 when I finally threw in the towel and switched to 12/12. My Green Crack Auto wouldn't start to flower automatically. She looked just like a photoperiod plant: huge, insanely branchy, with a frightening amount of foliage and growing points. She had had preflowers for some weeks now but no proper buds. No stretch either.
By the way, in week 6, I saw that I still had some room in my tent, and I germinated another Green Crack Auto. This one had perfect veg, and by the 12/12 flip, she had already started flowering on her own. So both girls would be racing neck and neck till the end of the run and finish together.
ScrOG to Spread Things Out
I installed the ScrOG net as soon as I went into flowering mode. I had tried defoliation before, but it didn't really change the way my big lady looked: in two days, she grew back all that I had removed. The ScrOG idea was a success because my two Green Crack autoflowers filled the whole area.
After one week of 12/12, the bigger girl had light green tops all over. Meaning that the flowering time finally began for her. The smaller and younger one was already forming buds. Both had only a moderate flowering stretch and stayed a very comfortable size.
The Tale of Two Phenos
The quicker pheno was a great cultivar. I wish I could have given her more light hours, but even with 12/12, she had full and solid nuggets, all covered in trichomes. The bigger girl had narrow tapering colas, but, to balance things out, there were a lot of them. They looked very resinous too. I knew the result would be awesome. I only wished she didn't take so damn long.
To wrap things up, I used GHE Ripen on my two girls, giving them the final PK-boost before the harvest. By this time, my little garden looked great: colas everywhere, and each of them crystal-covered goodness. I harvested 131 grams (4.62 ounces) from the bigger lady. The other one brought less, but the buds were better. With my 135-watt LED, I can't complain. Nobody would.
A Short Fast Buds Green Crack Auto Review
Cultivation. Growing a superauto pheno can be fun for those who have the time and space and want bumper harvests. I myself preferred the quicker phenotype, but to each their own.
Smell and Taste. The smoke was fruity, with citrus and flowery notes. Sometimes, it felt sweet on the palate. Not bad at all.
Effect. Chill Sativa-like vibes with maybe 30% Indica-type buzz. Makes you happy, uplifted, and euphoric. Just what I like.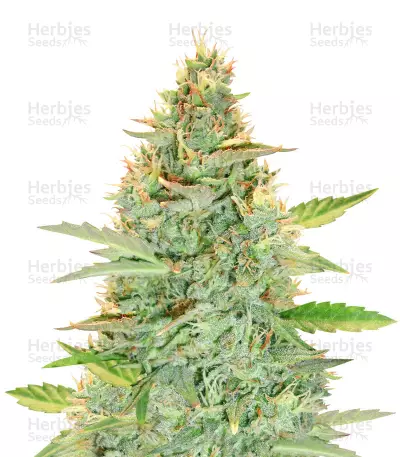 Green Crack Auto Seeds For Sale
VIEW STRAIN
That's it, folks! Hope you found my Green Crack Auto grow diary useful. Happy growing!
Herbies Head Shop expressly refuses to support the use, production, or supply of illegal substances. For more details read our Legal Disclaimer.