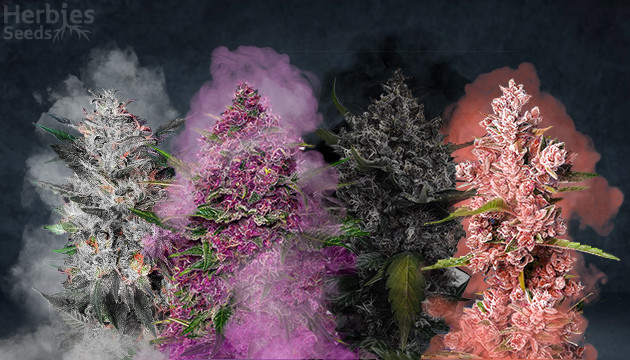 The amount of diversity present in all the different strains of cannabis out there is truly incredible. The plant doesn't only vary in terms of its psychoactivity, THC content, yield, and size – the color palette of marijuana leaves and buds is also akin to a rainbow! Red, orange, yellow… blue, black, green, purple… Read further to learn why weed comes in such a variety of hues and which strains we recommend for completing your collection of colorful marijuana!
Factors That Influence Colors Of Cannabis
So, the question follows, why do different colors of weed plants exist? Why isn't it just classically green? To explain that, let's introduce some vocabulary: anthocyanins, a type of flavonoid with antioxidant effects that's responsible for pigmentation in many plants.
Anthocyanins - of which more than 500 have been identified – are particularly responsible for hues of red, purple, and blue in plants depending on the pH. As the cannabis plant matures, anthocyanins become more abundant, hence why young marijuana plants are primarily green and acquire their secondary hues as they mature.
There are some other flavonoids and carotenoids that likewise affect colors, influencing how much yellow, orange, and red occur in plants. Weed color can also depend on other variables such as temperature, the amount of nutrients in the soil, trichome production, and light quality.
Enhancing The Color Of Marijuana
Cannabis cultivators who want to influence the color of their buds will need to pay close attention to a variety of factors. During the growing phase, the color of your bud can be positively influenced by maintaining the appropriate pH and temperature, combined with the use of LED lights in certain spectrums.
The color of cannabis buds is, however, primarily influenced by genetics. Certain strains will grow orange-red pistils, others purple leaves, and still others can be covered in frosty-white trichomes. Let's dive into some of the most colorful weed seeds out there!
Purple Queen (RQS)
It's only appropriate that the first pick is royalty: Purple Queen, an Indica-dominant hybrid with powerful Indica effects complemented by sweet a lemony flavor and beautiful colors. As these plants reach maturity, the leaves are tinged with pinkish hues. Purple Queen's flowers are the true masterpiece here: magenta-hued buds adorned with delightful orange hairs. These magnificent colors are simply glamorous, and the buds are fit for a queen!
Purple Punch Cookies (Original Sensible Seeds)
Don't let yourself be fooled by this strain's name – Purple Punch Cookies may taste classically 'purple' with notes of berries and grapefruit, but her colors tell another story. This uniquely dark purple and red cannabis strain is accented by orange and white pistils that create a colorful contrast. Purple Punch Cookies will knock your socks off with her cerebral effects that fade into a pleasant couch-lock thanks to her genetic lineage comprised of Gelato, Granddaddy Purple, and GSC.
Black Cream Auto (Sweet Seeds)
It's not always about the bright colors! Black Cream Auto is a great example of some potent black cannabis seeds. Some of the leaves acquire a dark amethyst hue during flowering, while most plants will show red-violet tones in the buds. However, the real magic occurs after harvest – once the flowers have been dried and cured, the buds have had time to fully develop, leading to a very dark purple, nearly black weed with high bag appeal.
Ayahuasca Purple (Barney's Farm)
Another gothically colored strain, Ayahuasca Purple is a pure Indica variety that's as visually appealing as she is potent! During flowering, her colors range from vibrant red to dark violet. Once harvest time comes around, these colors darken and her buds take on hues of eggplant-like midnight blue-black, embellished with orange hairs and a frosty, snow-like sprinkling of trichomes. These black weed seeds are an essential addition to every cannabis connoisseur's collection!
Black Cherry Punch (Pyramid Seeds)
Something about purple marijuana buds just screams dessert! Black Cherry Punch lives up to those expectations not just in color, but also in her earthy, berry-sweet flavors and aromas. This delectable lady is deliciously Indica-heavy, her genetics a combination of Black Cherry Kush and Cherry Pie. Her colorful lineage leads to buds that are dark red to purple during flowering. Come harvest time, this is one of the most visually stimulating purple cannabis strains on the market, with neon violet buds accessorized by intensely orange hairs.
Blackberry Auto (FastBuds)
Generally, red and pink types of marijuana are quite rare, and those colors are usually caused by phosphorus deficiency. However, such shades are simply genetic in certain strains, including Blackberry Auto from FastBuds – an Indica-dominant hybrid that's a cross between Blackberry and Purple Kush. Her Kush ancestry leads to a gorgeous color palette of lovely reds, deep lilacs and violets, and pinkish-orange tones. Make these colors pop in your garden with the addition of Blackberry Auto!
LSD-25 Auto (FastBuds)
LSD-25 Auto is an Indica-dominant hybrid with huge amounts of THC (21-23%), delivering a psychedelic, cerebral high that evolves into a relaxing, medicinal body stone. Aside from her effects and earthy, woody flavors, LSD-25 Auto is also known as one of the most popular varieties of purple cannabis seeds. While these plants are the most beautiful shade of emerald green, her flowers are the real stars of the show here. Pigments ranging from garnet red to maroon appear during flowering, with some phenotypes showing brilliant displays of color similar to dark fruit wines, boysenberries, and crushed velvet.
Auto Banana Blaze (Dutch Passion)
This has to be one of the most uniquely colored strains on our list. Introducing Auto Banana Blaze, an Indica-dominant strain with a smell and taste that matches her name. In just twelve weeks from germination to harvest, this autoflowering lady grows quickly and beautifully. You'll fall in love with her lovely autumn-themed color palette of rusty reds, earthy ochres, and maroon-purple hues.
White Widow (Dutch Passion)
We'd be remiss if we forgot one of the most high-profile white weed strains out there, White Widow. This legendarily potent and high-yielding strain has been a favorite among marijuana enthusiasts since the 1990s. Her densely-packed buds are decorated with long white hairs, along with the myriads of milky trichomes that give White Widow her name. Between her impeccable appearance and long-lasting, anxiety-reducing effects, this is one classy lady!
Auto Blackberry Kush (Dutch Passion)
Not to be confused with Blackberry mentioned earlier in the list, Auto Blackberry Kush is one of Dutch Passion's bestsellers, and we can see why! These purple weed seeds are a cross between Blueberry and a secret, dark hash Kush variety, resulting in not only a super strong Indica-dominant autoflowering strain but also a beauty to look at! Hues range from red, bright to dark purple, and shades of black. Dutch Passion specifically recommends dropping the temperature of indoor grows at night to help enhance the purple and black tones by imitating outdoor conditions.
A Weed Rainbow!
With the exception of the snow-covered appearance of particularly frosty nugs, color is not necessarily an indication of a particular strain's potency. The beautifully-colored strains highlighted here have been handpicked by Herbies not only for their gorgeous appearances, but also for their effects and potency. Let us know what your favorite colorful strains are in the comments!
Herbies Head Shop expressly refuses to support the use, production, or supply of illegal substances. For more details read our Legal Disclaimer.