Wedding Cake is a strain that's quickly growing in popularity among growers and consumers alike, and for good reason. This potent Indica-dominant hybrid originates from two legendary genes for legendary results. The strain is well-liked not only for its comfortably euphoric effects, but also its pungent, crave-worthy aromas. So, let's see just what the Wedding Cake strain is serving up in terms of growth and consumption with our ultimate guide.
Wedding Cake's Background & History
How does a strain get named for one of the most popular and well-known desserts? Wedding Cake's moniker comes from its two classic parent strains that share the same sweet theme – the Wedding Cake strain is an outcome of crossing Cherry Pie and Girl Scout Cookies for a deliciously infamous hybrid.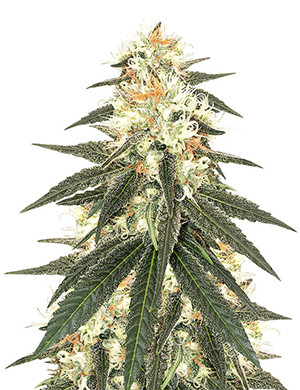 While somewhat new to the scene, Wedding Cake has soared to popularity quickly over the years. Originally, the strain was bred in Southern California, climbing the ranks as a favored genetic in a faster manner than most, especially considering it was voted 'Leafly's Strain Of The Year' in 2019. One interesting fact about Wedding Cake is it goes by a different name in Canada – there, you'll find the same genetic labeled as Pink Cookies.
What To Expect From Wedding Cake's Effects
What's helped propel Wedding Cake to the top of the list of fan-favorite strains is its desirable and well-balanced effects. It also comes with a potent level of THC for full-bodied benefits and highly elevated experiences. You can expect the strain to reach levels of THC around 25%, with CBD levels around 0.1% for a 250:1 THC:CBD ratio. First-time consumers or those with a low tolerance to THC should therefore proceed with extra caution.
Once you find your balance with Wedding Cake, you can expect relaxing yet uplifting good feels from this strain's dense smoke. The high typically begins with a rush of euphoria to the mind, continuing with a cerebral type of experience. After periods of giddiness, the Wedding Cake strain's Indica side takes over with a gradually growing wave of ultimate relaxation. Your senses will be heightened with this strain, and it can be positive for boosting creativity as well as exercising, with a soothing comfortable body buzz to follow.
Wedding Cake's Taste and Aromas
Wedding Cake weed has a robust, luscious flavor that is, unsurprisingly, extremely satisfying for those with a sweet tooth. Like a dessert with many layers, you'll uncover hints of creaminess, zesty tangy flavors, and a peppery, earthy undertone. With its Cherry Pie and Girl Scout Cookies lineage, you won't be surprised that Wedding Cake's aromas are likewise irresistibly fruity and sweet like a fresh batch of baked goods.
Therapeutic Qualities Of Wedding Cake
For medical consumers, Wedding Cake can be highly therapeutic for a number of conditions. Its comforting body buzz, accompanied by its mental stimulation, is ideal for daytime use for those who want to calm their symptoms while still being productive. The Wedding Cake strain is most therapeutic for the following common ailments:
Chronic pain
Insomnia
Appetite loss
Depression
Fibromyalgia
MS
Anxiety/stress
Wedding Cake Growing Tips And Tricks
Wedding Cake is just as versatile for growers as it is for consumers, although until recently, the strain was mostly grown commercially versus personally in home gardens. With most varieties and phenotypes, growers can expect moderate to high yields up to 600g/m2 (1.9oz/ft2) indoors, and over 800g (1.76lbs) per plant outdoors. If you're trying to be discreet, be aware that the Wedding Cake strain is abundant in trichomes and terpenes, making it quite pungent during growth. Adding carbon air filters to your setup indoors can help qualm overwhelming aromas.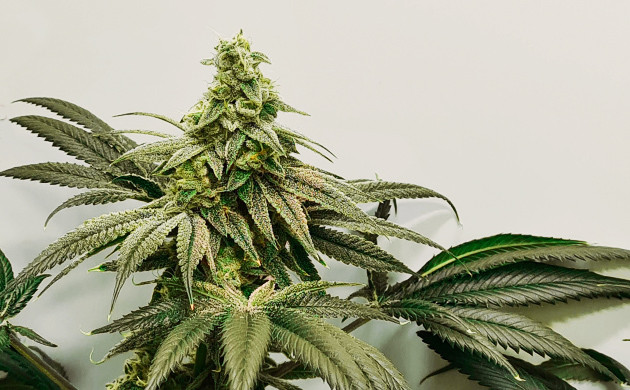 Side Effects Of Wedding Cake
Like any strain, there are a few things to keep in mind when consuming Wedding Cake weed. For starters, its potency is high – some phenotypes have the ability to reach up to 27% THC, which is higher than most genetics. This makes Wedding Cake a 'one hit and quit' strain for many consumers. Another side-effect to keep in mind is the strain's ability to stimulate the appetite – meaning you should be prepared with snacks for a heavy case of the munchies!
As for puff, puff, passing, Wedding Cake is notorious for its somewhat harsh smoke. Unlike other strains that are smooth to inhale and exhale, you may experience stinging coughs from this sharper, denser type of smoke. Cottonmouth and red eyes are also other common side-effects, so make sure you have water or Visine on hand if needed.
The Top 3 Wedding Cake Strains
Of course, the Wedding Cake weed strain is available in many different varieties that growers will be able to choose from. Here are our picks for the top three Wedding Cake seeds:
Wedding Cake (Barney's Farm)
Wedding Cake (Barney's Farm)
Photoperiod

An energy vortex

24 - 26 %

650 g/m² indoors
2000 g/plant outdoors
Go to strain
Wedding Cake seeds from Barney's Farm produce a sweet treat for any grower. The variety isn't just super potent, but super in the beauty department as well. The plant shows off with its pink and purple shades, and becomes covered with glistening, crystal-like trichomes that belies the high levels of THC. These Wedding Cake strain seeds also deliver maximized yields with a relatively short flowering time.
Wedding Cheesecake Auto (FastBuds)
Wedding Cheesecake Auto (FastBuds)
Autoflowering

A nice and creative daytime-smoke

24 %

450 - 600 g/m² indoors
60 - 300 g/plant outdoors
Go to strain
What's better than Wedding Cake? Wedding Cheesecake – especially if it comes in autoflowering variety! FastBuds improves upon the original genetic by including Ruderalis lineage for faster turnaround and smaller stature, yet which still impressively produces THC levels of 24% – overwhelmingly higher than most autoflowering varieties. In addition, Wedding Cheesecake Auto adds a unique flavor profile of creamy tangy 'cheese' for an all-new take on the original taste.
Wedding Cake (Original Sensible Seeds)
Wedding Cake (Original Sensible Seeds)
Photoperiod

Relaxed with an air of euphoria

25 %

600 g/m² indoors
800 g/plant outdoors
Go to strain
Wedding Cake from Original Sensible Seeds is another reliable variety that stuns in growth. These Wedding Cake seeds produce high yields, and with even higher levels of cannabinoids and terpenes for potently maximized effects. This 80% Indica/20% Sativa gene is somewhat easy to manage, mold-resistant, and ideal for both indoor and outdoor environments. Like this strain's other varieties, you can expect highly potent results with THC levels of up to 25%.
Have Your Cake And Eat It Too
With Wedding Cake, you're treated to the best of both worlds when it comes to Indica and Sativa genetics. The Wedding Cake strain boasts high levels of THC for a potent high, with exhilarating yet mellow effects for a well-rounded experience. The strain is beloved by both recreational and medical consumers for its therapeutic qualities and satisfying flavors – plus, growers can benefit from its hardy and mold-resistant nature. So, if you like to have your cake and eat it too, Wedding Cake seeds could be just the thing!
Herbies Head Shop expressly refuses to support the use, production, or supply of illegal substances. For more details read our Legal Disclaimer.