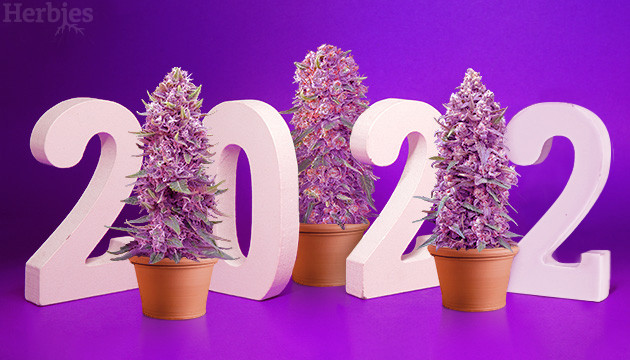 There's something about the deep indigo hues of purple bud that stirs up wonder and delight inside every keen marijuana grower. The color transformation is enough to make any of us giddy, but what's even better are the delicious flavors and mind-bending potency that many of these well-bred purple weed strains exhibit.
Now, despite their dazzling exterior and exciting reputations, are purple marijuana strains some sort of superior weed species – or are they just oxygen-starved cannabis plants begging for better conditions?
In this article, we uncover why some strains go purple and others don't, get to the truth about purple strains of weed, and give you our list of the top purple cannabis strains you won't regret adding to your grow schedule.
What Makes Weed Purple?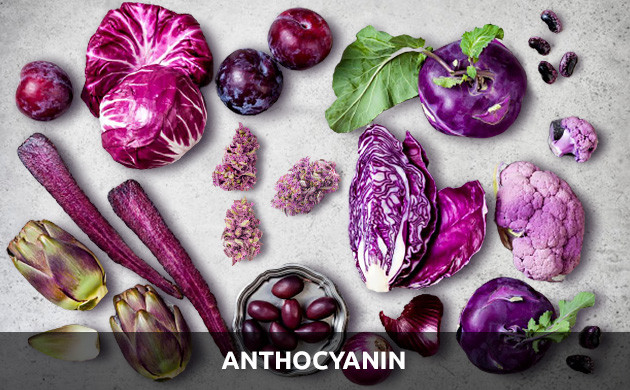 To start off, no, purple weed strains don't turn purple because of some hidden deficiency or imbalance. The reason why some strains of weed can turn purple and others don't is simply genetic, due to special components called anthocyanins.
Anthocyanins are grouped in a category of molecules called flavonoids which, despite how they sound, affect the pigment of plants without affecting flavor. This particular flavonoid has the ability to turn plants a range of colors including red, blue, black, and, you guessed it, purple.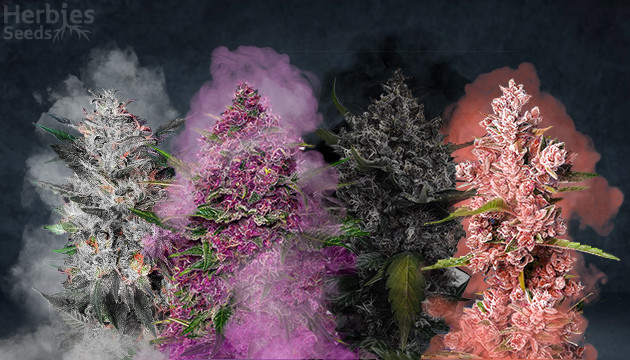 The Many Shades Of Colorful Marijuana
READ NOW
Along with some purple marijuana strains, other plants that contain these fascinating flavonoids include raspberries, blueberries, and black rice. Whether the plant or fruit will turn red, blue, purple, or black comes down to the pH in the soil and of the plant in general. More acidic plants will turn red, more alkaline plants will turn blue, and neutral acidity plants turn purple.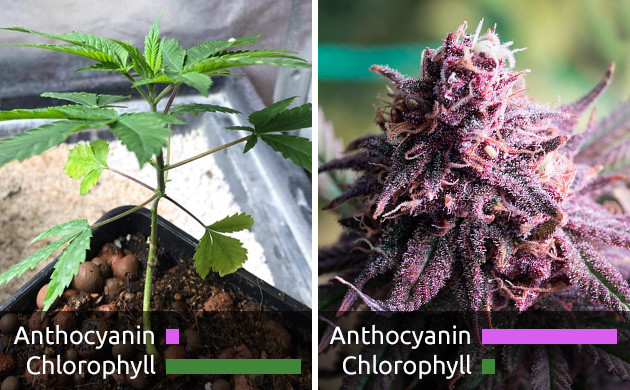 Cannabis plants that contain anthocyanin only begin to turn purple toward the end of their growth cycle. This is due to the fact that chlorophyll, the dominant component inside the plant up until this point, begins to lessen as the anthocyanin levels rise. As this happens, the leaves, stems, and flowers of purple cannabis strains start to gradually change from green (chlorophyll) to purple (anthocyanin).
The amount of anthocyanin released inside a cannabis plant will affect how purple the plant can become. Various environmental and genetic factors determine how much of the flavonoid is released.
Colder weather, soil nutrition, and maturation length can all affect how much anthocyanin a plant releases, but in some cases, it still might not be enough to change the color of the plant at all. This is why cannabis breeders make sure to breed strains that are able to release enough anthocyanin for the plants to turn beautiful hues of purple every time.
Is Purple Weed Better?
With the rarity and mystical beauty of purple cannabis strains, it's no surprise that their luscious-looking purple bud has a reputation for being superior in more than just appearance. However, unless your favorite color is purple or you get uplifted at the sight of glossy purple buds, purple cannabis strains are not inherently better.
That being said, purple marijuana strains are rarer compared to traditional green strains, making them a lot more fun to grow, and they produce buds that are sure to impress your friends. These strains are often also bred very well, with emphasis on great flavors and potency to really seal the deal on making your purple bud feel out of this world.
Growing purple weed strains does take a bit of skill to get the best out of the purple color. Some might argue that allowing your weed plant to mature longer in order to produce a more pronounced hue will, in turn, result in more matured, pungent flavors and smells, making for better bud – but we'll leave that for you to decide!
Best Purple Indica Strains
Purple weed isn't selective to any specific breed of cannabis. If you're an Indica admirer, you'll want to try one of these beloved purple Indica strains to meet your needs in looks, taste, and effects.
Granddaddy Purple (BlimBurn Seeds)
Possibly one of the most hip and famous purple weed strains is Granddaddy Purple by BlimBurn Seeds. Although it's a mind-warping weed with THC percentages up the wazoo, this strain is best known for its classic grape soda flavor profile straight out of the '90s.
Grandaddy Purple (BlimBurn Seeds)
Photoperiod

Mental explosion

25 - 35 %

500 g/m² indoors
450 - 500 g/plant outdoors
Go to strain
These delicious, sweet berry and grape flavors lead the charge in memorability, but if you're not too careful, Granddaddy Purple will bend you over his knee and give you something to remember with its hard-hitting THC ranging between 25-35%!
Although not even experienced smokers take this strain lightly, it's one of the greatest Indicas for medicinal use, especially for anxiety, sleep disorders, nausea, and pain. Treat it with respect, and this old classic will always have your back.
Black Cherry Punch (Pyramid Seeds)
Like picking cherries off a glistening cherry tree, Black Cherry Punch by Pyramid Seeds produces some of the most beautiful dark purple buds you could possibly wish for. With 90% Indica dominance and up to 25% THC content, be prepared for a body-numbing rush of euphoria with a surprising mental alertness you wouldn't expect from an Indica of this caliber.
Black Cherry Punch (Pyramid Seeds)
Photoperiod

Berry-tasting relaxed evening

25 %

350+ g/m² indoors
750 - 1000 g/plant outdoors
Go to strain
Complementing its appearance and effects seamlessly, Black Cherry's intense berry-like sweetness of blueberry pie cuts through a woody aroma and thick earthy mouth flavor that's to die for. As you can imagine, the potency and powerful Indica influence make this purple strain a must-have for pain relief and anxiety.
Passion Fruit (Dutch Passion)
Bred to perfection to create one of the most delicious fruity strains of all time, Passion Fruit by Dutch Passion is an explosion of orange and grapefruit with a sweet tutti frutti-like terpene profile. As she matures, her long hybrid fan leaves turn a rich purple, gradually consuming the sugar-coated tips of every bud she blooms.
Passion Fruit (Dutch Passion)
Photoperiod

Smokable fruits

22 - 26 %

500+ g/m² indoors
Go to strain
Another balanced hybrid, her exciting flavors are matched beautifully by her 22-26% THC potency and well-rounded effects. Enjoy a wonderful cerebral buzz that slowly transforms into a calming hug of mind and body relaxation with every tasty toke.
Blackberry Auto (FastBuds)
If a classic, deep Indica stone is what you're looking for but you feel a calling to grow a beautiful purple tree with dark potent fruits, Blackberry Auto by FastBuds has you covered. A sparkling lilac spectacle, this strain is good for more than just offering a lovely sedating high – it also works well as a powerful medicinal strain for easing symptoms of glaucoma, epilepsy, chronic pain, and more.
Blackberry Auto (FastBuds)
Autoflowering

Berry Cure

23 %

450 - 600 g/m² indoors
50 - 250 g/plant outdoors
Go to strain
With a potent high of up to 23% THC, it's no surprise that beginners run the risk of serious couch-lock, so handle with care. Oh, and if you're wondering what this yummy purple strain tastes like, just look to the name – she's ripe with sweet, berry-rich aromas and flavors.
Best Purple Sativa Strains
Purple cannabis strains come in all shapes, sizes, and genetics. If Sativa-type weed strains are your go-to, here are our top purple Sativa strains that we know you're going to fall for.
Caramelo (Delicious Seeds)
Like a breathtaking spectacle of fanning purple Sativa leaves, Caramelo by Delicious Seeds is one of the best purple cannabis strains for Sativa enthusiasts. Ready in just 8.5 weeks, and maturing with a pungently floral yet skunky aroma and dark purple hues, she really deserves her place on this list.
Caramelo (Delicious Seeds)
Photoperiod

Plane to heaven

24.2 %

450 g/m² indoors
600 g/plant outdoors
Go to strain
Her effects are instant and energizing like a classic Sativa, offering a strong 24% THC content and a lingering cerebral euphoria. Every puff of Caramelo is memorable – her sweetly penetrating walnut flavor gently hits your tongue and fades into a melting sensation of delicious floral smoke.
Purple Juice Auto (Herbies Seeds)
Enjoy a quality, clear-headed high while you do a double-take at the gorgeous deep purple bud you're smoking. Purple Juice Auto by Herbies Seeds produces a head-to-toe bright purple plant in an effortless, high-yielding grow of up to 550g/m2 (1.6oz/ft2) in just 9-10 short weeks.
Purple Juice Auto (Herbies Seeds)
Autoflowering

23 %

Between soothing and energizing

400 - 550 g/m² indoors
Go to strain
While on paper, this is an Indica-dominant strain, you won't have to worry about couch-lock here, as the 22% THC content and Sativa influence delivers a very straightforward and uplifting, happy cerebral high with a warm body buzz to alleviate tension and pain. With a crisp and balanced flavor of sweet and sour lemon, this is one of those purple cannabis strains that leaves you wanting more.
Best Purple Hybrid Strains
The best part about cannabis is that you can have your cake and eat it too! Hybrid strains are a fantastic way to get the best of both worlds, and luckily, you can find plenty of hybrids out there that live up to your purple weed strain expectations. Here are our three top purple hybrid strains.
LSD-25 Auto (FastBuds)
The ultimate all-around trip, LSD-25 Auto by FastBuds hits you with a pure cerebral high that goes straight to your head, followed by a gradual body relaxation. Like a positive psychedelic odyssey, she manages to invoke a deep euphoria and happiness that leaves you feeling in touch with yourself and also connected to the world in a profound way.
LSD-25 Auto (FastBuds)
Autoflowering

21 %

Psychedelic trip

400 - 500 g/m² indoors
50 - 250 g/plant outdoors
Go to strain
With 21% THC and less than 1% CBD, this purple cannabis strain makes for an effective medicinal companion for stress, anxiety, multiple sclerosis, glaucoma, and epilepsy. What's more, instead of tasting like your old childhood medicine, she delivers a pungent woody smoke with soothing hints of red wine and diesel to savor as the night rolls on.
Sugar Candy (Delicious Seeds)
One for the true cannabis flavor connoisseurs, Sugar Candy by Delicious Seeds has a reputation for shifting and transforming flavors in your mouth as you indulge in this tasty hybrid strain. With 25% THC, it's nothing to scoff at in the potency department either, and you can expect a perfectly balanced body/mind relaxing high thanks to its hybrid genetics.
Sugar Candy (Delicious Seeds)
Photoperiod

25 %

Peaceful warrior

600 g/m² indoors
2000 g/plant outdoors
Go to strain
To break the flavor profile of this scrumptious purple strain down, let's start with the base flavors of refreshing citrus fruits and mangos. Then, move on to a sweet cookie and lavender transformation, complemented by unexpected mint and licorice notes. With a terpene journey like that, how much more excitement could you ask for?
Crystal Gelato (Big Head Seeds)
A diamond in the rough, Crystal Gelato by Big Head Seeds is sure to impress even the pickiest among the group with her sparkling personality of elegant purple buds, perfectly formed in just 8 weeks of development. She's easy enough to grow too and naturally, puts out flowers fit for a magazine cover.
Crystal Gelato (Big Head Seeds)
Photoperiod

Full of euphoric crystals

20 - 25 %
Go to strain
Her 25% THC content will send you to another dimension while your mouth explodes with flavor. On each inhale, enjoy the sweet delights of fresh woodland berries and thirst-quenching citrus. A classic hybrid combo, get ready for a blast of euphoria after only a couple of puffs, followed by a heavy medical sedation itching to put you straight to sleep.
Strongest Purple Strains Of All Time
While many of the names on this list of our favorite purple cannabis strains are potent as anything, these next three lilac delights are on another level. If you're a marijuana savant of some sort or a medicinal user needing a powerful kick to get through the day, these next strains are for you.
Grandmommy Purple (Herbies Seeds)
Walking alongside her famous husband is Grandmommy Purple by Herbies Seeds, a purple cannabis strain with the same classic grape soda flavor that all purple strain lovers know very well. However, where this elegant lady stands out from the crowd is with her butt-whopping THC percentage of up to 33%!
Grandmommy Purple (Herbies Seeds)
Photoperiod

An ecstatic must-have

30 %

400 - 500 g/m² indoors
450 - 550 g/plant outdoors
Go to strain
Her 80% Indica dominance paired with this incredible potency tells you all you need to know. A single hit can lullaby you into a glorious deep sleep or give you the comforting body feel you need to loosen up and have deep convos in a nice euphoric headspace. Like any super-potent Indica strain, she can put a band-aid on a variety of medical issues, including chronic pain, anxiety, and sleep disorders.
Mimosa X Orange Punch (Barney's Farm)
Get ready to dry your tears with the ultimate problem-solving Mimosa X Orange Punch by Barney's Farm. Reminiscent of two potent citrus beverages, this strain's 30% THC content will leave you intoxicatedly happy with a comforting euphoric feel and the refreshing sweet citrus flavors of mandarin and mimosa.
Mimosa x Orange Punch (Barney's Farm)
Photoperiod

26 - 30 %

Sweet happiness

700 g/m² indoors
1500 g/plant outdoors
Go to strain
Born by creatively backcrossing the highly loved Orange Punch and Mimosa Evo, this new citrus variant showcases improved growth patterns of gorgeous flaming purple hues and a lightning-fast flowering time of just 55-60 days – a seriously impressive feat!
Blue Sunset Sherbert (Barney's Farm)
Rounding off the list of top purple weed strains with a bang is the gorgeous exhibit that is Blue Sunset Sherbert by Barney's Farm. With its skyscraper-like THC content reaching up to 28%, it's no wonder this tasty, sugar-coated bud is an all-time favorite among avid purple weed lovers.
Blue Sunset Sherbert (Barney's Farm)
Photoperiod

26 - 28 %

Maximum euphory

650 - 700 g/m² indoors
1000 g/plant outdoors
Go to strain
Another strain that stays true to its name, Blue Sunset Sherbert melts in your mouth with a zesty citrus and berry sherbet-like zing. Offering a powerful spark of uplifting creativity softened by the tranquilizing full-body euphoria of its Indica dominance, this strain works well for both medicinal and recreational purposes.
Immerse Yourself In the Magic of Growing Purple Weed
Whatever your preferences are, there are purple weed seeds out there ready to fit the bill. And whether you believe purple strains have some sort of mystical superiority over regular strains or not, there's truly something special about growing these color-changing cannabis plants.
Watching a seedling grow and mature only to ripen as a dense, glittering bud of deep indigo glory is something every grower should experience at least once. Proceed with caution though, as growing purple strains of weed is so rewarding that you might never look back!
Herbies Head Shop expressly refuses to support the use, production, or supply of illegal substances. For more details read our Legal Disclaimer.