Blue Sunset Sherbert Feminized Seeds (Barney's Farm)
Description
Blue Sunset Sherbert Strain Info
The origins of Blue Sunset Sherbert's gorgeous sunset colors lie in its popular parent strain, Sunset Sherbert. Along with this strain, the rest of Blue Sunset Sherbert's traits come from an impeccable breeder combination of predominantly Indica heritage, resulting in a plant with 65% Indica dominance.
Genetics
With Sunset Sherbert on the one end, the other end of the family tree is comprised of Purple Punch and possible hints of Sherbert Dib Dab. The lineage of this strain is made clear through its very specific flavor profile.
Flowering Time
Offering a highly convenient flowering time, Blue Sunset Sherbert finishes within 59-63 days.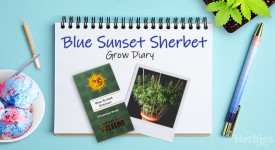 Blue Sunset Sherbert Grow Journal
Yields
The average height of this strain is advantageous, continuing to impress with outdoor yields of up to 1kg (2.2lbs) per plant and indoor yields of up to 650-700g/m² (2.1-2.3oz/ft²) despite its compact size.
Effects
The powerful combination of Sativa and Indica genetics within this strain work together to offer uplifting, euphoric effects that spark creativity, while also providing a powerful, tranquilizing full-body Indica experience.
THC And CBD Levels
It's no wonder that this strain administers such intense effects – its THC levels test at 28%, with CBD levels below medicinal value.
Smell And Taste
Like a packet of zesty citrus sherbert, the terpene profile of this strain creates a strong, sweet candy and citrus flavor with persistent sweet berry scents thanks to high terpene levels of limonene, humulene, and terpinolene.
Grow Tips
The best asset to growing this plant is its compact growth pattern, as it puts its energy into thickening out rather than creating height. Grown outdoors, this strain can reach up to 150-200cm (59"-79"), but stays a comfortable 80cm (31.5") when grown indoors.
The Blue Sunset Sherbert strain is ultra-simple to grow and should produce good yields with basic care.
After harvesting, make sure to cure your flowers for at least 2-4 weeks to get the best out of this strain's potent flavor profile.
Blue Sunset Sherbert Seeds
Blue Sunset Sherbert seeds are feminized and sent discreetly to your door when ordered online, so rest assured that every seed you buy will reach you safely and grow into a harvestable female plant. Happy growing!
Characteristics
*Herbies sells cannabis seeds exclusively as souvenirs that aren't meant for cultivation or germination. Customers should be aware that the germination of cannabis seeds is illegal in most countries. Herbies sells cannabis seeds exclusively for collecting and preservation for future generations. We advise customers to check with their local laws before germination, as Herbies does not accept responsibility for the illegal use of our products.