Grandaddy Purple feminized seeds (Blimburn Seeds)
Description
Grandaddy Purple Strain Info
One of the most beautifully colored, flavorful, and potent Indica-dominant strains on the market, Grandaddy Purple (GDP) has a history of winning a number of awards since hitting the mainstream in 2003. With origins in California, this strain is a result of crossing Purple Urkle and Big Bud, and is a great medical strain for killing pain, easing nausea, inducing sleep, and calming moderate to severe anxiety.
Genetics
This West Coast favorite was bred by crossing Purple Urkle and Big Bud, two legendary phenotypes in their own right. That genetic lineage has imparted Grandaddy Purple with sky-high potency and delicious flavors.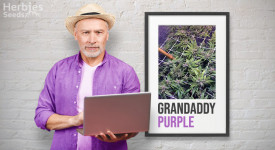 Grandaddy Purple Grow Journal
Flowering Time
Grandaddy Purple has a flowering time of 60-65 days if you're growing her indoors. For outdoor operations, expect her to flower in October.
Yields
The Grandaddy Purple feminized cannabis strain does what most Indica-dominant hybrids are incapable of doing – generating bucket-loads of flowers. This purple-hued beauty is able to produce harvests upward of 450-500g/m2 (1.47-1.64oz/ft2) of dense and resin-covered flowers indoors, and up to 500g (17.6oz) per plant outdoors.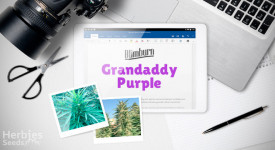 Grandaddy Purple Grow Report
Effects
The Grandaddy Purple feminized cannabis strain is truly a one-hit-wonder in the best sense of the word. Her aromas of wild-berries, fermenting grape juice, and herbaceous tones may trick your taste buds into overindulging. However, after a single puff, her potent effects will hit hard, and you'll find all your aches, pains, and negative thoughts evaporate into oblivion.
THC And CBD Levels
Grandaddy Purple is one of the most potent strains on the market, with a THC content level that often exceeds 25%. It also has about 0.3% CBD in order to boost its considerable medicinal properties.
Smell And Taste
While you might think that her extreme potency is Grandaddy Purple's biggest selling point, don't forget about her captivating terpene profile. With flavors of wine grapes and wild berries, she's a sophisticated lady with a bit of a sweet tooth.
Grow Tips
Due to her Indica-leaning lineage, Grandaddy Purple feminized cannabis seeds will grow short, bushy, and contain dense internode spacing. This makes her perfect for growers that are limited on space. Here's some other grow info that will help you along the way:
Her ease of growth is through the roof, making her ideal for beginners.
Due to her bud density, it's essential that you keep the relative humidity below 60%. Indoor temperatures should not exceed 32℃.
She'll grow equally well indoors or outdoors.
Grandaddy Purple Seeds
Grandaddy Purple feminized seeds are a must-have for any grower's collection, especially if you want a potent beast that can satisfy both recreational and medical users. Buy your seeds online today from Herbies Seeds and get started growing Grandaddy Purple right away.
Characteristics
*Herbies sells cannabis seeds exclusively as souvenirs that aren't meant for cultivation or germination. Customers should be aware that the germination of cannabis seeds is illegal in most countries. Herbies sells cannabis seeds exclusively for collecting and preservation for future generations. We advise customers to check with their local laws before germination, as Herbies does not accept responsibility for the illegal use of our products.