Purple Haze Auto feminized seeds
Purple Haze Auto Strain Info
Purple Haze Auto is a Sativa-dominant autoflower, a cross between two beautiful purple strains – the legendary Purple Haze and Purple Auto. The result is a 60% Sativa hybrid that finishes in just 70-75 days from seed to harvest, while also sporting good resistance to pests and diseases – a good choice for both indoor and outdoor grows.
Genetics
This strain's parent, Purple Haze, isn't just a legend, but a milestone in the history of cannabis, as this name was made famous by a Jimmy Hendrix song. The other parent, Auto Purple, not only gave its offspring the ability to flower automatically, but is also a very successful and sought-after variety in its own right. A descendant of a purely Purple lineage, Purple Haze Auto grows into an aesthetically pleasing plant every time.
Effects
Purple Haze Auto's effects are long-lasting and mostly strongly cerebral – uplifting, euphoric, energetic, talkative, and focused. It's a perfect strain to start the day as well as to smoke with friends, and is used medicinally to treat glaucoma, nausea, lack of appetite, symptoms of multiple sclerosis, and arthritis.
THC Levels
Usually testing at 17% THC, this weed should be considered quite strong, at least as far as Purple genetics go. At levels like this, experienced smokers can use this strain as an energy booster, while newbies will be happy to just chill with friends, grinning from ear to ear and giggling helplessly.
Smell And Taste
The flavors and aromas of Purple Haze Auto are earthy, fresh, sweet, and fruity, with hints of sandalwood – a not uncommon terpene profile for a Purple variety.
Yields
Yields up to 500g/m² (1.6oz/ft2) are something that even inexperienced growers can hope to achieve because this weed is so easy to grow. Harvests of 150g (5.3oz) per plant also make Purple Haze Auto a highly rewarding outdoor producer.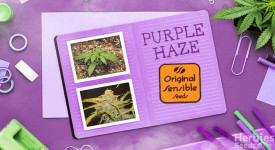 Purple Haze Auto Grow Report
Flowering Time
70-75 days from seed to peak maturity is pretty speedy, especially for an autoflower with a slight Sativa dominance. Besides that, the yields and the quality of bud make the wait totally worth it.
Grow Tips
These plants develop dark purple, dense, and elongated buds, usually with one main big cola and a few side branches. They have longer internodes and a good leaf to bud ratio, enabling better light penetration and making the flowers easier to trim.
Outdoors, Purple Haze Auto likes warmer, sunnier, and more humid environments, but due to its Ruderalis genes, it will perform well even in harsher and more unforgiving climates.
Try topping or FIMming to increase the number of colas and thus the yield.
Use hydro or aeroponic setups for optimal results.
Lowering the night temps will help bring out this strain's beautiful purple color.
Purple Haze Auto Seeds
If you want to grow yourself a Purple strain of weed and taste the buds as soon as possible, you'll hardly find better seeds for sale than this stunning autoflower.
Characteristics
*Herbies sells cannabis seeds exclusively as souvenirs that aren't meant for cultivation or germination.
Customers should be aware that the germination of cannabis seeds is illegal in most countries. Herbies sells cannabis seeds exclusively for collecting and preservation for future generations. We advise customers to check with their local laws before germination, as Herbies does not accept responsibility for the illegal use of our products.