Seasoned and novice growers alike have always been attracted to highly potent THC strains. There are many reasons behind the popularity of THC-rich cannabis, the various magical effects of which are just so easy to fall in love with. You probably know that once you've gotten a taste of your first really potent hit, so begins the never-ending search for the highest THC strains out there. We at Herbies decided to make your life a little easier and put together a list of the strongest weed strains in the world as of 2019.
Before we reveal the candidates for the most powerful strain ever, let's look into what makes THC so good and why we want MORE of this magical chemical compound in our favorite plant.
Enhances mood. Because of its THC content, cannabis boosts your mood and even makes you feel euphoric in a so-called head high. THC can break your inner walls and make you giggly, energized and social.
Good for health. THC is responsible for a good portion of marijuana's medicinal properties. This compound eliminates body pains and nausea, eases muscle tension and anxiety, and is also effective in treating glaucoma and insomnia.
Boosts creativity. People have known for a long time that there is a direct connection between THC and creativity. You can be sure that any of our most potent cannabis strains will make you see new connections between things you never noticed on your own. This ability is crucial for wringing out all of the creativity kept inside and generating new ideas.
To help you navigate through our list of the highest THC strains, we combined them in a collection of the most sought-after strains from the most potent marijuana genetics known in 2019. Pick any one of these and treat yourself with a mind-boggling experience you're never ready for – but one that's definitely worth it!
Bruce Banner
Named after the alter-ego of The Incredible Hulk, Bruce Banner is a famous marijuana genetic of supernaturally high THC levels. Providing mostly euphoric head highs with moderate body relaxation, this family of strains will soothe the feelings and make even The Hulk feel human again.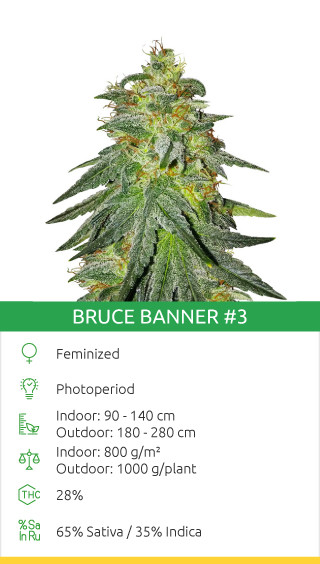 Bruce Banner #3 – Top THC Content Even For Daytime
Bruce Banner #3 by Original Sensible Seeds is a cannabis superhero that opens our list of the strongest weed strains in the world with its crashing 28% THC! It has an intense euphoric effect that might be overwhelming for novice users. However, if you know you can handle the power of Bruce Banner #3 then light up, relax and enjoy the classic Kush taste with an incredible scent of diesel and citrus, which is instantly followed by a fantastic uplifting effect. Increased alertness and creativity make this Bruce nice to do business with even in the daytime.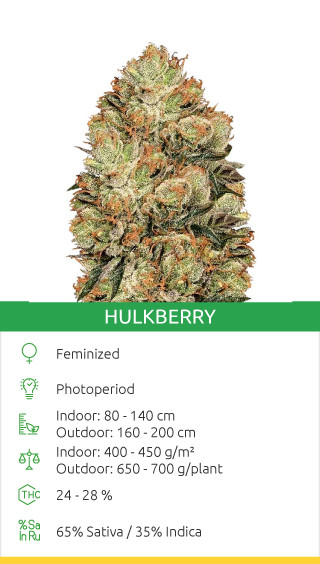 Hulkberry – Potency In A Balanced Flavor
Hulkberry is a custom version of Bruce Banner made with only one idea in mind – to create the most potent weed strain out there! Sporting the same THC count of 28%, Hulkberry's light green and purple buds have an incredibly balanced taste and aroma profile – the sugary sweetness here doesn't overpower the tangier sour notes of diesel and earth. Either for day or night, Hulkberry will make sure you feel uplifted and happy for hours. Just keep in mind that after the first long-lasting wave of energy and creativity, you will gradually become deeply relaxed.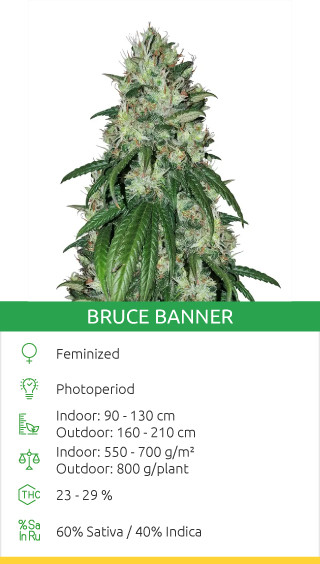 Bruce Banner – An Energizing Monster
Just as Bruce Banner is the man who becomes The Hulk, so this Bruce Banner variety, one of the most potent strains ever, grows to become a huge green giant that knows how to deliver a punch! When harvest time comes, you can get up to a kilogram of potent sticky buds that test as high as 29% THC. Its pungent diesel and citrusy aroma is quick to refresh your senses and lift your mood, providing an overall well-balanced effect. If you're craving a hit in the daytime but worried about ruining your plans, Bruce Banner is a good choice for you. While it gives a strong euphoric head high, it's also reported to keep your energy levels up the entire time.
GG4
The highly potent and famously resinous buds of GG4 guarantee a deep meditative state of relaxation that will leave you glued to the couch. Fans around the globe know from experience that they can always entrust the battle with stress to a strain with Gorilla in its name.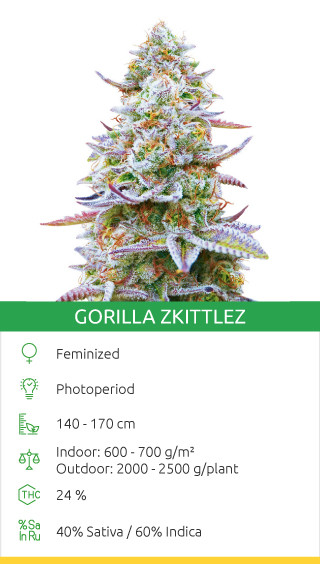 Gorilla Zkittlez – Wind Down And Explore Yourself
There's so much noise around these days that we can't even really find a moment to sit back and just think. Gorilla Zkittlez, one of the most potent cannabis strains in the world, is here to help you do just that. In the late afternoon or evening, when you're done with everything for the day, light it up and experience the deep meditative state that only this strain can provide. 24% THC in this 60% Indica strain will teleport you into the depths of your own mind, provoking an active thought process combined with a deep relaxation.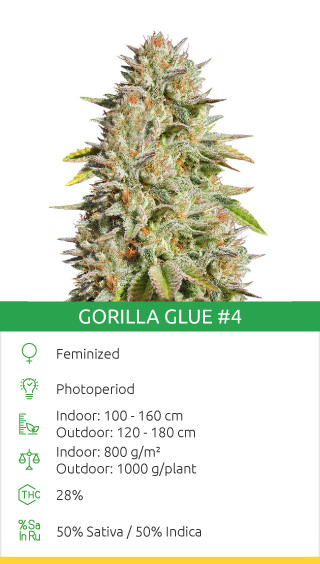 Gorilla Glue #4 – A Stone That Will Glue You To The Couch
One of the most famous strains in the world, Gorilla Glue #4 by Original Sensible Seeds is surely among the most potent cannabis strains ever. It's extraordinarily strong, not only because of its immense 28% THC content but also because of how hard it fights your scissors back when you try to clip the buds off! The resin on this one is so abundant and sticky that it literally becomes glue! However, the messy harvesting process is totally worth the miraculous taste and effects of GG4. One of the richest terpene profiles in the world will coat your senses with a citrusy pungent aroma that translates into a decadent chocolatey taste with hints of pine. Just like your scissors, you'll be immediately glued… to the couch! Be sure to use this hard-hitting strain responsibly, and preferably at nighttime.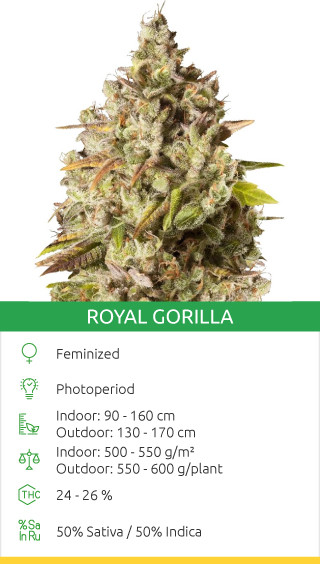 Royal Gorilla – The Strongest Weed That's Easy To Grow
Our final choice among the GG4 genetics is Royal Gorilla – a perfect 50% Sativa/50% Indica hybrid with an impressive 26% THC content. Resilient and undemanding, this variety is incredibly easy to grow. It feels like a complete breeze especially if you consider that at the end of the cycle, you receive large and stable yields of some of the most powerful cannabis available on the market! Be ready to get your body numb and fill your head with a blissful euphoria. Perfect for a nighttime smoke, Royal Gorilla will absorb your senses completely, with an impressive bouquet of dank pine flavor and zesty lemon aroma.
OG Kush
When OG first appeared on the cannabis market, it instantly gained recognition for its unique terpene profile of earthy and citrusy notes. The definition of dank, classic Kush flavor is a must-try for anyone entering the world of cannabis.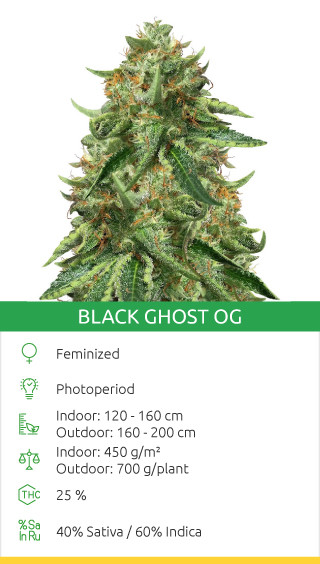 Black Ghost OG – Sweet, Not Scary
Behind the eerie name of Black Ghost OG hides an incredibly potent cannabis plant full of life! A friend of any grower, this OG gives generous yields and doesn't spare any resin. The Black Ghost OG's palette of taste and aromas could also not be further from what you might expect given the name. Each nub carries an exceptional flavor of strawberries reminiscent of your favorite childhood candy. The aroma continues along the same lines, with an extra oomph created by notes of classic Kush. The solid 25% THC content not only places Black Ghost OG among the highest THC strains ever, but also provides a deeply relaxing effect that's best experienced at night.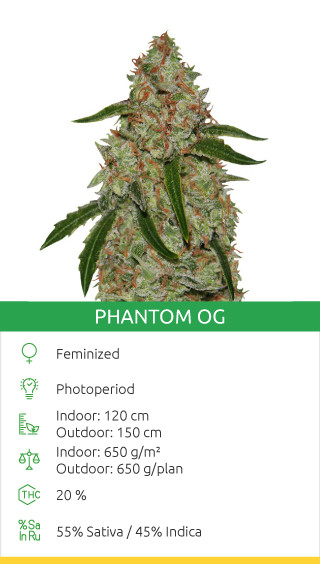 Phantom OG – Balancing High Energy With Deep Stone
Keeping the spirit of the netherworld alive, we introduce another cannabis variety deserving of the status of the most potent strain, Phantom OG. While still preserving the strength of the OG genetics, this strain is the complete opposite of Black Ghost OG when it comes to its terpene profile. This delicious creature will treat you with an extremely realistic flavor of walnuts, accompanied by hints of wild forest berries and citrus. Effect-wise, it walks a fine line between an extremely energetic cerebral high that may cause uncontrollable laughter and a deep body stone. While still not suitable for active situations, it's a great choice for chainsmoking in the company of friends.
Girl Scout Cookies
Sweet and extremely satisfying, the experience granted by Girl Scout Cookies genetic line brings you back to the carefree times when life was easy. Its clear yet mind-expanding head space brings back the joy of simple things and lights up any situation.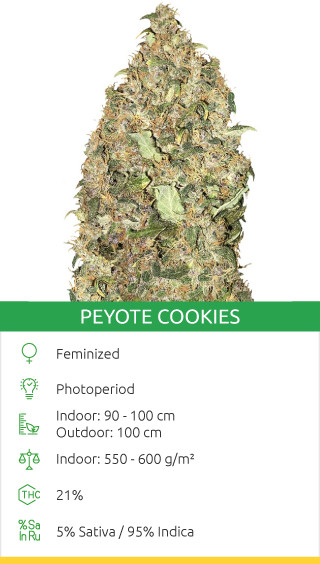 Peyote Cookies – A One-Of-A-Kind Flavor Profile
Almost pure Indica, this sturdy plant won't grow any taller than 3' (100cm). Perfect for stealthy cultivation, Peyote Cookies will become your best secret friend that one day will grant you its secret gifts! These gifts will be particularly delicious, by the way. Peyote Cookies' buds will leave you in awe of its unique flavor profile that contains a rarely-seen guava note, beautifully intense and followed by an array of other curious undertones such as vanilla and coffee. Stay at home and prepare some snacks, because taking a bite of a Peyote Cookie will make you not only blissfully relaxed but also really hungry.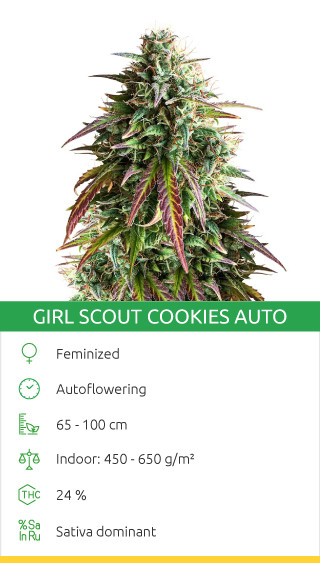 Girl Scout Cookies Auto – A Legendary Treat
An autoflowering version of the legendary Girl Scout Cookies created by Auto Seeds makes the original strain proud with its remarkable 24% THC content. With a potency this intense, Girl Scout Cookies Auto easily makes it to the top of the most powerful marijuana strains in 2019. This Sativa is most cherished for its wonderful smile-evoking taste, which seems to come straight from your grandma's cookbook: brown sugar, chocolate, cinnamon and nutmeg, all there with every inhale. Each of these will shower you with a rush of cerebral euphoric high, gradually transforming into a relaxed body stone. The seed bank, however, promises no couch lock at all, so you can enjoy this treat even during the day.
Haze
After more than half a century in the game, Haze strains are still in huge demand. Their incredible potency and strong Sativa influence lift energy levels to the max, giving everyone a chance to unleash their creative potential.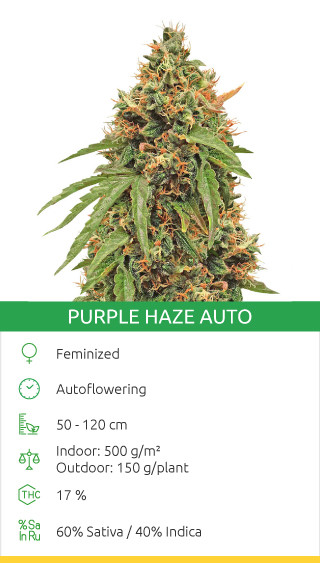 Purple Haze Auto – Champion-Level Euphoria
Coming from the legendary Original Sensible Seeds, Purple Haze Auto is a cross between autoflowering Auto Purple and famed Purple Haze, the one Jimi Hendrix called a song after! This lovechild is deserving of another ballad praising Purple Haze Auto for the uncommon combination of exceptional resilience and distinctive invigorating effect. Rarely can you get your hands on home-grown nugs of a celebrated strain without putting extra effort into it, and Purple Haze Auto is exactly the case! In just 70 days of pest and disease-free growing process, you get rewarded with an awe-inspiring energizing effect of tight purple buds that taste like fresh fruit spiced up with decadent wooden notes. Everything you need for a successful day, from inspiration to focus, you'll get from the magic smoke of Purple Haze Auto.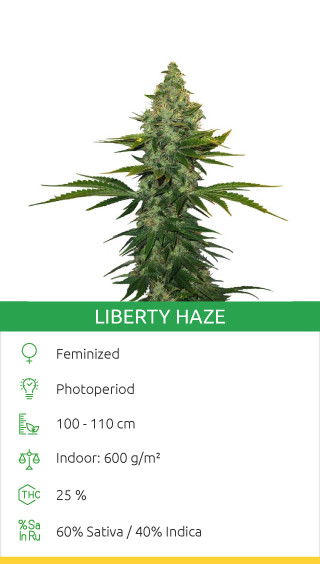 Liberty Haze – Right For A Laugh Riot
Another cup winner, Liberty Haze from Barney's Farm closes our list of having some the most potent marijuana genetics of 2019 and being one of the strongest weed strains in the world with its whopping 25% THC. Its complex chemical composition and higher-than-average CBD level make it a Haze with exceptional medicinal qualities. Also a perfect energy booster, this cannabis variety will leave you tingly, giggly and definitely more creative. Perfectly good for a gathering of friends, it will lead to openness in discussions and a good amount of laughter. Expect typical Haze flavors of pine and citrus that come together in a beautiful blend, complete with aromas of earth, skunk and musk.
The Highest THC Strains
Open collection