Girl Scout Cookies feminized seeds (Garden of Green)
Description
Girl Scout Cookies Strain Info
The Girl Scout Cookies feminized cannabis strain is known as one of the smoothest varieties in the marijuana industry. Its exquisite flavors and incense-like aroma will keep anyone coming back for more.
Genetics
Girl Scout Cookies from Garden of Green has a legendary genetic lineage consisting of OG Kush, Durban Poison, and Cherry Kush. These genes helped give it its phenomenal flavors and deep, creative high, resulting in a strain that's a global favorite and a widely acclaimed Cannabis Cup winner.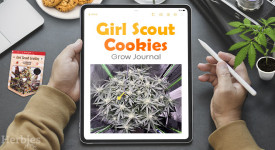 Girl Scout Cookies Grow Report
THC Levels
This feminized cannabis variety contains THC levels upward of 28%, making it a very powerful strain and a favorite with experienced users.
Effects
The effects of Girl Scout Cookies will fill your head with creative thoughts and a sense of ultra-relaxation, making it a suitable strain when you need some inspiration for your next project or endeavor.
Smell And Taste
With a name like Girl Scout Cookies, you can probably take it for granted that this feminized marijuana strain is going to come packed with delicious flavors and aromas. Indeed, its flavors are precisely why GSC has long been one of the most popular cannabis varieties on the market. Once you indulge in Girl Scout Cookies, you'll find your tongue and nostrils struck by the incredible terpenes of wild cherries, blueberries, baked dough, lemon hash, and even mint.
Grow Tips
Girl Scout Cookies is a feminized cannabis strain that unloads 450g/m2 (1.47oz/m2) of crystal-coated flowers in as little as 55 days. You'll immediately recognize that each of its dense buds has calyxes that push out a handful of luscious pistils, making these flowers a real treat for the senses. Girl Scout Cookies feminized cannabis seeds grow to a medium and manageable height.
For best results when growing, use ScrOG or SOG.
The strain requires a minimum of 600-watt HID or LED equivalent.
An indoor humidity of 65% or less is highly recommended.
Girl Scout Cookies Seeds
If you've been searching for a smooth operating strain that packs a serious punch, you'll need to fill your cookie jars with this! Luckily, Girl Scout Cookies seeds are now for sale at Herbies – snatch them up while they last!
Characteristics
*Herbies sells cannabis seeds exclusively as souvenirs that aren't meant for cultivation or germination. Customers should be aware that the germination of cannabis seeds is illegal in most countries. Herbies sells cannabis seeds exclusively for collecting and preservation for future generations. We advise customers to check with their local laws before germination, as Herbies does not accept responsibility for the illegal use of our products.