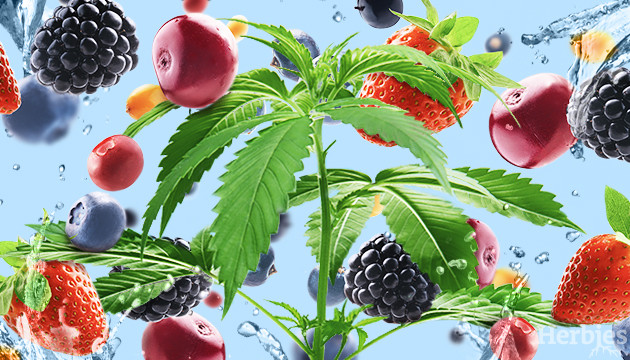 What's more refreshing than a juicy berry weed strain after a long hard day? That subtle sweetness with a tang of bitterness to pull it all together – there's not much that can compete with that!
But what makes berry strains of weed so appetizing, and how can weed even smell like berries to begin with? After all, they aren't related to berries in any way, are they? Keep reading to find out all there is to know about the most enchanting strains on the market and which berry weed strains come out on top.
Why Does Some Weed Smell Like Berries?
Just to cut the suspense, no, cannabis is not directly related to berries! It might be a distant cousin via the Rosales order, but this has nothing to do with where cannabis gets its famous range of smells and flavors from.
All cannabis strains get their unique aromas from the terpenes they develop during flowering. The most common terpenes found in cannabis plants include myrcene, pinene, limonene, linalool, humulene, and terpinolene. These terpenes often band together to create a smell and taste reminiscent of something we're familiar with, such as strawberries or cheese.
In this case, the berry flavor can be made up of many combinations of terpenes to create a berry sweetness or bitterness unique to each berry weed strain. Linalool and limonene are very common in berry weed strains, as the fruity sweetness of limonene complements the herbal bitterness of linalool.
However, each strain's berry-like flavor can spur from any variety of terpenes. Sometimes, nature just works her magic!
Therapeutic Qualities of Berry Weed Terpenes
The beauty of terpenes is that they not only make cannabis smell and taste delicious but can also drastically affect the high experienced from each strain when combined with cannabinoids.
Some popular effects associated with terpenes commonly found in berry cannabis include:
Limonene - Antidepressant, mood upliftment, stress relief
Linalool - Pain relief, anti-anxiety, anti-depressant, released muscle tension
Pinene - Increased energy, stress relief, pain reduction, improved focus
Myrcene - General relaxation, sedation, pain relief, anti-anxiety
For interest's sake, myrcene is commonly found in mangos, giving weed a fruitier taste, and is largely responsible for the powerful couch-lock effect. It just goes to show how much impact terpenes can have on the effects of your favorite cannabis strains.
10 Best Berry Weed Strains
With all that being said, you can see how berry weed strains have an important role to play in the cannabis community. They're not only sweetly delicious but also hold some of the most potent terpenes known to man.
So, before you jump out of your seat in anticipation, here are our top ten berry cannabis picks of all time.
Blueberry OG (Barney's Farm)
What better way to start off this list of berry weed than with Blueberry OG by Barney's Farm? A cross between the famous Blueberry and OG Kush, you'll get your berry fix in no time with one quick swoop of blueberry-citrusy scent and hints of musky pine.
Matching its potent flavor comes a high THC content of up to 24%, paired nicely with up to 1.2% CBD. You won't be disappointed when she sweeps you off your feet in a 70% Indica-dominant sedation, leaving you fully relaxed, giggly, and euphoric.
Strawberry Amnesia (Herbies Seeds)
On the flip side, Strawberry Amnesia by Herbies Seeds comes in hot as the true Sativa queen that she is. As a legendary blend of Strawberry Cough and Amnesia, it's no surprise that her THC content nears 22%, as her cerebral psychoactive effects will leave your head spinning in an unforgettable euphoria. As for aromas, she's berry, citrus, and wonderfully exotic!
Blackberry Auto (FastBuds)
Are you ready to become one with your sofa? Well, then Blackberry Auto by FastBuds is the couch-locking, Indica-dominant berry weed for you!
With up to 23% THC and a plethora of medicinal properties from Pain relief to nausea reduction, every puff of this citrus-berry aromatic blend will do just the trick. The perfect evening strain for your everyday sweet tooth, she sure is a showstopper. If you're a classic Indica lover, look no further.
Sweet Zombie (Expert Seeds)
Snuggle up in front of the TV or with a good book because Sweet Zombie by Expert Seeds is ready to zombify your mind in a wonderfully lulled state of euphoric bliss. As a 95% Indica-dominant berry weed strain with over 23% THC, you've just met your Indica lover maker.
The last thing you'll remember before nodding off in a daze is the sweet candy flavors with blackberry overtones and the swift whiff of hash and berries in the air.
Wedding Cake (Big Head Seeds)
Topping the bar with 25% THC and a scrumptious creamy berry flavor, Wedding Cake by Big Head Seeds is worth the song and dance. Have the time of your life with her sweet euphoric high that'll make it a night to remember, and savor every minute of her Indica-dominant full-body relaxation that never seems to end. You'll feel like the belle of the ball with each puff of this special berry weed.
Blueberry Hill (Herbies Seeds)
If you think you've felt relaxed before, just wait! Blueberry Hill by Herbies Seeds creates the ultimate Zen moment with each puff reminiscent of a soft pillow caressing your cheek
As you sink into your seat thanks to her 95% Indica dominance and humble 26% THC content, you won't be able to wash the pungent earth and blueberry aromas from your nose. Embrace the serenity and joy this berry weed brings and never look back.
Strawberry Pie Auto (FastBuds)
Highly deserving of a place on this list is a strain that not only smells and tastes like a popular berry but whose buds look like berries too! Strawberry Pie Auto by FastBuds impresses even the most experienced growers with her beautiful blush-pink berry-like buds and astonishing potency of up to 26% THC.
Breathtaking in every way, her effects are nothing to shy away from either, as she delivers a wonderfully sedating Indica-dominant high complemented by a pleasant mental alertness.
Blue Kush Berry (Paradise Seeds)
Another eye-catching berry weed strain that shifts its hues to look more like what it's named after is Blue Kush Berry by Paradise Seeds. Combining Kush with Shiskaberry could not have gone better, as she serves you huge yields of 22% THC buds on a silver platter.
With her sweet berry-peach aromas and undertones of natural earthiness, she gives a jolt of joy to the brain before easing the body into a classic Indica buzz.
Sweetberry Cough Auto (Garden of Green Seeds)
Sweetberry Cough Auto is all flavor with the genetics to allow for a complex terpene profile, including lots of berry with hints of spice and sweetness and a little dash of butter.
Her effects are just as sweet, with 20% THC content complementing her 80% Indica dominance for a romancing to remember for both body and mind. If you're looking for stress and anxiety relief, she's your gal!
Zkittelz OG Auto (Barney's Farm)
Finally, the combo you've been waiting for! Zkittelz OG Auto by Barney's Farm is the beautiful autoflowering poster child of Zkittelz and OG Kush. The perfect 50/50 hybrid, her effects reflect only balance and serenity as your mouth is enveloped in a sweet berry delight with refreshing hints of citrus. If you haven't made up your mind yet, you can't go wrong with this lovely lady.
Only the Berry Best Weed Seeds at Herbies
There's nothing quite as timeless as the flavor of berries – not to mention cannabis that tastes and smells like them! Take your pick of one of the strains in this list and let Herbies bring your berry weed fantasy to life with an effortless display of beautiful berry buds in no time.
Herbies Head Shop expressly refuses to support the use, production, or supply of illegal substances. For more details read our Legal Disclaimer.