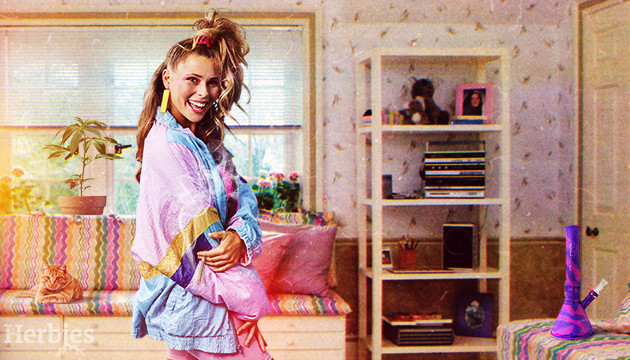 If you're not a student of cannabis history, you probably don't realize to what extent the modern marijuana market is influenced by weed from the 80s. In almost every hybrid you can think of, there's some genetic trace originating in that decade of innovators and trailblazers.
Unlike the 1970s, which was a Wild West of smugglers, shady dealers, and their long-haired and totally undemanding customers, the 1980s saw the marijuana seeds scene begin to take shape as a highly lucrative and competitive international business. As a result, the quality of 80s weed was steadily increasing and produced some varieties that are still in demand today.
What Was Weed Like in the 80s?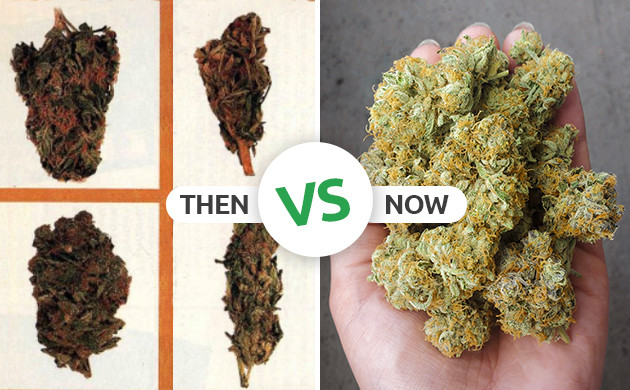 A lot of research has been done to try to compare the quality of modern cannabis with surviving samples of the past. The goal of these studies was to show that modern weed has become many times more potent and thus more dangerous. However, time and again, researchers saw more variance between the samples of the same era than between those from different decades. We can only safely say that, on average, marijuana today is somewhat more potent than weed in the 80s was.
Of course, cultivation methods have evolved very much in the past 40 years, so if you're wondering, "What did weed look like in the 80s?," well, the buds were airier (because they were mostly grown outdoors), less closely trimmed, and often full of seeds (the first feminized strains appeared only at the end of the decade). However, the 80s also saw a lot of progress in grow lights and indoor growing techniques, as well as the emergence of cultivars such as Skunk #1, that were perfectly adapted to home cultivation. As a result, Skunk weed from the 80s produced buds very similar to what we grow today.
Best 80s Strains That Are Still Available in Seed Form
Breeders continue to collect exotic landraces, so perhaps a few of the most recent seed varieties are solely based on new finds. However, most of today's hybrids can be traced back to some strains that have been known for decades. This means that 80s weed strains live on in countless crosses, and a few of them have remained unchanged because even after four decades, people are still crazy about their potency and overall quality.
Neville's Haze
Hazes – which are pure Sativas – had their heyday in the 1960s and made a comeback at the turn of the 21st century, but there was at least one bestselling Haze variety in the 80s as well. Neville's Haze was designed as a clever cross between a tropical landrace Sativa and a Northern Lights Indica by Neville Schoenmaker. The breeder made sure not to dilute the crazy psychedelic Sativa character with the infusion of NL – the latter only serves to make the height of the plant more manageable indoors. In every other respect, this peppery and spicy weed with notes of roasted peanuts is an authentic mind-blowing Haze.
Skunk #1
If only one single strain can be credited with starting indoor weed cultivation as a global phenomenon, it's Skunk #1. This three-way cross of Colombian Gold, Afghani Indica, and Mexican Sativa was so compact, fast-flowering, and high-yielding that growing top-notch bud became a matter of simply buying the right bulb and maybe a fan. The pungent old-school smell of this strain is dankness itself, and the THC content is high enough to make 'Skunk' synonymous with 'super-potent' (and presumably dangerous) weed.
Big Bud
Since weed became a serious business, there's been constant pressure to make strains more and more productive without increasing the amount of time it takes them to flower. In this respect, Big Bud was a definite improvement upon Skunk #1, which was crossed with Northern Lights for this hybrid. It leans slightly to the Indica side and provides a strong relaxing effect that lasts for hours and thus is great at relieving various medical conditions. It's also a pleasant smoke, with citrus notes over a piercing skunky background.
Colombian Gold
Colombian Gold is one of those lucky finds that doesn't need any improvements. Discovered in the 80s, this 100% natural Sativa is still popular today thanks to its untamed and unalloyed psychedelic nature that produces a mind-bending and energizing high that's all in the head. This plant is not too tall or long-flowering to need any hybridization, so you can grow this sun-drenched natural wonder from South America in your grow tent. Understandably, growers in the 80s went nuts about the opportunity to cultivate this weed.
Northern Lights
One of the most famous names in cannabis culture, Northern Lights is a classic weed from the 80s. Practically as high-yielding as Skunk #1 but even faster, this cultivar, with her enormous colas bending and breaking branches with their weight, made growers' jaws drop in disbelief. NL is almost pure Indica, so she delivers an intense stoney feeling that melts your body and fills you with euphoria. Her sweet and piney smell with an earthy flavor on the exhale has also become a signature of good weed.
Northern Lights Auto
Although autoflowers emerged only in this century, some of them are true replicas of weed strains from the 80s, and Northern Lights Auto is one of them. Why not plant an auto and have a harvest in a short 70 days if you can get the same smell, taste, and potency? The breeder promises even higher yields – up to 800g/m² (2.5oz/ft²) – than the original and the same 18% THC. Incidentally, the flavor of Northern Lights Auto is also reminiscent of the old-school imported hash from Rif Mountains – those who tried it in the 80s will recognize its unforgettable aroma and taste.
Northern Light x Big Bud
The beauty of cannabis is that you can cross two strains of weed that you like and get a result that's even better than the sum of its parts. Northern Light x Big Bud turned out to be so amazing that its creators didn't bother to slap a fancy name on it – it sells anyway. This classic 80s weed strain is almost pure Indica. Prepare to drown in her juicy fruitiness and get knocked down by her powerful narcotic effect that will numb your body and make your eyelids heavy.
Northern Lights #5 x Haze
Unlike Neville's Haze, this hybrid went a more commercial route because most home growers needed shorter and faster cultivars and were okay with some Indica influence in the effect, especially if it added to the potency. Northern Lights #5 x Haze was one of the most feared genetics of the 80s, dropping newbies like flies and inspiring awe even in seasoned smokers. However, if taken in moderation, it provides the same mentally stimulating and uplifting Sativa effects as any other Haze.
The 80s is a Good Place to Start Your Weed Journey
Whether you want to go down memory lane, compare a modern strain with a classic, or simply grow some top-shelf bud, the best weed strains from the 80s will never disappoint. After all, they wouldn't still be around today if they weren't of stellar quality and up to the highest modern standards.
Herbies Head Shop expressly refuses to support the use, production, or supply of illegal substances. For more details read our Legal Disclaimer.