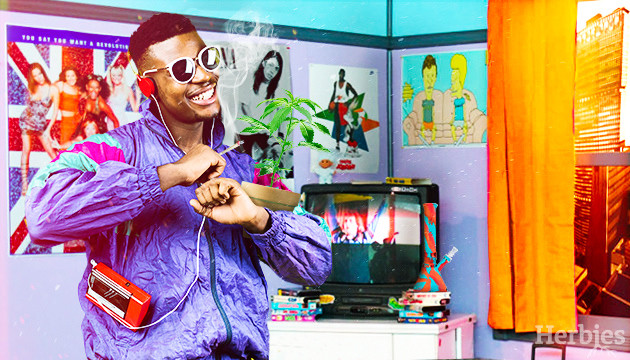 Whether you've been brought here by the nagging feeling of nostalgia you can't escape or you're simply curious what weed was like before you started indulging, we've compiled a great list of strains from the 90s that will make you feel a certain kind of way. Imagine: you're walking in your new white Jordans, your Walkman blasting in your ears, there's a nice tight joint in your pocket, and life just feels… great!
Weed in the 90s: What Was It Like?
If we want to compare weed in the 90s vs. now, there are two major differences that come to mind.
First of all, compared to the crazy abundance of novelty strains and the general oversaturation of the market that we see nowadays, there weren't that many weed strains out there in the 90s. However, while today, your whole lifetime probably won't even be enough to taste all the varieties available at Herbies alone (we've got around 2,000 of them), in the 90s, it was easier for great strains to reach stardom. That's why when you see our list of 90s weed strains, you'll probably recognize most of them. And no wonder – they're exceptional!
The second thing is, in the 90s, it was way more difficult to get weed. It wasn't as acceptable (and legal), so there was lots of smuggling going on. Of course, this didn't do any good to the quality of cannabis. Most of the weed available in the 90s was brick weed, and getting your hands on fresh bud was real luck, especially if it was one of the baddest strains praised by rappers all over the planet like White Widow or OG Kush.
Best Weed of the 90s to Try Today
Here's our list of the top 10 weed strains from the 90s that still live up to their reputation. If you're serious about cannabis, you should definitely consider trying them all.
Northern Light
There's no way you haven't heard of Northern Light before – it's that legendary! Now produced by Royal Queen Seeds, this genetic made waves in the 90s thanks to its knockout high. Coming in at 20% THC, Northern Light is originally a cross of Afghani and Thai landraces, and thanks to that, produces a clean Indica experience with a heavy cerebral effect. Flavor-wise, Northern Light is a classic yet complex combination of spices, pine, and herbal freshness.
White Widow
The one and only White Widow got famous for its iconic frosty look that became a staple of high-quality resinous bud. This White Widow from Dutch Passion is completely covered in crystals, making the buds extremely heavy. But it's not just the looks, of course! White Widow contains 26% THC and produces its signature highly-euphoric high that makes you social, chatty, energetic, and just all-around fun.
OG Kush
You can't talk about weed from the 90s and not talk about OG Kush! To represent this staple of not just weed 30 years ago, but weed in general, we've picked the freshest rendition, Original Auto OG Kush from FastBuds. It's the same savory citrus and diesel smoke with an intense and creeping body high that leaves you motionless and blissful. However, this edition is super easy to grow and highly recommended for small-scale indoor growers.
Jack Herer
With so many awards to its name, Jack Herer, rightfully named after the most prominent cannabis rights activist, remains one of the most in-demand strains even after all these years. Jack Herer is a perfect go-to strain, as all it does is pump loads and loads of happy positive energy right into your brain while alleviating any tiredness, anxiety, or melancholia. A complex combo of spicy and woody terpenes and 21% THC will result in a long-lasting high. Make sure to check out this autoflowering version, Jack Herer Auto, for easier growing too!
Sour Diesel
Another staple of 90s weed is Sour Diesel, which created a whole generation of strains that reek of a gas station… in the best way possible! This incredibly pungent aroma with synthetic notes is hard to forget, and soon, you'll catch yourself thinking that you want more of it. What's also great about Sour Diesel is how instantaneous its effects are – the 25% THC hits right away, and it hits hard – you'll feel like you've been shot straight out of your body and into another blissful and incredibly hilarious dimension.
Super Skunk
The name of this multiple times Cannabis Cup winner speaks for itself – the first thing that hits you when you open a jar of Super Skunk is, well, a Skunky smell! Don't let that discourage you though; Super Skunk has amassed a great following because this weirdly tempting, pungent smell is a sign of a complex terpene profile, which makes the effect of this strain strong and unforgettable. In a matter of a single puff, you'll feel relaxed and dreamy, as if your inner peace can't be shaken by anything – ideal for spiritual awakenings and introspection.
Shark
Shark by Pyramid Seeds is an example of legends producing legends. This strain was created by crossing Super Skunk and Northern Light – can you imagine such a wild combo? Those breeders knew what they were doing, and, naturally, other weed in the 90s didn't stand a chance against this addictive candy-flavored powerplant that's super quick and easy to grow and produces potent, meditative buds.
Master Kush
Another champion with dozens of awards behind its back, Master Kush is a true masterpiece of cannabis breeding. Not only does it demonstrate the best Indica qualities for growers (quick turnaround, resilience, and large yields), but it also produces insane narcotic-like effects that will make you forget where you are and what year you're in. When smoking Master Kush, it's important to just let it go and start exploring all the beautiful places your mind will take you. For this powerful therapeutic quality, Master Kush has been one of the most loved 90s weed strains and still remains on top of the game.
Super Silver Haze
After appearing on the market at the dawn of the last century, Super Silver Haze quickly started dominating it. This strain has won first prize at the High Times Cannabis Cup three (!) years in a row, solidifying its place as one of the best weed strains of the 90s. More than that, lots of weed-heads to this day claim that they haven't found a better variety. Super Silver Haze is a true Sativa with a beautiful psychotropic head high and an incomparable level of euphoria.
Top 10 Weed Strains From the 90s: Which One Are You Trying Next?
Wow, what a list! Each variety from these 10 strains from the 90s is a stable of cannabis culture. If you had a great joint back in the 90s but have no idea what strain you tried, there's a big chance it's on this list! And if you're a new stoner, it's time to learn the history! It's not just the best weed of the 90s – it's the best weed period!
While 30 years ago, it was hard to know for sure what seeds you were getting, genetics nowadays are stabilized and perfected. Pick any seed from this list and you'll be growing the real deal, 100% authentic 90s weed strains in no time!
Herbies Head Shop expressly refuses to support the use, production, or supply of illegal substances. For more details read our Legal Disclaimer.