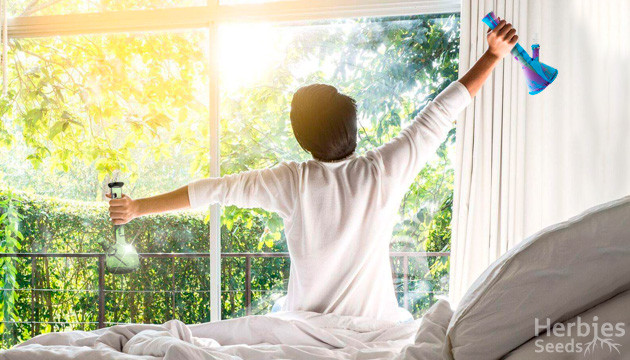 One of the reasons why cannabis is so popular is how diverse this plant is. One day you may think you've tried every canna experience available to you, and the next, a friend may surprise you with yet another ritual that will change the way you smoke. One of these rituals is known as wake and bake – and no, it's not something your grandma does when she decides to work some dough at 6am.
What Does Wake And Bake Mean?
Well, you've already done a wake and bake if you've ever smoked weed in the morning soon after waking up. While most smokers indulge in cannabis after work or at night in the company of friends, some prefer to wake and bake, meaning to start instead of finish their day with weed. Cannabis smoked in the morning can set a whole new mood for your day and help you cope with mundane activities easier, or just help you fully relax.
Wake & Bake Is More Popular Than You Think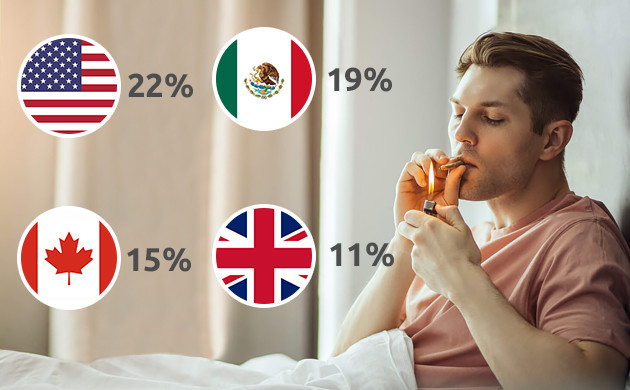 If you decide to try wake and bake, you'll be joining an already large group of smokers who like to toke before doing anything else in the morning. According to a 2017 survey, nearly 22% of American, 19% Of Mexican, 15% of Canadian, and 11% of British cannabis users start their day with a puff. To be more exact, this first morning toke probably comes even before brushing their teeth or having a cup of coffee, as the study implies that cannabis is used within 5 minutes of waking up.
There are certain reasons why wake and bake fans prefer ingesting cannabinoids before anything else in the morning. Some of them try to gain focus and clarity for the day at work, some are just trying to make their weekend special and start it off with some positive energy.
How Does Wake And Bake Feel?
To put it simply, a morning wake and bake seems to hit people harder than their evening sessions, providing a more intense head and body high. So, if you're wondering what your favorite strain is going to feel like early in the morning, think of the same effects but intensified. If it makes you creative and uplifted, that same weed in the morning will give you even more energy and focus. If it's a strain with relaxing effects, you'll probably find it hard to get up from bed after toking there.
Weed In The Morning Gets You Higher, But Why?
The main reason for the intensification of cannabis in the morning is that during sleep, prior to a wake and bake, our bodies haven't received any nutrients, so once anything enters the system, it will be processed much more quickly. This is true for cannabinoids and terpenes too. When there's no other nutrients or chemical compounds to compete with, chemicals from cannabis connect much more quickly and effectively to the body's endocannabinoid and other systems. Hence, you experience the full potential of the strain in your stash, with many more cannabinoids and other compounds acting in your body.
6 Essential Tips For The Best Wake & Bake Possible
Wake and bake is a whole sacred ritual for many smokers all over the globe. Decades of this collective experience have accumulated into tips to follow and make your morning toking session perfect.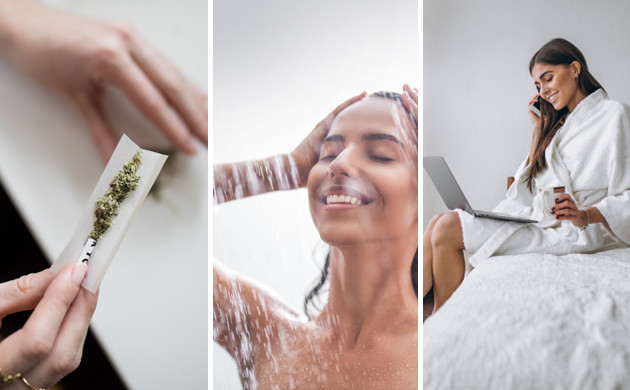 Prepare The Night Before
When you get up to your wake and bake morning, you want to get straight to business! Nothing should come between you and a perfect morning hit of cannabis. That's why you need to prepare everything in advance. The night before, grind the weed, roll a joint, or prepare everything for your preferred consumption method. Place it next to your bed. Also, think of cleaning the apartment and making it cozy for your wake and bake – there's nothing worse than feeling uncomfortable during the session because of the mess and then having to clean it up. There are better things to do!
Smoke First, Shower Later
This tip is especially relevant if you're a fan of smoking weed before work. You can have a puff before going to work, but you probably don't want to reek of weed at your workplace. That's why after toking in the morning, we advise you to take a shower and brush your teeth. Also, hot water on a sleepy body feels amazing when high!
Wear Something Comfy
After the shower, it would be a great idea to wear something soft, clean, and comfy. You've already smoked in the morning, and if you have nowhere to go, why not spend the day in your favorite pajamas? This will not only help you get in the mood, but will also maintain that feel-good and down-to-earth atmosphere of the wake & bake high.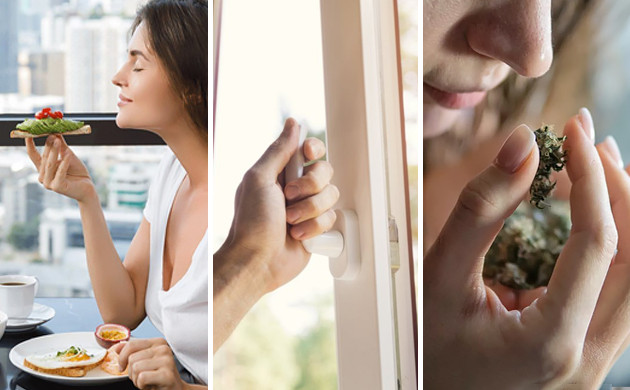 Don't Skip Breakfast
While we mentioned that an empty stomach makes you feel higher, which is why wake and bake works, you'll still need to have breakfast after you toke. First of all, the munchies will eventually strike, meaning this breakfast will probably be the best one in a while. Second, the food will help you balance out the high, which can sometimes feel too rushy or racey if you don't eat anything. Don't go crazy on coffee though - in this article we explain how to combine weed and coffee to enjoy the effects of both. Also, just like with everything else, it's better to prepare your breakfast ingredients the night before for an easy, enjoyable, and inspired cook-up.
Stay Discreet 
This is another piece of advice for those who want to wake up in the morning and dab or have a couple of puffs, especially before work. Think of how you're going to keep the fact of your wake and bake secret. To not smell of weed, always properly ventilate the room you're smoking in. You can also consider vaping instead of smoking, as this option is definitely less smelly. 
Use A Strain Well-Suited For Wake And Bake
Figuring out how to choose a strain is essential for learning how to wake and bake and enjoy it to the fullest. Usually, it happens through trial and error, but we have some important tips that should be considered. Rule number one, it's better to avoid Indica-like and strains with sedating effects, as these are much better suited for nighttime smoking. In the morning, they can easily make you too lazy or inactive – consequently, you risk wasting the whole day lying in bed.
Cannabis Seeds Wake And Bake Fans Should Grow
As you've probably figured out by now, daytime strains make for perfect wake and bake sessions. Cannabis seeds that produce buds with Sativa-like effects and head highs are the way to go. They will pump up your energy levels, wake you up, and give you focus and inspiration for a day to remember. Here are three perfect examples of wake and bake strains to give you a general idea of what you should be looking for.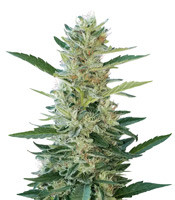 Durban Poison (Dutch Passion)
Photoperiod

Light feeling

16 - 22 %

500+ g/m² indoors
View strain
Durban Poison
This Sativa-dominant cultivar has everything it needs to become your new favorite wake and bake strain. With its 22% THC, Durban Poison combines an invigorating spicy flavor to wake you up and keep you upbeat for at least four hours!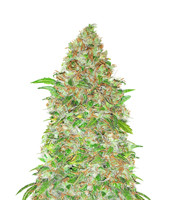 Cotton Candy Kush (Delicious Seeds)
Photoperiod

Ecstatic in its nature high

23 %

550 g/m² indoors
1000 g/plant outdoors
View strain
Cotton Candy Kush
The effects of Cotton Candy Kush are just as positive as its colorful appearance. The citrus in its flavor will boost your energy, and its 23% THC content, together with a 75% Sativa profile, will make your morning especially euphoric and giggly.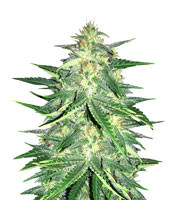 Lemon AK Auto (FastBuds)
Autoflowering

Power surge

24 %

500 - 650 g/m² indoors
60 - 250 g/plant outdoors
View strain
Lemon AK Auto
Hearing your alarm clock go off in the morning won't be nearly as annoying when you know you have some Lemon AK Auto waiting for your wake and bake session by the bed. The immediate cerebral effects of this Sativa strain will bring you back to life and charge you with vibrating waves of positive energy for the whole day.
Wake And Bake: Let's Sum It Up
Mornings aren't just for coffee! Actually, cannabis can wake you up even better than caffeine. So many weed users prefer to start their day with a joint in their hand because there are lots of pros to toking in the morning:
Wake and bake hits you harder than evening sessions
Well-chosen strain gives you energy and focus to accomplish more than you normally would
It makes habitual morning rituals like shower and breakfast special
To get the most out of your morning toking, don't forget about the wake and bake tips we've covered:
Prepare the space and everything for smoking the night before
Toke first thing in the morning, even before taking a shower and brushing your teeth
Have a nice breakfast to balance out the high
Use a Sativa-like daytime strain with energizing effects
Hopefully, this article showed you how to do wake and bake right. When you try it for yourself, leave us a comment below – we'd love to know how it went!
Herbies Head Shop expressly refuses to support the use, production, or supply of illegal substances. For more details read our Legal Disclaimer.