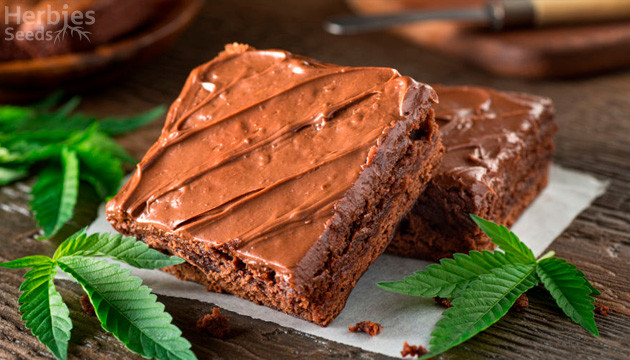 Weed brownies are legendary among cannabis edibles for a reason: they're easy to make, devilishly good, and get you high as the sky. Even if you're a total amateur in the kitchen, it's worth giving this recipe a try and making a sheet of these comforting weed-infused chocolate brownies – your efforts will be highly rewarded! Follow us through this simple recipe and, by the end of it, you'll be ready to make your own pot brownies with ease.
Cannabutter: Your Main Ingredient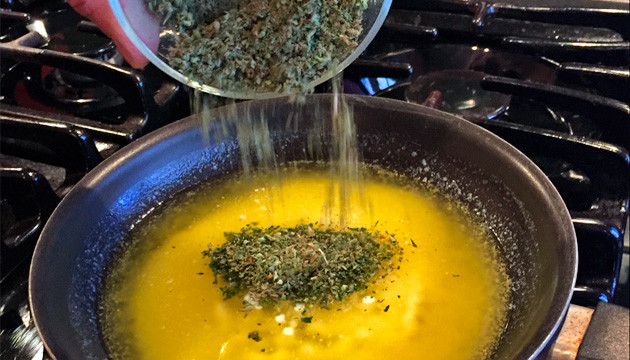 To be honest, weed brownies should rightfully be called Cannabutter Brownies, as the main ingredient in them – the one that makes them psychoactive – is cannabutter and not weed itself. Unfortunately, using raw cannabis for your baking won't do much in terms of effects in this heart-warming dessert. In order to make brownies that will have the same effects as the bud, weed should first be decarbed – heated up in the oven at around 120C (250F) for at least half an hour.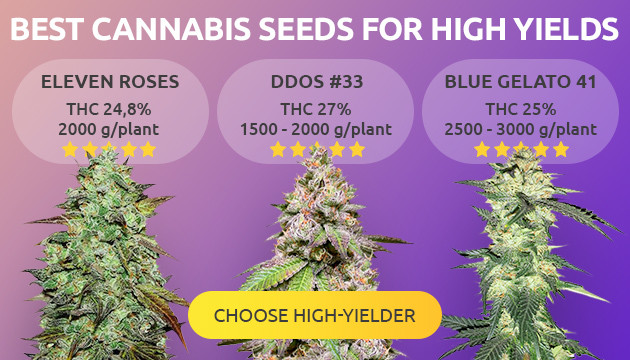 Decarbing cannabis releases THC and CBD that are otherwise kept in the dormant stage. After that, decarbed weed has to be simmered for several hours in a mixture of water and butter. This is when butter soaks in all of the cannabinoids and their power. After it's cooled down, butter can be used in cooking and baking. Making cannabutter takes some preparation – in order to make everything correctly, check out Herbies' guide.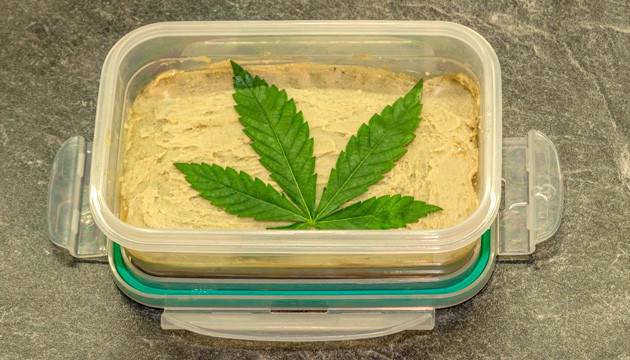 Pot Brownies: Equipment
If you've prepared cannabutter for this recipe beforehand or have some stored in the freezer for an occasion like this, making these fudgy pot brownies won't take much equipment at all. In fact, you won't need anything more than a couple of bowls, a pan and a whisk. To be more exact, you're going to need:
A bowl for melting chocolate
2 bigger bowls for mixing the ingredients
9x7 or 8x8 pan (22x18 or 20x20 cm)
A whisk or mixer
Ingredients For The Classic Edible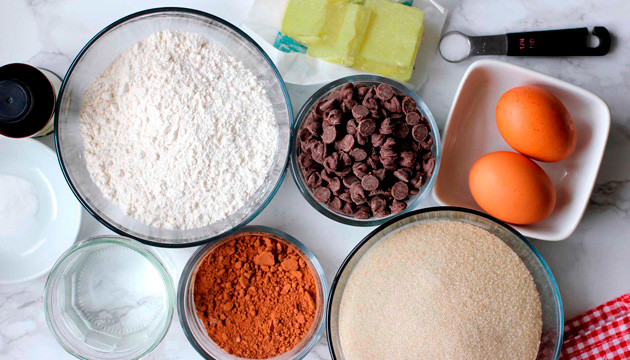 Some weed brownie recipes only ask for cocoa powder, while others list pure chocolate. For our favorite recipe, we're using both ingredients for that double chocolate oomph! This pairing of key ingredients will make these brownies extra flavorful, balance out the weed note, and help us achieve a perfect texture that combines fudginess with a thin and slightly crumbly outer layer. If you want to make perfect brownies, make sure you have:
Cannabutter (see our recipe) – 1 stick (4 oz or 115g)
Vegetable shortening – ¼ cup (can be substituted for 1/1 coconut oil, butter or margarine)
Cocoa powder – ¾ cup
Cake flour – 1 cup
Sugar – 2 cups
Salt – ½ tsp
Baking soda – ⅛ tsp
Baking powder – ¼ tsp
Chocolate (bittersweet or semisweet) – 4 oz (115g)
Large eggs – 2
Vanilla bean – 1
Directions: It's Cooking Time!
Have you ever heard of the wet bowl/dry bowl technique? That's what we're going to use for this pot brownies recipe. If you're unfamiliar with the method, it simply means that you'll be using two separate bowls for mixing your dry and wet ingredients, after which you'll combine everything together. This technique helps to ensure the butter isn't overworked. At the end, you'll be rewarded with soft and chewy yet light brownies.
Step 1: Prepare Your Dry Bowl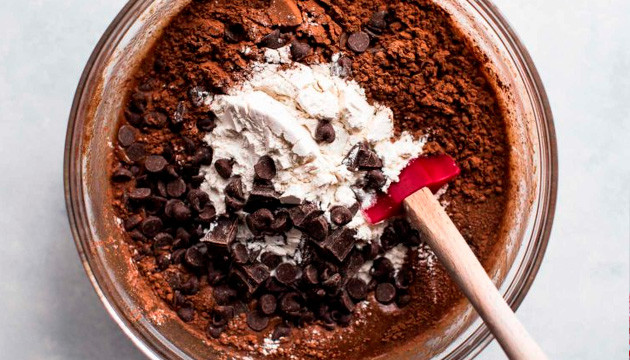 Start by preheating your oven to 180C (350F) and taking out the first mixing bowl. Put all the dry ingredients (cocoa powder, flour, sugar, salt, baking soda and baking powder) in it. To avoid having too many lumps, you can sift the dry ingredients, even though it's not necessary for this recipe. Mix everything with a whisk until combined.
Step 2: Beat The Wet Ingredients Together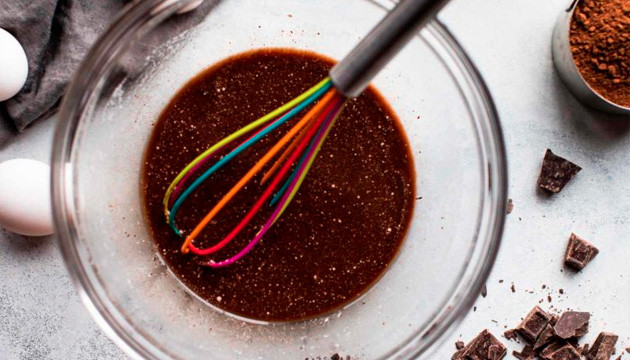 In the second mixing bowl, beat together the eggs and insides of the vanilla bean (which can be easily substituted with a teaspoon of vanilla extract) until well combined. Next, in a smaller bowl (or even a mug), melt the chocolate. To avoid burning it, we recommend melting the chocolate in a microwave oven in short 5-10-second bursts. If you don't have a microwave, a double boiler will do the work as well. Whatever method you choose, stir the chocolate frequently until melted completely. After that, fold in the shortening – stop when it's melted and mixed with the chocolate. Pour everything into the wet bowl where you already have your eggs beaten with vanilla. Finally, add your cannabutter and mix until incorporated.
Step 3: Combine The Two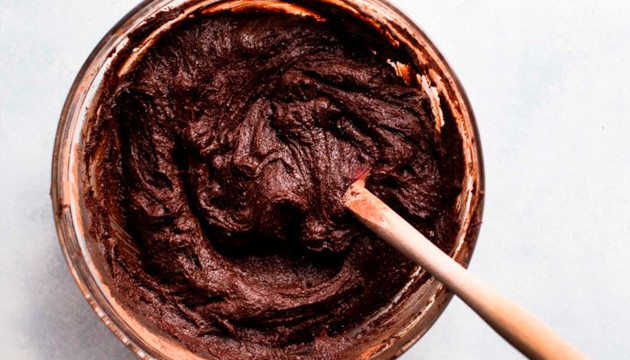 Your brownie batter is almost ready – all you have to do is pour the contents of your wet bowl into the dry one and mix everything together with a whisk or spatula until no dry lumps remain. The batter will be really thick (and we mean it!), so the final mixing can be quite a challenge. If you skipped a gym day, don't worry – you'll make up for it in the kitchen.
Step 4: Bake!
After you're done with your exercise session, pour the batter into your brownie pan lined with parchment paper, bake for about 15 minutes, then turn it around and bake for another 15 minutes. Take it out and cool down for at least 10 minutes before cutting and serving.
How Potent Will These Brownies Be?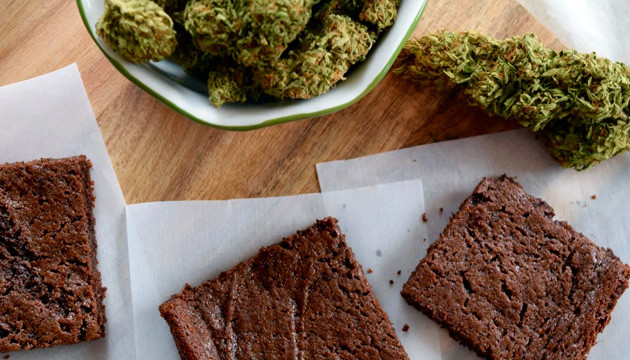 We've already proclaimed cannabutter to be the most important ingredient of pot brownies. Following the same logic, the amount of THC you put into your dessert will be the most important measurement of the funny brownies recipe. While you can eyeball the amount of sugar you use and still end up with a great brownie, poorly-measured cannabutter can lead to undesired consequences, such as THC overdose or, conversely, a complete absence of a high.
This is why we advise following our recipe for cannabutter. This guide will help you make a perfectly potent product with THC content you can be sure of. If you follow our cannabutter recipe and then use it to make these brownies, you'll have whopping a 525mg of THC in a single tray of brownies. As a medium-strong dose for edibles is 15mg per person, you'll have enough brownie to get 35 people high. Now that's a party! Of course, if you're looking for a lower dose or a lesser number of portions, just substitute some of the cannabutter for regular butter. For example, if you substitute half of it, your tray will have seventeen 15mg portions or thirty-five 7.5mg (a good starter dose) portions. Tweaking is always possible – remember to always start slow and check your measurements twice – you can use a special online cannabutter calculators for this.
Ready, Set, Bake!
Now you know why the classic pot brownie is that one edible everyone's heard of at least once! There are some good reasons for this fully-deserved fame. First, it's simple, delicious and potent. Second, chocolate is perfect for covering up the taste of weed. We hope our recipe has shown how easy it is to make pot brownies at home. Now get cooking and share your results in the comments!