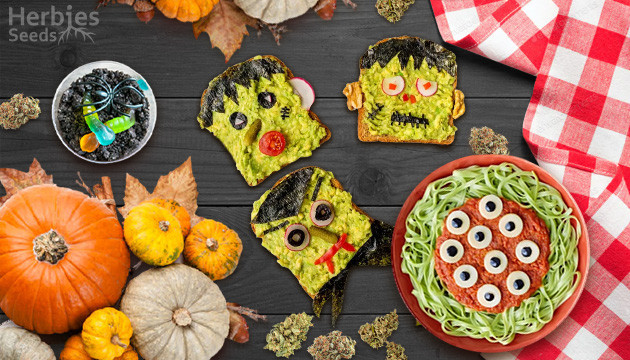 Wondering what to cook in your Halloween cauldron this year because getting spooky doesn't come without the munchies? In this article, we serve you an epic three-course meal of Halloween edibles that will give you a glimpse of the afterlife while you get higher and higher like a bat out of hell.
Broomstick in hand, grab all your ingredients and get ready for the fright night of your life. And if three meals of devilish dining is giving you deja vu, don't worry – each item on today's menu can also be made separately.
Starter: Avocado Apparition
Start off your eerie eve on a ghoulish note by turning your innocent avocado on toast into weed-infused avocado apparitions that will give all who look upon them the goosebumps.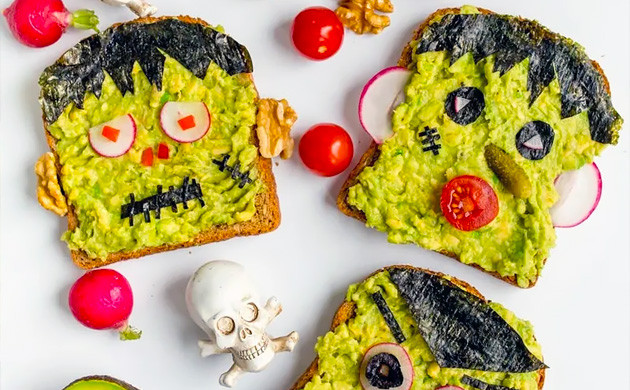 To make these Halloween edibles, simply mix weed-infused guacamole, slap it on some toast, and transform each slice into a ghostly face you just can't wait to murder: death by consumption!
Ingredients
Directions
Step 1: Make your toast canvas
Using our weed-infused avocado toast recipe, mix your guacamole and prepare your toast. Spread the guacamole evenly across your desired amount of slices to create a green canvas for your ghoul faces.
Step 2: Prepare your decorations
With a pair of scissors, carefully cut the seaweed sheets into your desired shapes: jagged pieces for hair, thin strips for eyebrows or stitches, and any shapes you need for what you have in mind for these Halloween edibles.
Slice your black olives, tomatoes, and radishes into rings for the eyes and any other round parts you may need. Cut your bell pepper into strips and points to create a bloody vampire mouth, and use the mini pickles as is.
Step 3: Construct your monsters
Now, channel your inner mad scientist and construct your very own Frankenstein's monsters! You can layer two olive rings on top of two slices of radish for the creepiest monster glare in history, and conveniently give your monsters a massive schnoz in seconds with your mini pickles. Get creative! You might even scare yourself.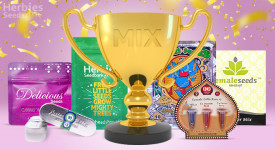 6 Best Cannabis Seed Variety Packs
READ NOW
Main: Pasta a-la Eyeball
For the Halloween edibles main course, this gruesome-looking but delicious tomato and "eyeball" pasta is sure to send a chill down your spine. Serve it up hot on a candle-lit table for maximum hellish effects while you feel your buzz growing with every bite.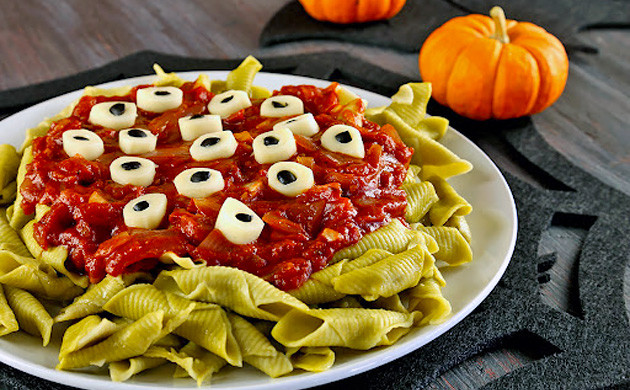 Ingredients
Directions
Step 1: Craft your eyeballs
Using a sharp knife, cut your cherry tomatoes in half. Gently remove the seeds with a small spoon or knife edge. Halve your mozzarella balls and wedge them inside the tomatoes with the rounded end facing outward. You can trim your mozzarella to fit if necessary.
For the pupils, you can choose between carefully cutting small circles out of the basil leaves and placing them on the surface of the mozzarella or simply using rings sliced from the black olives for a similar effect.
Step 2: Cook your dish
While your pasta boils, use another saucepan to create your bloody, weed-infused sauce. For this Halloween edibles recipe, you'll need to have prepared a batch of cannabutter beforehand.
Heat your tomato sauce without boiling it. Then, spoon in your desired amount of cannabutter until it melts before removing from the heat. Once your pasta is cooked, drain and mix in your pesto.
Step 3: Serve with delight
To see your pasta transform into a dish fit for Hannibal Lecter, transfer your pasta into your serving bowls and pour your weed-infused tomato sauce over the top. Next, strategically place the eyeballs you created across the dish with the pupils staring right up at you.
Enjoy these delicious Halloween edibles, but be prepared for some socially awkward pasta eye contact!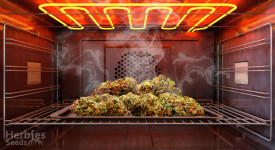 Decarboxylation 101
READ NOW
Dessert: Graveyard Grubs
Since it's Halloween, we all know staying up past midnight is compulsory. So, for the perfect midnight Halloween edibles, this dessert of graveyard grubs is the delicious combo of THC, Halloween gummy worms, and chocolate graveyard dirt.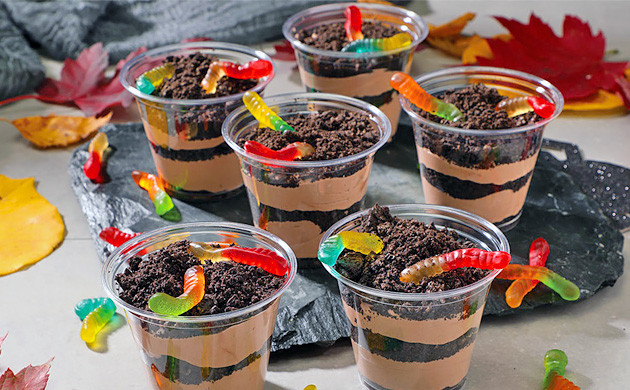 Ingredients
Directions
Step 1: Prepare your worms in advance
Make sure to prepare your DIY Halloween edible gummy worms in advance, as they call for some set time.
Step 2: Crush your dirt & prep your mud
For the dirt, place your biscuits into a resealable plastic zipper bag and crush into crumbs using a rolling pin or similar. Next, whisk together your pudding mix and milk for approximately 2 minutes.
Step 3: Set your graveyard scene
To start building your gruesome graveyard scene, pour about a third of your crushed cookies into the bottom of your serving dish. Spoon out the chocolate pudding over the crumbs and smooth the top over. Evenly pour the rest of your cookie crumbs on top before poking your gummy worms into the chocolate dirt. It may look gross, but it sure is delicious!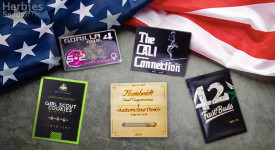 5 Absolute Best American Seedbanks
READ NOW
Drink: Bewitching Beverage
While you dine and dance the night away, you'll need something to help wash it all down, and this bewitching beverage will put a warm and fuzzy cannabis spell on you in just a couple of sips. With its addition of homemade cannabis-infused tincture and fruity three-ingredient recipe, this punch is easy to make and as potent as you want it to be.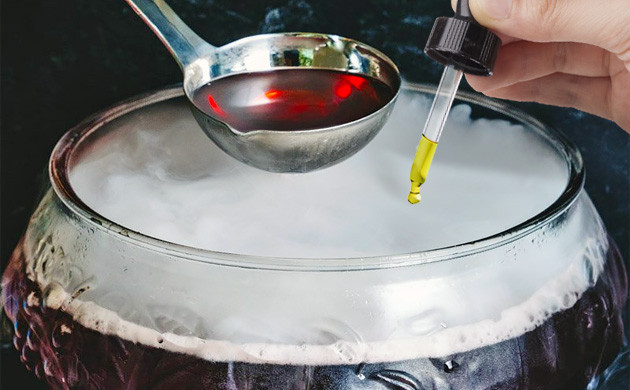 Ingredients
Directions
Step 1: Make your cannabis tincture
If you haven't already got it on hand, make a fresh batch of cannabis-infused tincture to add to your punch for a spell-binding buzz.
Step 2: Mix the punch
Pour all your juice ingredients into your punch bowl and add your desired amount of tincture. Stir gently before adding your dry ice.
Step 3: Serve dramatically
Once your dry ice is in the punch, serve immediately to show off the dramatically smoky effect! Finally, show off your best evil laugh impression while you sip on this blood-red smoking concoction.
Happy Halloween!
While you're soaking up the spooky moon rays on Halloween night, we hope these Halloween edibles can take your trick-or-treating to a whole new level. If you're not experienced with ingesting edibles or you have a low tolerance, start out with just one element of this three-course meal to save your night from turning into a real-life horror film! However, if you still want to go all in and enjoy some frightfully fine dining, simply lower the dosage per meal to make it more of a slow-burning buzz you can really enjoy. Happy Halloween!
Herbies Head Shop expressly refuses to support the use, production, or supply of illegal substances. For more details read our Legal Disclaimer.